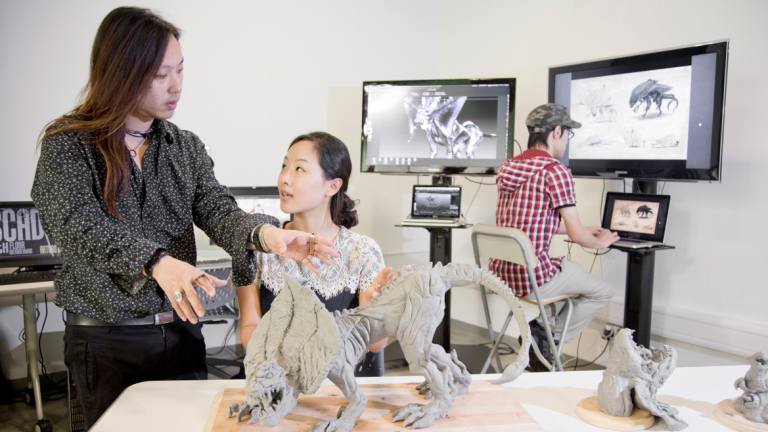 A faculty of visual effects professionals
The visual effects professors at SCAD bring years of professional experience and vital industry contacts to the classroom. Our faculty are award-winning artists and sought-after designers at the peak of their field, but their greatest achievement is the success of SCAD students, both within the classroom and beyond.
Experience matters
Academy Award-winner and SCAD visual effects professor Stuart Robertson uses his extensive experience working with talented artists of all kinds to inform his classroom discussions. His industry knowledge helps students find their creative voice and understand exactly what it takes to succeed in this constantly evolving field.
"Having trained many people in different areas of production, I realized that being part of the learning process is an extremely rewarding experience. Passing on that production experience back into the academic environment means not only to acknowledge the role that higher education played in my life but also to contribute to someone else's goals and aspirations."
Manuel Prada | Visual effects professor
Faculty experience
SCAD professors are dedicated to creating once-in-a-lifetime opportunities just for you. Through guest speakers, critiques, portfolio reviews and more, we connect our students with professionals in the industry every day. These contacts lead to internships, mentorships and often real-world job opportunities for our students.
Visual effects faculty at SCAD have worked for the following brands, clients and companies:
Pixar Animation Studios
Rhythm & Hues Studios
DreamWorks Feature Animation
Industrial Light & Magic
Columbia Pictures
An environment designed for your success
At SCAD, professors who facilitate incredible opportunities is just one component of a diverse and fulfilling student experience. You can do it all: participate in signature events, hobnob with visiting artists and professionals, take advantage of stellar facilities and resources, and more.
Learn more about the visual effects student experience