The art of equestrian studies
If you've ever witnessed the beauty of a horse in motion, or the unspoken communication between rider and mount, you understand that equestrian studies is an artform. At SCAD, we celebrate all things equine through an advanced equestrian studies degree. With gorgeous facilities, a mild climate perfectly suited to riding year-round and a championship equestrian team, there's no better place to launch a career in the equine arts. Whether you're interested in riding at the college level, earning your degree in equestrian studies, or simply remaining immersed in the equestrian culture while pursuing another degree in art and design, you belong at SCAD.
Equestrian studies degree
SCAD's B.A. degree in equestrian studies is offered in Savannah.
  - Savannah
World-class equine facilities
At the heart of SCAD's equestrian program is the renowned Ronald C. Waranch Equestrian Center, a 100-acre facility with paddocks, pastures, competition arenas and beautiful barns for student-owned, SCAD-owned and boarding horses. The Shaw Pavilion, a covered riding arena, allows you to practice and conduct academic fieldwork even during inclement weather and is engineered with considerations for equine vision and optimum ventilation.
Learn more about the Waranch Center and the equestrian student experience
Follow your dreams wherever they lead
The job opportunities in the equestrian industry are limitless. Discover your calling through The University for Creative Careers.
Learn more about careers
"I'm now in Germany working for Paul Shockemöhle at Gestüt-Lewitz. I have a barn with 12, 4-5 year old horses that I ride every day and show for the trainers. The SCAD equestrian program had many different classes that helped me to where I am ... I can better manage my work environment and my horses with the skills I have learned."
Kelsey Jandura | Rider for Gestüt-Lewitz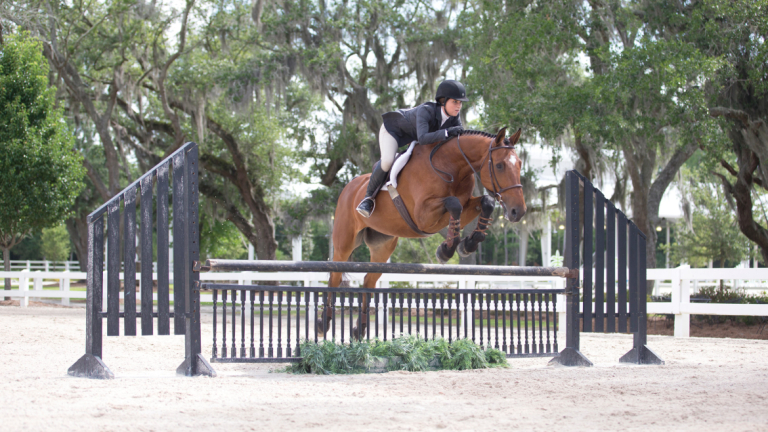 Gain the competitive edge
SCAD fields a powerhouse equestrian team that has won more national championships in the last decade than any other team in the country. It's a legacy we're proud to continue, having earned 40 individual and team awards since 2002. These trophies include 22 individual and team American National Riding Commission champion and reserve champion titles – with six consecutive national team championships – and 17 individual Intercollegiate Horse Show Association champion and reserve champion titles.
The only thing that's missing? You.



Related majors and minors
As a student at SCAD, you'll benefit from the empowering context of an art and design university with robust opportunities for collaboration. Explore related programs such as luxury and fashion management, accessory design, photography, and more to supplement your equestrian studies with a dual major or minor.
Related majors that may interest you:
Minors that complement this program:
Ready to see more?
Connect with us! Request more information or apply today, and we'll send you everything you need to begin your exciting journey at SCAD.