Unite business strategy with art and design
Build upon your creative career or four-year college with executive knowledge
As visionaries of the highest order, creative leaders blend strategic business acumen, management expertise, and a design mindset to develop thriving enterprises. This one-year M.A. program is tailored to this convergence of the creative sphere and the business world. You will merge entrepreneurship with design knowledge in a program that emphasizes strategic thinking, financial planning, and effective management. Our graduates are thought leaders and entrepreneurs for the creative economy: empowered to spearhead the companies that advance the future of arts, entertainment, social media, digital, and design.
Creative business leadership degree
The university's M.A. degree in creative business leadership is available in Atlanta, Savannah, and online via eLearning.
  - Atlanta   - Savannah    - eLearning
Turn advanced concepts into business realities
As a creative business leadership student, you'll learn to become an entrepreneur running successful small businesses or an intrapreneur promoting corporate innovation within existing organizations from research lab to C-suite. Discover your calling through The University for Creative Careers.
Learn more about careers in creative business leadership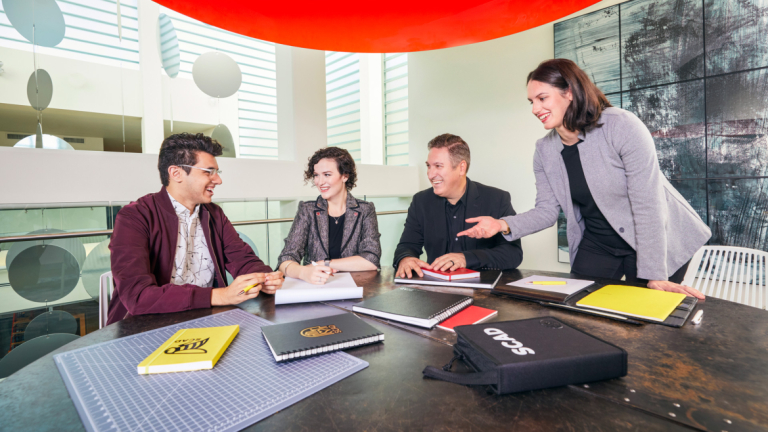 Make executive connections
Through SCADpro, the university's in-house design studio, and annual signature events, you can connect, consult, and collaborate with the executive wing of global corporations. Visionaries like Hermès President and CEO Robert Chavez, Tiffany & Co.'s Cheif Artistic Officer Reed Krakoff, and fashion house founders including Tory Burch, Brandon Maxwell, and more share insight and advice. 
Explore the full SCAD student experience
Related programs and certificates
Many creative business leadership students choose to explore related fields while at SCAD and even take additional courses to complement their primary concentration. You can explore new perspectives, harness diverse creative approaches, and develop a unique, well-rounded style through these related programs:
Ready to see more?
Connect with us! Request more information or apply today, and we'll send you everything you need to begin your exciting journey at SCAD.