Immerse yourself in a cinematic paradise
The culture at SCAD is ideal for a film and television student. From picturesque settings that provide ample shooting locations, to the proximity of both arts and recreation areas, the SCAD student experience flawlessly lends itself to a creative mindset.
Gain access to world-class facilities and equipment
As a film and television student, you'll work with cutting-edge technology in state-of-the-art facilities like the SCAD Digital Media Center — an expansive 60,000-square-foot complex in the heart of Midtown Atlanta — and the brand new Savannah Film Studios, a custom-designed space with all the amenities to host industry-level productions.
Premium tools always at your fingertips:
4K cameras throughout the entire curriculum, including ARRI Alexa XT Plus, EPIC-M Red Dragon, Sony FS7, Canon C300 MK2 and BlackMagic Design URSA Mini cameras
Arri 416 Super 16mm Camera
Panther Evo dolly and Fisher dolly
Steadicam Shadow, Zephyr and Flyer
Techno-Jib telescopic computer controlled crane
Arri and Mole-Richardson Professional Lighting Kits: LED, HMI, Tungsten, Kino-Flo
AVID editing stations with AVID ISIS system
DaVinci Resolve Color Correction Suite, Chromakey green screen studio, multi-camera TV studio
Sound recording studio, Foley stage, ADR and mix suites
37-seat screening room with 7.1 surround mixing and DCP authoring
At the Savannah Film Studios: 22,000-square-foot studio housing three sound stages, green rooms, lighting grids, postproduction suites, a multi-purpose recording booth that facilitates ADR and Foley recordings, screening rooms and production offices
Join us for star-studded events
The SCAD events calendar never takes a break, with film screenings, workshops, panels, master classes and lectures. No matter the time of year, there's always an opportunity to get inspired by celebrity guests and make new friends.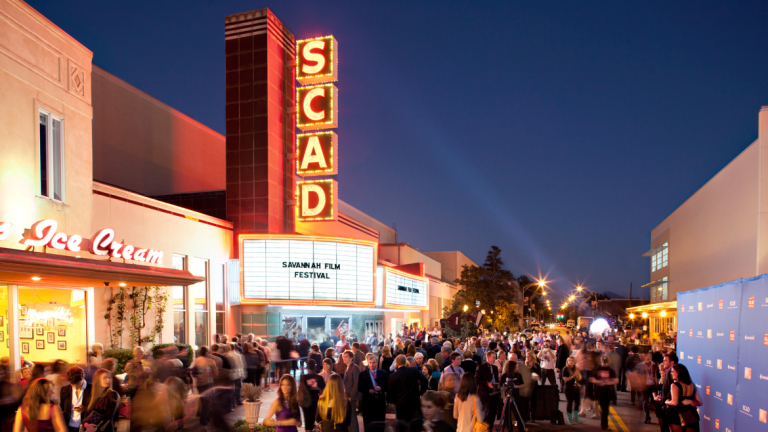 Savannah Film Festival
Each fall, SCAD hosts the Savannah Film Festival, a week-long celebration of cinematic arts showcasing the work of professionals and students. As the largest university film festival in the country, the event attracts more than 40,000 attendees annually and features film screenings, workshops, celebrity panels and lectures, and much more.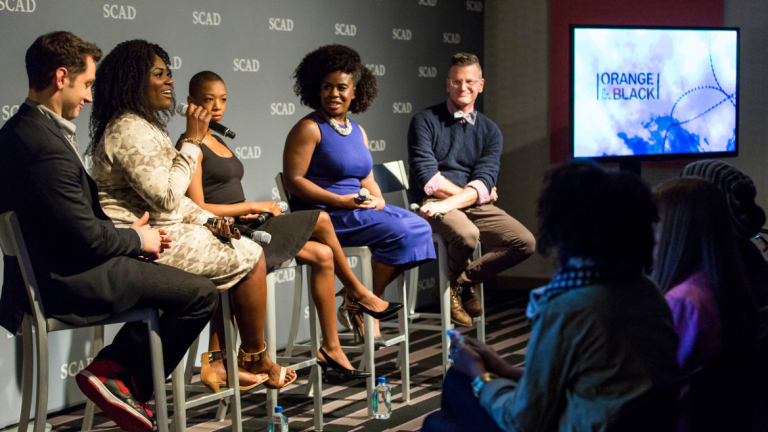 aTVfest
In the spring, SCAD Atlanta presents aTVfest, an exciting weekend filled with conversations and networking opportunities with television luminaries and SCAD's vibrant community of students and faculty. Screenings, workshops, award presentations and more illuminate design, creativity and innovation in all spheres of television production.
View more events on our calendar
Put yourself out there
We encourage students to submit to and attend award shows and film fests all over the world. SCAD student work has been shown at the Sundance Film Festival, the Cannes International Film Festival, the Los Angeles Film Festival, the New York International Independent Film and Video Festival, the Hong Kong International Film Festival, Tribeca Film Festival, SXSW, the Palm Springs International Film Festival and countless more.
Want to learn more?
Request more information from The University for Creative Careers and we'll send you everything you need to know to begin a career in film and television.