Immerse yourself in a cinematic wonderland
SCAD sets the scene for film and television students to explore every aspect of the production process from Atlanta, the megahub of a $10 billion state entertainment industry, or Savannah, MovieMaker magazine's top-ranked small city for filming. You'll record and film in studio spaces that rival Hollywood, gain insights from acclaimed actors and directors at signature events, and showcase your work at film festivals around the world.
Film your project like the pros
SCAD film and television students work with state-of-the-art, studio-level technology in academic buildings like the SCAD Digital Media Center, an expansive 60,000-square-foot complex in Midtown Atlanta, or Savannah Film Studios, a custom-designed space with the amenities to take projects from storyboard to final cut.
Premium tools always at your fingertips:
4K cameras, including ARRI Alexa XT Plus, EPIC-M Red Dragon, Sony FS7, Canon C300 MK2, and BlackMagic Design URSA Mini cameras
Arri 416 Super 16mm Camera
Panther Evo dolly and Fisher dolly
Steadicam Shadow, Zephyr, and Flyer
Techno-Jib telescopic computer controlled crane
Arri and Mole-Richardson Professional Lighting Kits: LED, HMI, Tungsten, Kino-Flo
AVID editing stations with AVID ISIS system
DaVinci Resolve Color Correction Suite, Chromakey green screen studio, multi-camera TV studio
Sound recording studio, Foley stage, ADR, and mixing suites
37-seat screening room with 7.1 surround mixing and DCP authoring
22,000-square-foot Savannah Film Studios, which houses soundstages, green screen rooms, lighting grids, postproduction suites, a multi-purpose recording, screening rooms, and production offices
A star-studded lineup of events
Each year, the SCAD events calendar is packed with film screenings, workshops, panels, master classes, and lectures. Students have ample opportunities to connect with working actors and behind-the-scenes staff at signature events and via the virtual Guests and Gusto series.
SCAD Savannah Film Festival
Each fall, SCAD hosts the SCAD Savannah Film Festival, a week-long celebration of cinematic arts showcasing the work of both award-winning professionals and emerging student filmmakers. As the largest university film festival in the country, the event attracts more than 60,000 attendees annually and features competition film screenings, workshops, celebrity panels and lectures, and much more.
aTVfest
Presented by SCAD in Atlanta each spring, SCAD aTVfest celebrates the latest in design, creativity, and innovation in television, streaming, and digital media. Working professionals from all spheres of content production gather for screenings, premieres, panel discussions, and workshops exploring the latest trends and the best content airing today. Opportunities abound to connect and network with future peers practicing in front of and behind the screen.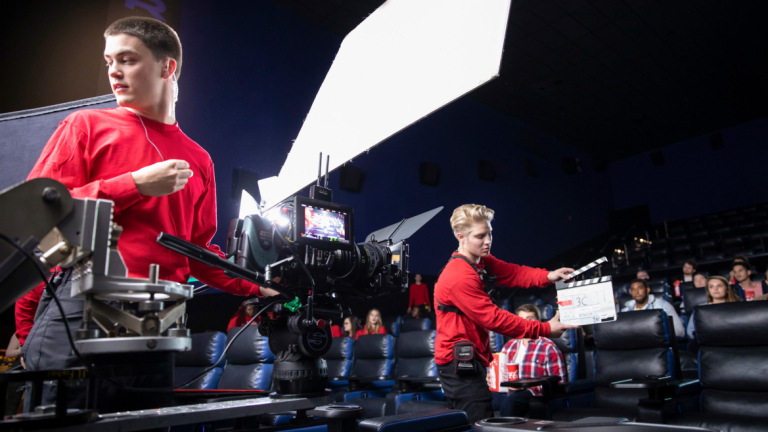 Hit the festival circuit
SCAD encourages students to present their work in festivals and competitions around the world. Students have shown their films at major events like the Sundance Film Festival, the Cannes International Film Festival, the Los Angeles Film Festival, the Tribeca Film Festival, SXSW, and countless more.
Want to learn more?
Request more information from The University for Creative Careers and we'll send you everything you need to know to begin a career in film and television.