Reinvent storytelling through branded entertainment
Thrive at the intersection of advertising, entertainment, and technology
SCAD pioneered the branded entertainment B.F.A. program in response to the skyrocketing demand for custom content. Today's businesses connect with a global audience through multiplatform moments across film, live productions, mobile applications, and virtual reality. To prepare for this burgeoning industry, you'll choose one of three concentrations — television producing, game development, or interactive design — and master elective coursework in augmented and virtual reality. Coursework is combined with real-world experiences that translate directly into job opportunities across the global marketplace.
Branded entertainment degree
SCAD's B.F.A. degree in branded entertainment is available in Atlanta.
  - Atlanta 
Learn to make brand magic
At SCAD, you'll learn to thrive in an industry that requires acute technical skills, fresh creative vision, and a knack for working with others. Discover your calling through The University for Creative Careers.
Learn more about branded entertainment careers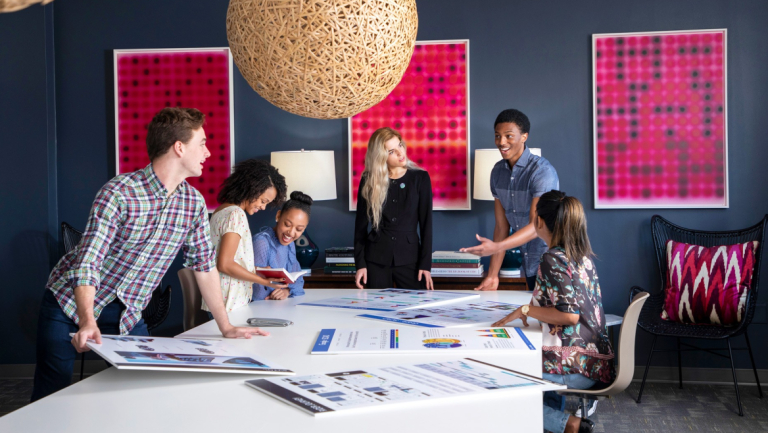 Gain real-world experience
Through SCADpro, the university's in-house design studio, you will collaborate on advertising concepts and create brand strategies for clients like AT&T, Sagepath Inc., and Spanx. And in classroom visits, you'll get guidance from professionals representing prestigious organizations such as Discovery Networks, Google Brand Studio, Instagram, and more.
Related majors and minors
Branded entertainment is an ever-evolving field. In order to thrive in such an industry, many students choose to pursue a double major or related minor while they are here. You can explore new perspectives, harness diverse creative approaches, and develop a unique, well-rounded style — all while earning multiple degrees.
Related majors that may interest you:
Minors that complement this program:
Ready to see more?
Connect with us! Request more information or apply today, and we'll send you everything you need to begin your exciting journey at SCAD.