Exhibition: 'Notre Ami, Pierre Cardin'
Celebrating an extraordinary legacy
In a high-style homage to the indomitable spirit of legendary designer Pierre Cardin (French, b. Italy, 1922-2020), SCAD presents its latest ode to the remarkable life story and enduring legacy of the revolutionary force in fashion. Set in an installation reminiscent of Cardin's famous Palais Bulles, his dream residence near Cannes and a future-forward architectural marvel that rivaled his greatest fashion creations, Notre Ami, Pierre Cardin features exceptional garments and two exclusive films — including I Am Thinking of Pierre Cardin, awarded Best Fashion Documentary at the London Film Festival — produced by SCAD, where Cardin championed the careers of young artists.
Read SCAD President and Founder Paula Wallace's tribute to Cardin
Best known for his 1960s space-age style, Cardin expanded the boundaries of his artform across nearly eight decades, innovating new materials and silhouettes. Outside of fashion, his pursuits extended to jewelry, accessories, costume design, product design, fragrances, furniture, theatrical production, and historic preservation.
Cardin's relationship with SCAD began in 2002, when the university acquired a site in the village of Lacoste and meticulously revitalized more than 30 historic structures into an imaginative center for the study of art and design. Cardin, a longtime resident of Lacoste, became a formative presence as he embraced the role of mentor, nurturing the visions and aspirations of SCAD students across the university's top-ranked degree programs — from fashion to architecture and beyond.
In 2018, the university's SCAD FASH Museum of Fashion + Film in Atlanta originated the exhibition Pierre Cardin: Pursuit of the Future, a major retrospective presented in partnership with the Pierre Cardin Museum in Paris that included iconic looks from the 1950s held in the SCAD Permanent Collection.
In commemoration of Cardin's extraordinary impact on design and his kindred connection to SCAD, Notre Ami, Pierre Cardin celebrates his prescient vision and commitment to the avant-garde ideas of tomorrow. SCAD is honored to ensure his enduring legacy and commemorate his dedication to supporting young artists that continues to resonate throughout the university.
Notre Ami, Pierre Cardin is on view at SCAD Lacoste.
Gallery hours: Monday-Friday, 10 a.m. to noon and 2-5 p.m.
The exhibition is free and open to the public.
For more information about the exhibition, contact [email protected].
---
SCAD honors Cardin on film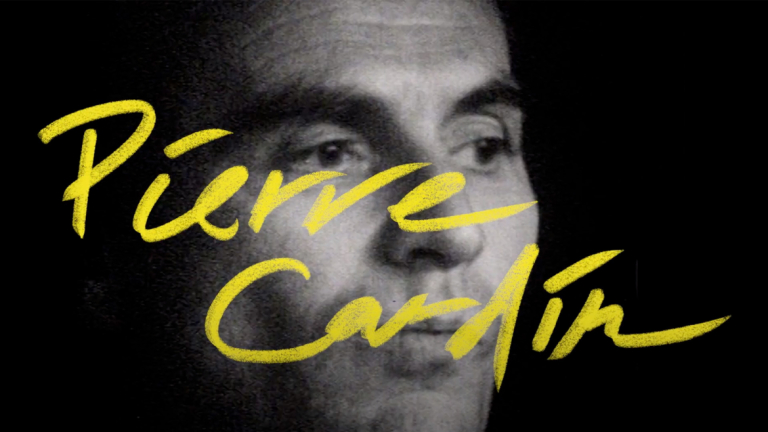 'I Am Thinking of Pierre Cardin'
Viewers follow Cardin's 1960s explorations of space-age shapes and materials in iconic motion picture clips and lingering shots of French landscapes, inspiring one's own creative musing.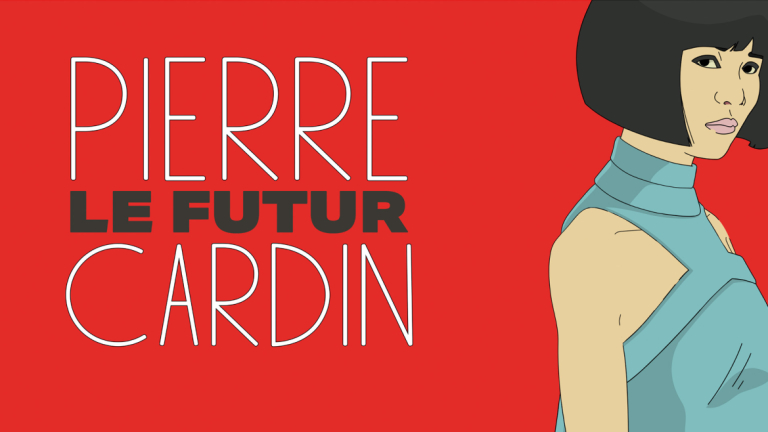 'Pierre Cardin: Le Futur'
This premier animated fashion film illustrates Cardin's life and legacy as he reflects on his métier in conversation with SCAD President and Founder Paula Wallace.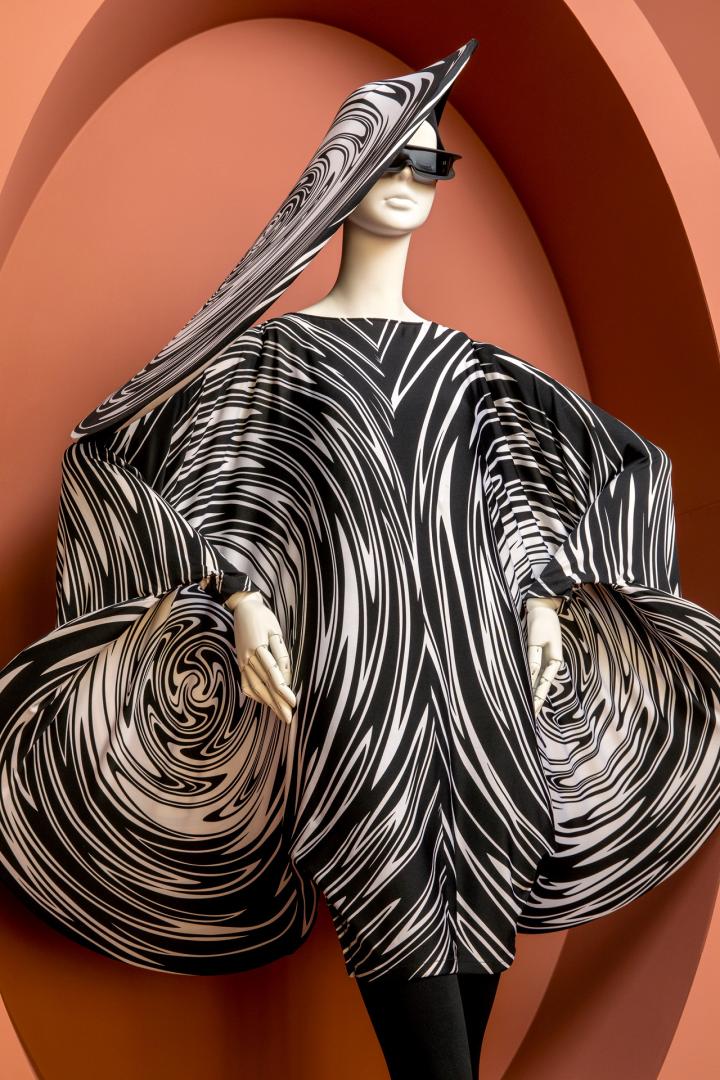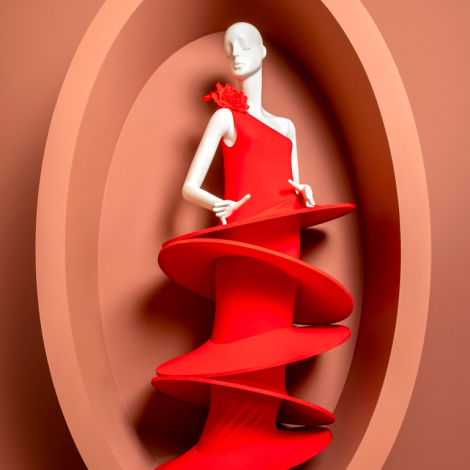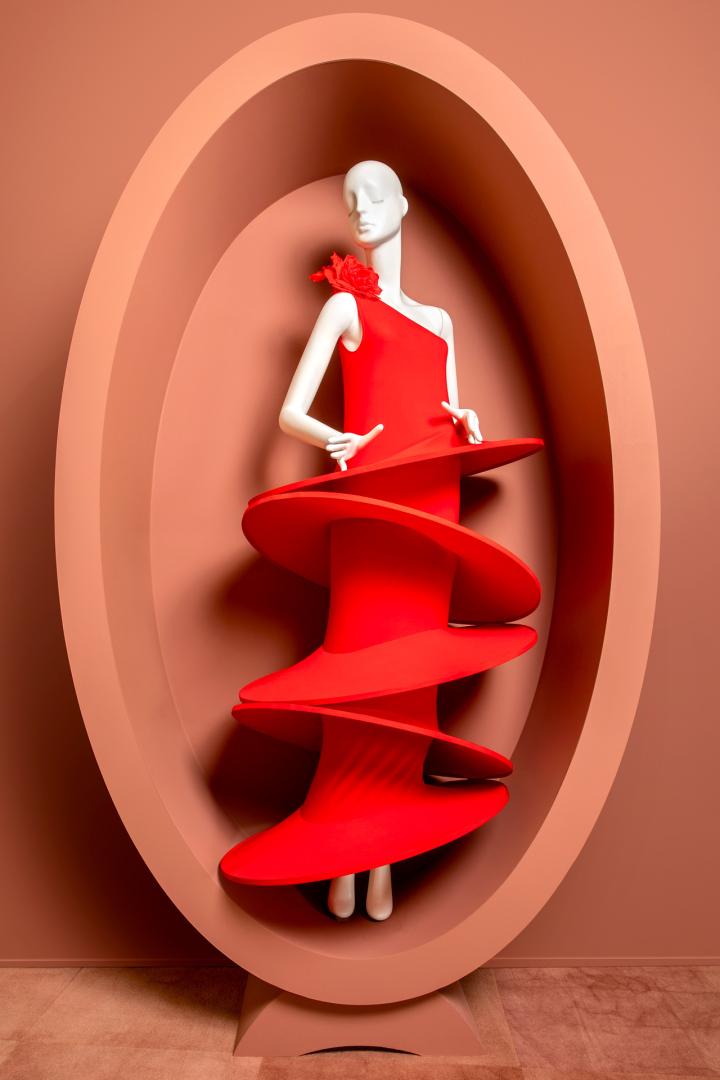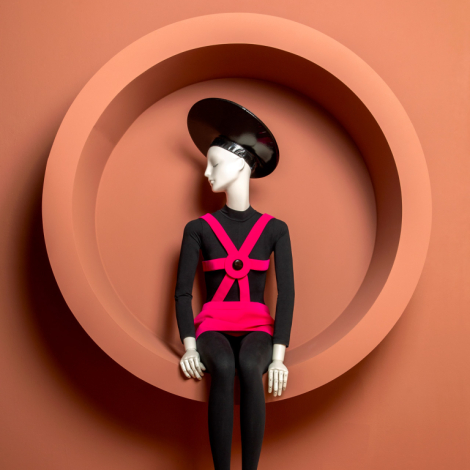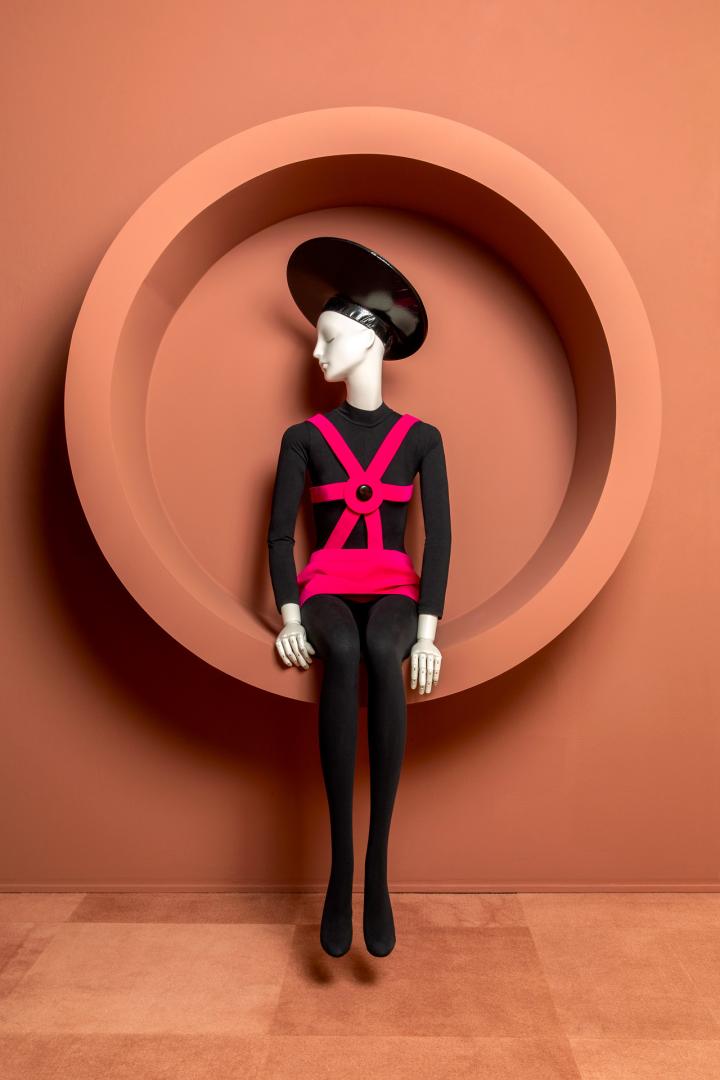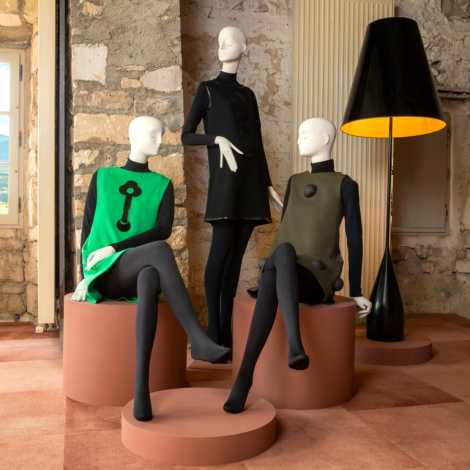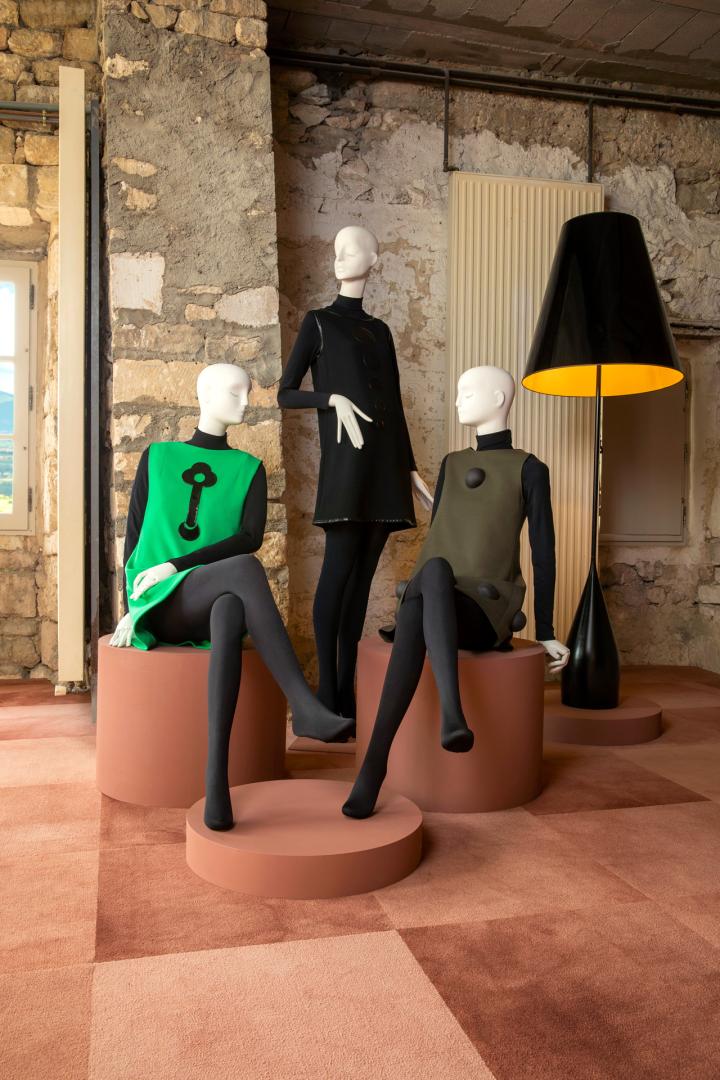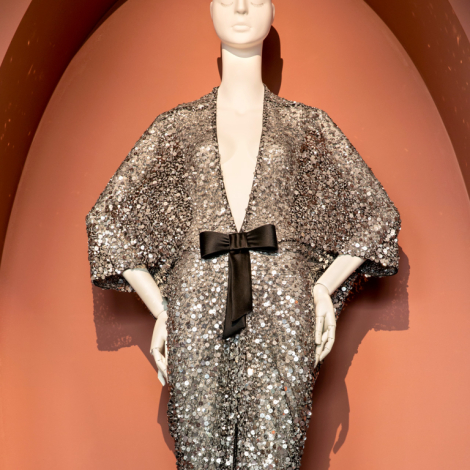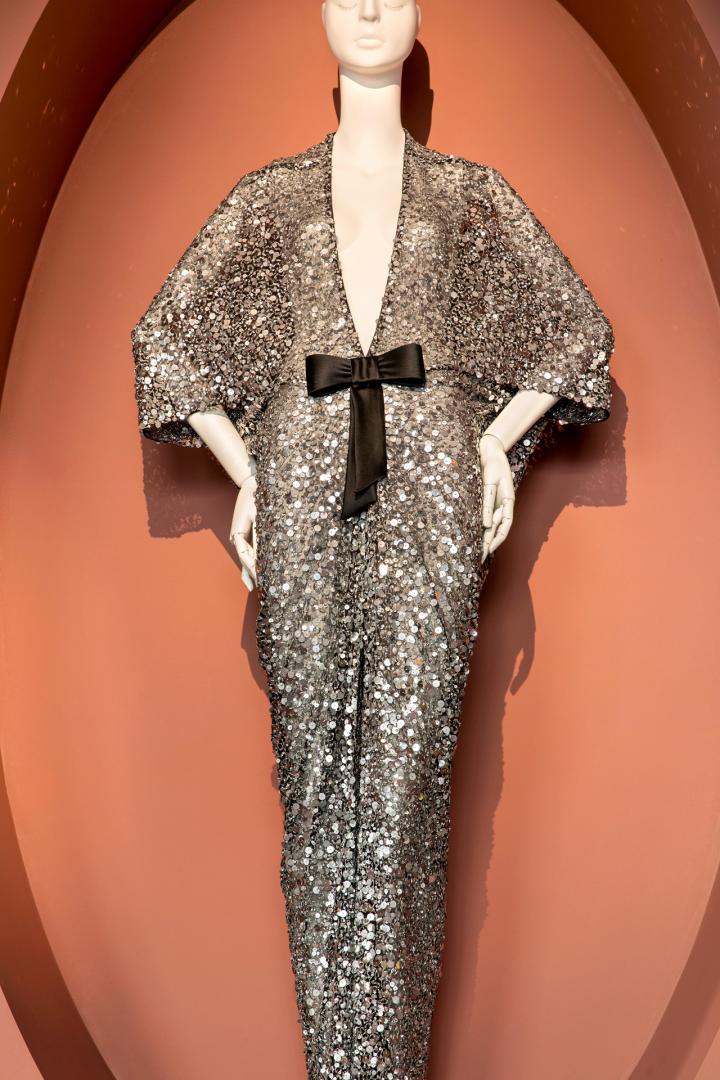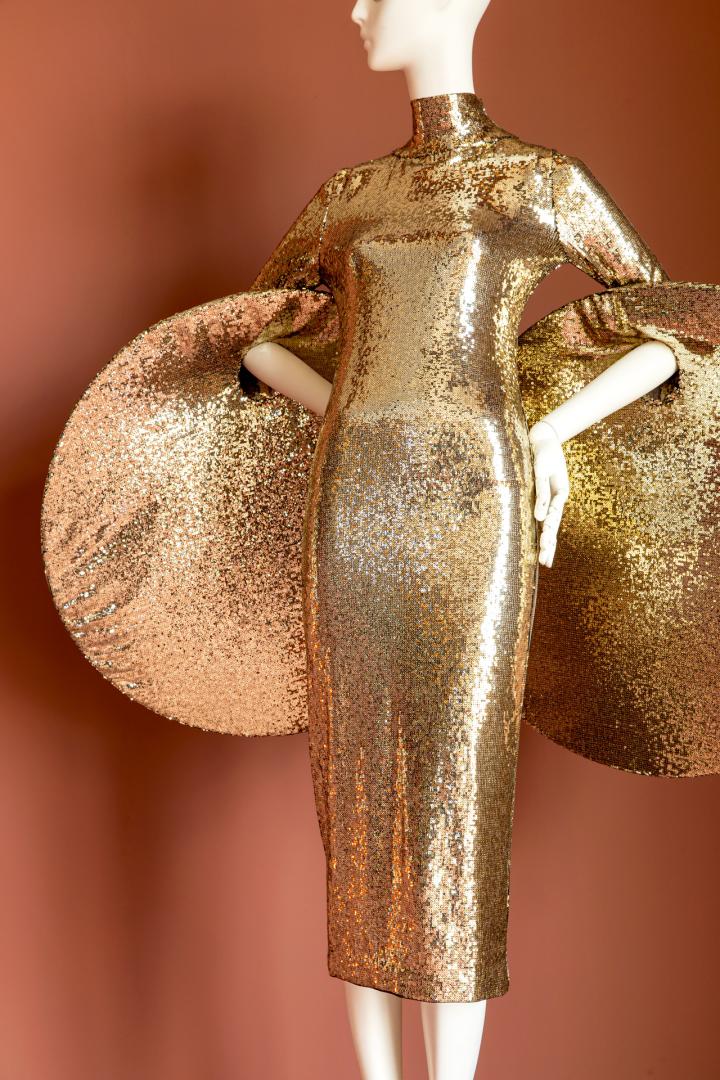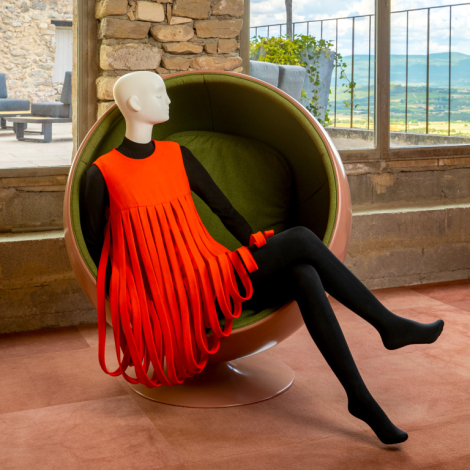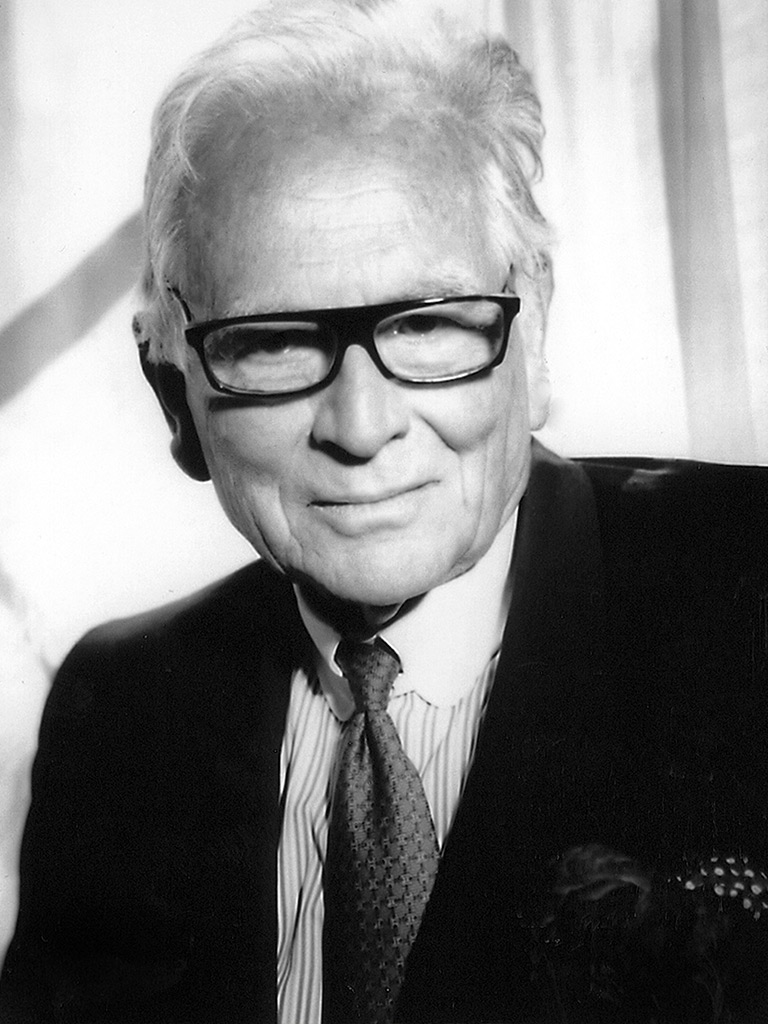 Remembering Pierre Cardin, a cosmic wonder
SCAD President and Founder Paula Wallace reflects on the importance of the late designer, whom she called colleague and friend for many years.
Jan. 18, 2021
On a freezing November day in 2018, I enjoyed a long conversation with my dear friend inside his 59 Rue du Faubourg Saint-Honoré boutique in Paris. Surrounded by a coterie of longtime friends — legendary model Maryse Gaspard among them — Pierre Cardin shared his origin story with us. He described with luminosity and mysticism his path, charted by a fortune teller just after World War II, who foretold his improbable destiny as a famous fashion designer. He recounted how he first landed at Schiaparelli, then moved to Dior, and finally, established his own house. Now, he occupied the pinnacle of haute couture. Cardin spoke in riddles, a mobius strip of narrative that wove through the stars and encircled his eternal muse, la lune. Cosmic wisdom was one of his endearing traits, yet it was rare to hear him speak of the past — Pierre Cardin had always steadfastly gazed ahead.
Polymath. Renaissance man. Iconoclast. Cardin was each of these and so much more. The magnitude of his loss has taken some time to comprehend. A true dreamer and visionary — sure of himself yet not braggadocious — he saw opportunity where his detractors, peers and pundits alike, saw affront. His passion for theater was renowned. "To tell the truth, originally, I wanted to be an actor or a dancer," he mentioned to me back in 2015. "I took dance classes. I took theater classes. But, well, I always had liked fashion — and I found my life in order to make a living." Early in his career, in 1946, he created costumes for Jean Cocteau's 1946 film Beauty and the Beast. He founded L'Espace Cardin in Paris, where Jeanne Moreau, Gérard Depardieu, and Marlene Dietrich walked the stage, and works by Robert Wilson and other luminaries were produced. And, at the pinnacle of Lacoste, he installed an open-air theater where he hosted the Festival de Lacoste beginning in 2001.
In less than a decade, he rewrote the rules for French fashion. He opened his studio in 1950. Debuted the "bubble dress" in 1954 — a seismic shift in representing the female form. And in 1959, launched his first ready-to-wear collection, a move that so incensed the Chambre syndicale de haute couture that he was expelled — only to be welcomed back three years later, once the scope of his success was evident. He declined the invitation. His vision led elsewhere.
Never a prisoner to form, Cardin's designs explored function through fabric. Dresses for Mia Farrow and Lauren Bacall were exquisite, and he lovingly — cheekily — described Jacqueline Kennedy as "his favorite royal to have dressed." Camelot, indeed. His 1960 Cylinder menswear collection — best-known through Douglas Millings' 1963 interpretations of the suit for The Beatles — was a magnum opus of deconstruction. No lapels. Relaxed shoulders. Five buttons. Limitless élan. By 1964, Cardin was blurring and challenging gender boundaries: his Cosmos collection offered tunics and tights to women — and men! And, in 1973, Cardin was one of five designers representing France at the famed "Battle of Versailles." Today, his synergy of élégance and outré reverberates through collections by many Cardin protégés — think Jean Paul Gaultier, and Pierre Courtial. The brilliance of his artistry ever waxes, never wanes. His business acumen was equally brilliant.
An exceptionally astute and ambitious entrepreneur, he grasped immediately that fashion was an industry that demanded the world's attention. His innovations were revolutionary: he was the first designer to license his eponymous brand for everything from Tupperware to telephones to desktop coffee warmers — even cigarettes, though he didn't smoke. People dubiously scoffed at Cardin's name emblazoned on chocolates and bath towels and myriad other products. (By the mid-1980s, he claimed 840 licenses.) "But first you have to have a name that people want to buy," Cardin retorted with signature wit and a wry twinkle. "Chanel made one suit, and people recognize them for that. Only one. But that's Chanel." Foregoing ostentation, Cardin understood the renown of reputation, the notoriety of name. And he instinctively perceived the promise of worldwide markets.
His overtures into Asia were a first for a Western designer, and he was acclaimed there as a global celebrity, attracting larger crowds than the Emperor when he stepped off the plane in Japan. In 1978, Gaspard danced — famously — along the Great Wall of China in a Cardin design. A year later, he hosted his first runway show in the country. Other designers have since selected similarly sublime or historic locations. Karl Lagerfeld's 2007 show for Fendi at the Great Wall comes to mind. But Cardin was the first to market widely to discerning clientele throughout Asia. He set the stage for fashion houses to earn substantial percentages of their income from Asia's thriving luxury markets, especially courting affluent fashion cognoscenti in China. (I once asked him how long it took to fly to China in the early days. He revealed that he'd first traveled by boat, and that subsequent trips took three days — by plane.) His prescience was sine qua non. In every medium, Cardin was a trendsetter — in muslin, marketing, and maisons.
Cardin revered magnificent architecture and acquired legendary spaces: the palazzo Ca' Bragadin in Venice, which he celebrated as one of Casanova's residences, and many exquisite properties throughout the 8th arrondissement, such as the Belle Epoque restaurant and Paris fixture Maxim's, and his home on rue Gabriel, now the superb hotel La Reserve. Cardin designed and dreamed like an architect. He once showed me a detailed model for a lofty modern tower he planned to erect in Venice. He was sure about it, very focused on its imminent construction. Alas, ultimately, Venetians decided against the tower and it was never built. He also developed a grand plan for a golf course in Provence, a pastoral landscape known for its picturesque vineyards — but not for tees and traps. Again, his development was rebuffed with a chorus of "Nons."
Everyone celebrates his Bubble House, an extraordinary holiday retreat near Cannes, yet I knew Cardin in Lacoste as voisin, my neighbor, and later as a dear friend living in our Provençal home. In the early 2000s, SCAD began to restore and rehabilitate the village — SCAD Lacoste is our European location, a salon of cultural and sensory immersion and a hive of experiential learning. Cardin had arrived around the same time; as we both settled in, he savored dinner invitations and often joined us. Cardin preserved places connected with some of history's "bad boys" — he was drawn to misunderstood genius. His Chateau de Sade in Lacoste — replete with moat and drawbridge — was the residence of the infamous Marquis. Described by de Sade's father-in-law as a "fortress," and twice ransacked for its materials, today the chateau shines like a beacon atop the hill, beckoning travelers to Lacoste to marvel at the sensitivity of Cardin's restoration — punctuated by unexpected contemporary sculpture. Present day, visitors to the village stroll past a panoply of Cardin's properties, their exteriors preserved, their interiors awash in vibrant colors.
As surely as Cardin reveled in enthralling juxtapositions, he nurtured the dreams of future creatives — his most beguiling trait. Cardin unequivocally admired the work of SCAD students. He often remarked on the joy and esprit they brought to Lacoste — and to him, emotionally and artistically. He connected with students across every subject we teach at SCAD, from architecture, furniture design, and painting to fibers, sequential art, illustration, and more. As he said to me once: "I do architectural works for the human body." At our quarterly vernissage, where SCAD students present and sell professionally — many for the first time — Cardin celebrated their creations. Not only would some SCAD Bees make first sales, but those works might find their way into Cardin's personal collection. One summer, Charles Clary, a SCAD graduate student, saw his first large-scale paper assemblages purchased by Cardin — and later exhibited at Galerie EVOLUTION-Pierre Cardin in Paris. Summers at SCAD — tres magnifique!
In every way, Cardin was extraordinary. Three Golden Thimbles. Officer of the Legion of Honor. Membership in the French Academy of Fine Arts. Accolades that cemented his reputation as a preeminent fashion designer and a caring and compassionate citizen. SCAD recognized Cardin with an Étoile Award in 2008 to honor not only his lifetime of achievement and innovation, but his generosity and authenticity — Lee Radziwill, Anne Bass, Dakota Jackson, and floral designer Olivier Guigni were among those who celebrated this honor. Watching Le Futur — a SCAD-produced, animated short biopic about Cardin — you can't help but notice his kindness and grace. His pull. "I have always been very close with the cosmic elements," he remarks in the film — a sentiment he shared with me on that cold November day in Paris during what would be our final tête-à-tête. "I told myself that the moon was my symbol."
Pierre, your designs forever shimmer through the stars in our sky — and your spirit endures in the light of la lune.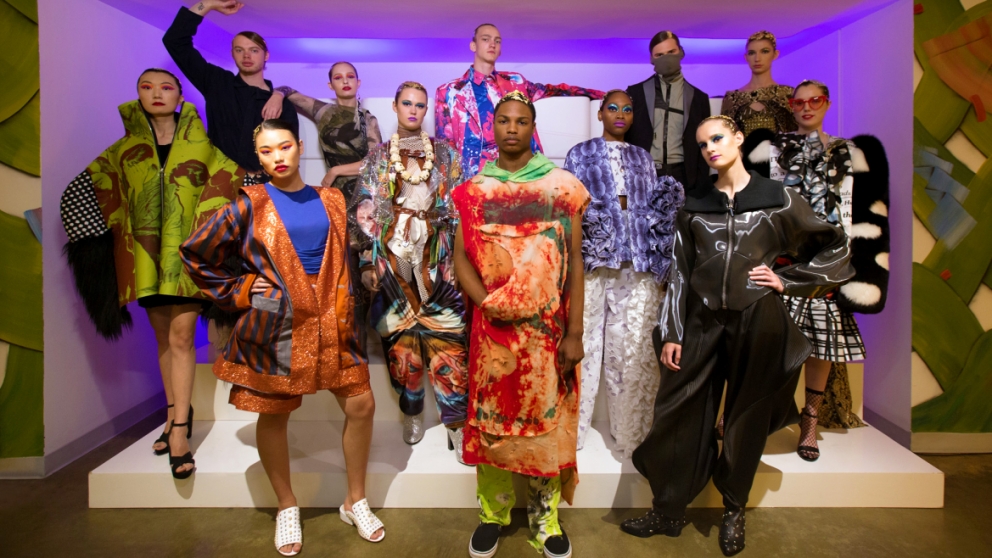 SCAD School of Fashion
One of the most comprehensive and connected arts schools in the world, SCAD offers undergraduate and graduate programs in accessory design, business of beauty and fragrance, fashion, fashion marketing and management, fibers, jewelry, and luxury and fashion management.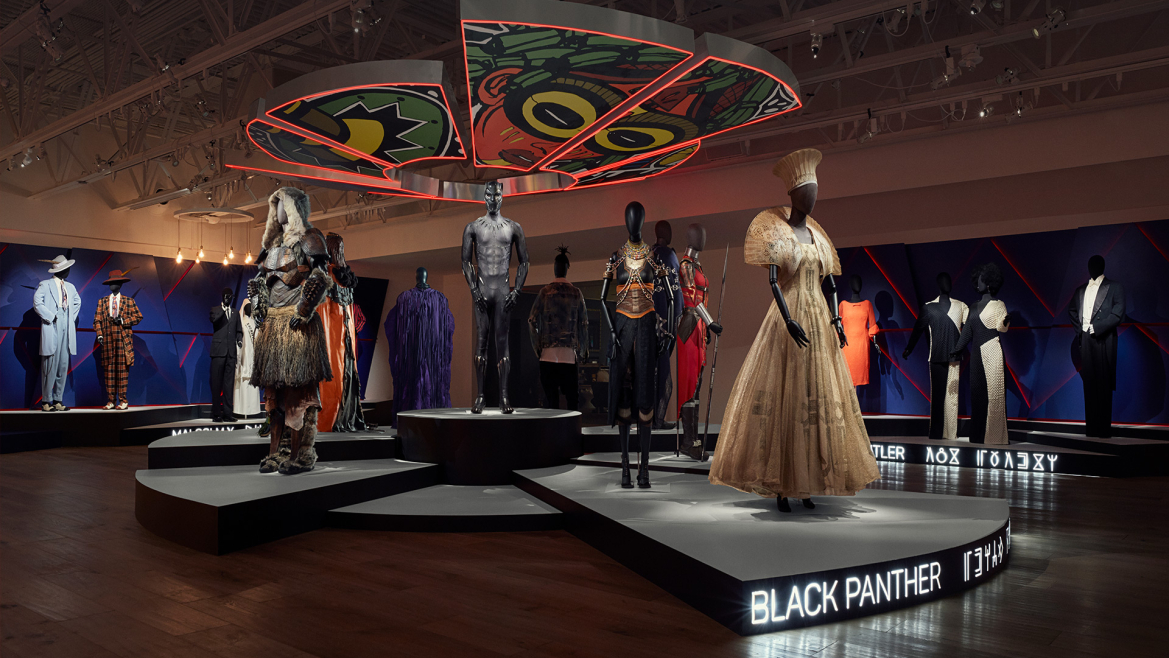 SCAD FASH Museum of Fashion + Film
SCAD FASH Museum of Fashion + Film celebrates fashion as a universal language, garments as important conduits of identity, and film as an immersive and memorable medium of popular culture.
SCAD fashion films
'Fashion in Frame'
Fashion in Frame is a captivating cinematic experience showcasing gorgeous garments, jewelry, and accessories by students and 2020 alumni of the university's award-winning SCAD School of Fashion.
'SCAD FASHION 2021'
SCAD FASHION 2021 invites global audiences to witness the future of the fashion industry, as SCAD transcends the runway in an ascendent, supersensory experience created in collaboration with more than 200 SCAD students and alumni in fashion, jewelry, accessory design, motion media design, film and television, and sound design.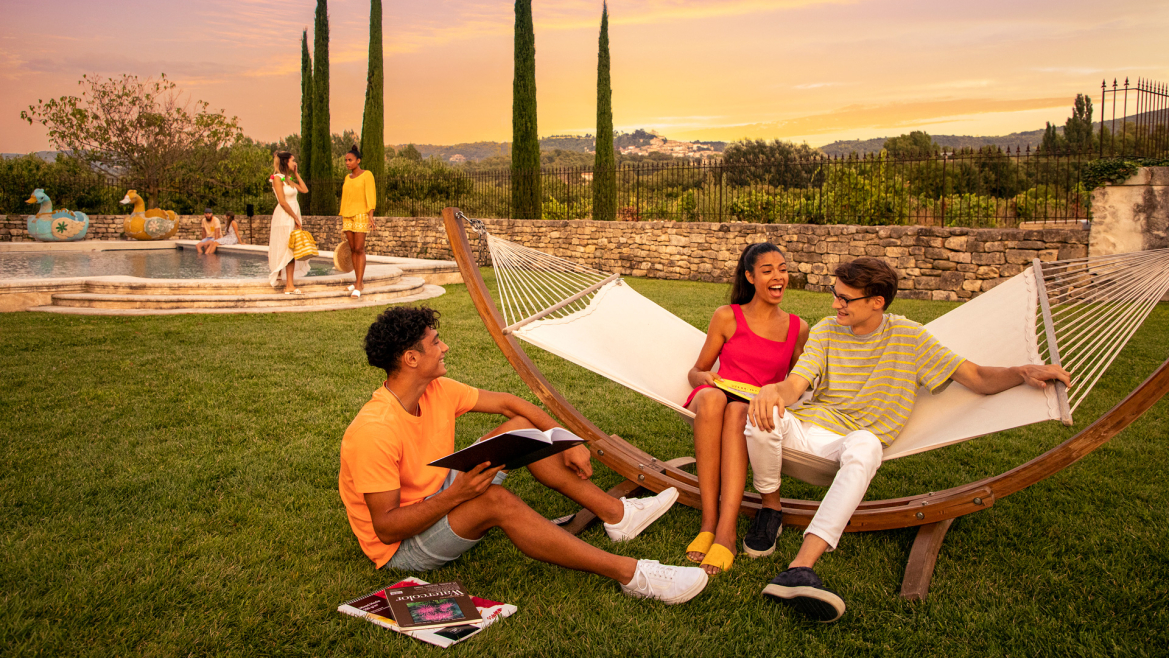 SCAD Lacoste
SCAD Lacoste is a residential study-abroad location in France, offering immersion in the history and culture of Provence. Course offerings each quarter are varied to apply to all SCAD areas of study and are taught by SCAD professors. Lacoste is a beautifully preserved medieval village and historic destination for artists, known for its extraordinary light and exquisite pastoral setting. SCAD Lacoste structures dating from the ninth to the 19th centuries feature cutting-edge contemporary amenities. Students interact with visiting artists, take field trips to museums and historic sites in the area, and have the opportunity to exhibit their work.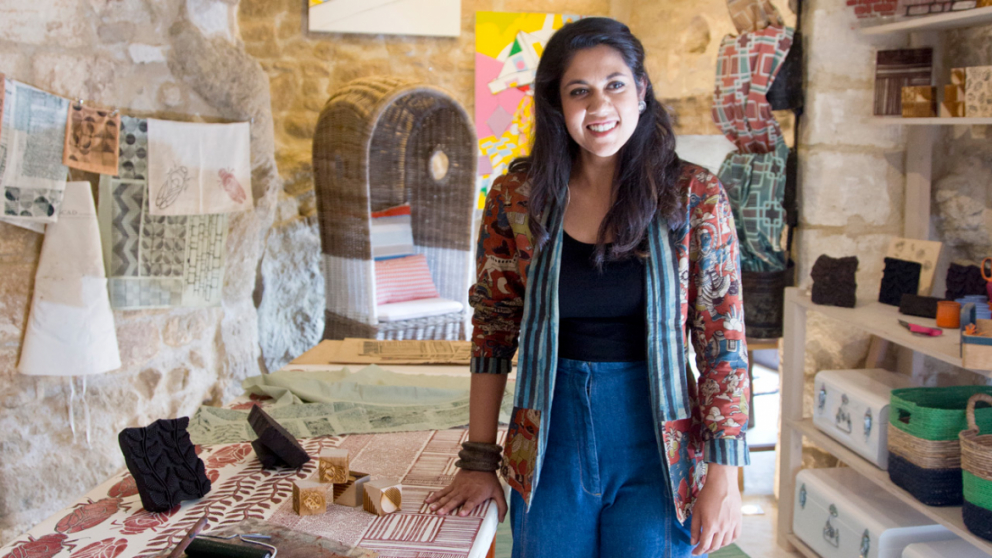 SCAD Alumni Atelier
The SCAD Alumni Atelier is an elite artist residency program hosted at SCAD locations in Atlanta, Lacoste, and Savannah conceptualized and personally endowed by SCAD President and Founder Paula Wallace. Founded in 2015, it offers visionary graduates the time, space, resources, and business education to thrive creatively and professionally.
As ambassadors or associates, alumni advance their careers, strengthen their connection to the university, and join a select cohort of emerging and established entrepreneurs, artists, designers, and scholars. Now in its sixth year, the SCAD Alumni Atelier has disbursed more than $1 million in support of new or expanded alumni ventures including fashion brands, product lines, jewelry collections, screenplays, feature films, exhibitions, case studies, and more — a testament to the university's lifelong commitment to the SCAD community.