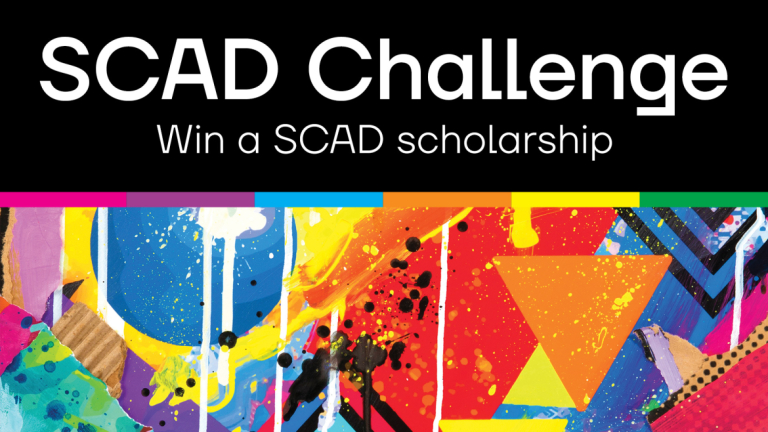 Take the SCAD Challenge
Design. Enter. Win.
Put your artistic vision to the test for an opportunity to earn a scholarship to SCAD, The University for Creative Careers.
SCAD Challenge entries must consist of a single piece and demonstrate creativity, innovation, and a strong understanding of aesthetics. Let your design speak to your skill level and ability to handle university-level art and design assignments.
There are three separate competitions within the SCAD Challenge: Undergraduate, transfer, and graduate. The undergraduate challenge is open to current juniors and seniors in high school as of the 2020-21 academic year. The transfer challenge is open to any student planning to transfer to SCAD during the 2021-22 academic year. The graduate challenge is open to anyone planning to enroll in a SCAD graduate program as of fall quarter 2021. A panel of SCAD faculty review and evaluate submitted entries, and select winners from each category.
Challenges and categories
Transfer challenge category
Submit one single piece from any of the categories listed for the undergraduate challenge that you feel best represents your talent as an artist or designer. This does not need to be a piece from your primary major of interest, but whatever you feel is your absolute strongest work.
How to enter
Complete an application

Entrants must complete an application for admission to SCAD to be eligible to participate in the SCAD Challenge. Online applications must be submitted by 5:30 p.m. ET, Monday, Feb. 15, 2021.

Submit work to be considered in one or more SCAD Challenge categories, keeping in mind your submission is not required to reflect your major of interest. For example, if you intend on majoring in interior design at SCAD, and your current strength is photography, you may submit a piece in the photography category. You may submit only one piece per SCAD Challenge category.

Submit your work

Students who have already completed an application for admission at SCAD should submit their work to the SCAD Challenge categories in SlideRoom. Scroll down in SlideRoom and review all of the SCAD Challenge guidelines. Applicants may submit work to a category outside of their primary major of interest. Applicants may enter work into multiple categories. Artwork must be submitted by 5:30 p.m. ET, Monday, Feb. 15, 2021.

Your entry should show work in one or more of the SCAD Challenge categories listed above.
To see submission guidelines and enter your work, log on to SlideRoom.
From the directory of portfolio categories, scroll toward the bottom of the page and select the SCAD Challenge category that matches the competition you wish to enter (for example: "SCAD Undergraduate Challenge: Photography, 2021").
Complete the form as directed, upload your materials and submit.

Winners will be notified Friday, March 5, 2021
What you can win
Challenge awards
Winners from each SCAD Challenge category will receive a scholarship upon admission to the university. Scholarships are renewable each year until completion of a bachelor's degree as long as the recipient maintains a cumulative grade point average of at least 3.0.
Platinum award
US$4,000
SCAD Challenge scholarship
Gold award
US$3,000
SCAD Challenge scholarship
Silver award
US$2,000
SCAD Challenge scholarship
SCAD reserves the right to use images or stills from the submitted work in promotional material.