Scholarships
Scholarships are often called gift aid because they are free money — money that does not have to be repaid.
Scholarships are usually merit-based, meaning they are given based on desired qualities such as academic achievement, athletic ability, or community or extra-curricular involvement. Scholarships can come from the federal or state government, your college or career school, or a private or nonprofit organization. It is important to research the different scholarship opportunities, apply for the ones where you may meet the requirements and adhere to the specified deadlines.
Applying for federal aid
U.S. citizens and eligible non-citizens can apply for federal aid by submitting a Free Application for Federal Student Aid, or FAFSA. To designate SCAD as your school on the FAFSA, use the SCAD Federal School Code: 015022. This code allows a school to calculate your eligibility for federal financial aid.
Students must first apply and be accepted to SCAD in order to receive aid.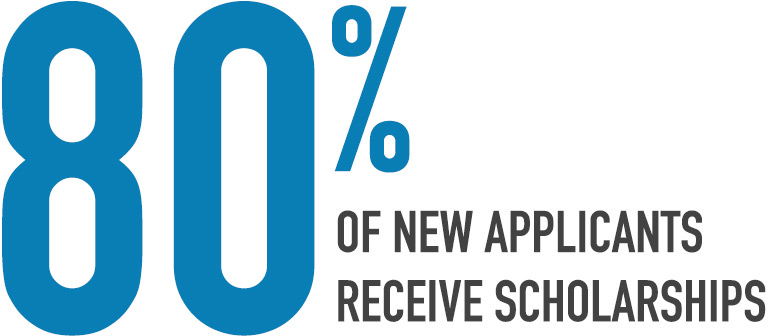 Scholarship opportunities for incoming students
Scholarships are available for both U.S. and non-U.S. citizens, and are awarded to entering students prior to first-quarter attendance. Undergraduate students who wish to be considered for achievement scholarships must provide additional materials as part of their application for admission.
Take the SCAD Challenge
Demonstrate your creativity, innovation and strong understanding of aesthetics for the chance to earn a scholarship.
Challenges are open to juniors and seniors in high school as of the current academic year.
Search for scholarships online
In addition to the tools SCAD offers, there are several additional resources and websites that can be used to help find scholarships to fund your education.
Submit a portfolio and résumé for additional scholarships
Portfolios and auditions are not required for undergraduate admission; however, applicants are strongly encouraged to submit both a résumé and a portfolio or audition to be considered for a scholarship.
Scholarships for currently enrolled students
Scholarships may be available to currently enrolled SCAD students based on academic achievement, financial need or a combination of the two. To be eligible, students must be on schedule to complete a minimum of 45 undergraduate hours or 15 graduate hours at SCAD by the end of spring quarter. The scholarship application for current students is available online during the month of April only. Applicants are automatically considered for all applicable scholarships.
SCAD scholarship offers for undergraduate students vary according to whether students reside in SCAD housing. Current students who have been accepted to study on an off-campus program may apply to receive travel scholarships. These scholarships are administered through the office of financial aid. If you are participating in one of the university's upcoming off-campus programs and are interested in obtaining a scholarship for the trip (including Lacoste), you may direct your questions via email at [email protected].
Educator scholarships
Educators who are employed full time or in an adjunct capacity at the kindergarten through university level at a public or private institution may be eligible to receive a half-tuition scholarship to attend SCAD at any location or via SCAD eLearning.
Student employment
SCAD provides paid job opportunities, including the Federal Work-Study program, to enrolled students. Students must meet certain eligibility requirements.
Alternative funding and outside scholarships
SCAD accepts scholarships from outside sources; many are available through a variety of organizations.
Resources and references
Necessary financial aid forms, verification documents and other tools to help finance your education.