Start your SCAD journey early
Take college-level classes while in high school with SCAD joint enrollment, where you have early access to virtual class instruction by renowned professors, Zoom hangouts with your classmates, and unparalleled academic resources.
For more information, contact SCAD admission at [email protected] or 800.869.7223.
Earn college credit before graduating high school
Students can take up to two online courses per quarter and receive five credit hours for each successfully completed course. Credits may be applied to an eventual degree at SCAD. Available courses span a variety of creative areas of interest, from advertising to drawing to digital communications and camera technique.
programs
Find your passion
Browse through more than 40 degree programs and 70 minors to design the path to your creative career.
Explore joint enrollment courses
Courses offered may vary.
ANAT 100 General Anatomy
ANTH 101 Introduction to Anthropology
ADBR 150 Introduction to Advertising: Concept to Content
BUSI 101 The Design of Business
CTXT 121 Visual Culture in Context: Pre-Modern Global Perspectives
CTXT 122 Visual Culture in Context: Making Modernities
DRAW 100 Drawing I: Form and Space
DRAW 101 Drawing II: Composition and Media
DSGN 100 Design I: Elements and Organization
DSGN 101 Color: Theory and Application
DSGN 102 Design II: 3-D Form in Space
DIGI 130 Digital Communication
ENGL 123 Ink to Ideas: Critical Concepts in Literature and Writing
MATH 100 College Mathematics
PHIL 202 World Religions
PHOT 113 Camera Exploration and Technique
POLS 100 Politics in America: Freedom, Equality and Power
PSYC 101 Introduction to Psychology
WRIT 255 Business and Professional Writing
Requirements
Must be a high school student 16 years of age or older, currently in your junior or senior year
Application
$60 application fee
Transcript
Résumé
Two letters of recommendation
If you attended virtual summer programs, you are only required to submit your transcript and résumé.
Dates
(10-week quarters)
Winter: Jan. 4-March 11, 2021
Spring: March 22-May 27, 2021
Summer: June 21-Aug. 26, 2021
Fall: September 13–Nov. 18, 2021
What's the difference between joint and dual enrollment?
SCAD offers joint enrollment, a program where high school students are enrolled in both college and high school. Students earn college credit, but this credit may not be applied to meet high school graduation requirements. Dual enrollment is an agreement between a college and the student's high school in which the student earns dual credit, which can be applied to a high school graduation requirement. Individual students may request credit for college courses from their high school, but this is on an ad hoc basis.
International Baccalaureate Career-related Programme
International Baccalaureate Career-related Programme (IBCP) students can earn up to 25 credit hours at SCAD, benefitting from the advanced resources and individual attention from professors at The University for Creative Careers.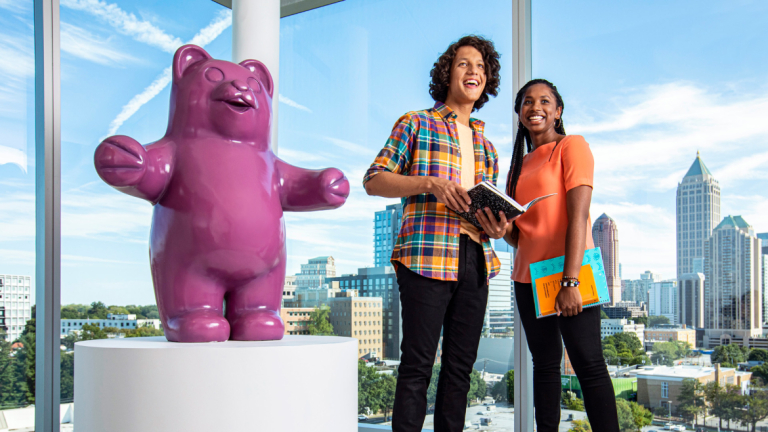 Explore other opportunities for high school students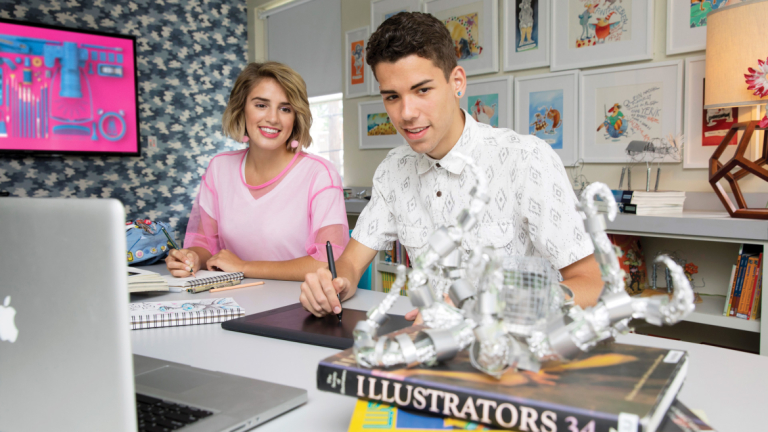 SCAD Rising Star
This challenging five-week program awards college credit to rising high school seniors who are ready for a university experience. 
SCAD Summer Seminars
Workshops help current freshmen, sophomore, and juniors in high school develop their creative vision while gaining valuable educational experience.