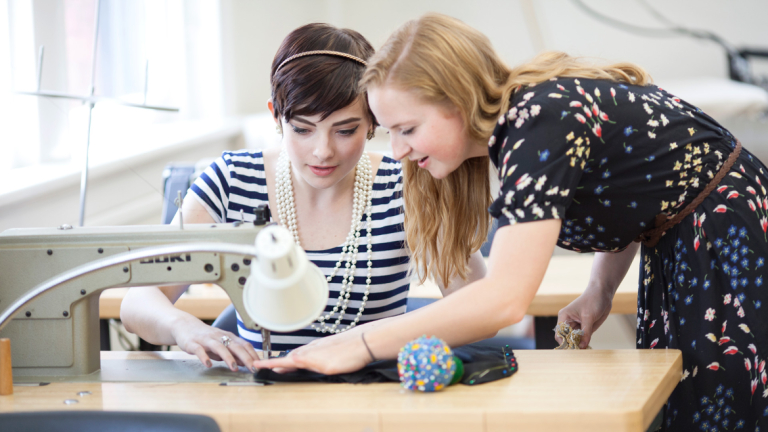 SCAD Rising Star courses
SCAD Rising Star students participate in two five-quarter credit hour courses taught by SCAD faculty. By successfully completing these courses, participants earn college credits toward a SCAD degree or may transfer credits to other accepting institutions.
Atlanta courses
SCAD Rising Star courses in Atlanta offer students an unparalleled academic experience within a diverse urban environment bursting with museums, parks, music venues and more. Small classroom sizes and individualized instruction help students find their voices in a vibrant city.
Savannah courses
From professional-caliber resources in inspired historic settings to one-on-one guidance from renowned instructors, SCAD Rising Star courses in Savannah provide the perfect backdrop for students to begin their college journey.
Hong Kong courses
Surrounded by a fusion of ancient heritage and modern influence, SCAD Rising Star students in Hong Kong draw inspiration from Asia's World City as they prepare to become tomorrow's creative leaders. Students may select two courses taught by acclaimed faculty that can be applied to future university credit.
Upon acceptance to SCAD Rising Star, students are asked to indicate their preference of courses. Students are placed in courses based upon receipt of the $250 program fee and space availability. Placement in the student's top selections is not guaranteed.
Courses may include demonstrations, lectures, studio work and local field trips. Students also have access to the university's extensive resources, from cutting-edge studios to vast libraries.
Recommended course pairings:
Two foundation studies courses
Two general education courses
Foundation studies course + general education course
Foundation studies course + major-specific course
General education course + major-specific course
Credit/evaluation
Upon successful completion of the program, each student earns 10 quarter hours of college credit that may be applied toward a bachelor's degree at SCAD or another college or university. (Course credits are applied to degree requirements at the discretion of the accepting institution.) Professors evaluate academic performance and artistic progress at the conclusion of the program.
Supplies
SCAD Rising Star students are responsible for purchasing their own class supplies. Supply expenses vary by course. A list of supplies is provided with each student's specific course schedule and supplies may be purchased at the SCAD bookstore upon arrival arrival in Savannah and Atlanta. A list of supply stores in Hong Kong will be provided for Rising Star Hong Kong students. Photography students must bring a digital camera, with a minimum 6.1-megapixel capability. Students should not purchase supplies for any class until they have been admitted to the program and receive their course schedule, as classes are filled on a first-come, first-served basis upon payment of the program fee.
Enrollment after SCAD Rising Star
Students who participate in SCAD Rising Star will gain valuable experience, as well as build and enhance their portfolio, all while refining their skills under the guidance and instruction of SCAD faculty. Satisfactory completion of SCAD Rising Star with a cumulative grade-point average of 3.0 or higher may qualify students for admission to SCAD for further undergraduate study if they have submitted all required first-time freshman application materials (including standardized test scores in the form of an official SAT or ACT report for U.S. citizens).
These students also may be invited to continue their SCAD Rising Star experience as SCAD eStar students. Through eStar, students take one online course each quarter with other freshmen; eligible students may earn up to 25 quarter hours of credit. Students who wish to be considered for early admission should contact the admission department.
SCAD Rising Star Atlanta
P.O. Box 77300
Atlanta, GA 30357
404.253.2700 or 877.722.3285
[email protected]
SCAD Rising Star Hong Kong
292 Tai Po Road
Sham Shui Po
Kowloon
Hong Kong
852.2253.8044
[email protected]
SCAD Rising Star Savannah
P.O. Box 2072
Savannah, GA 31402
912.525.5100 or 800.869.7223
[email protected]