Press Release
/
Aug. 27, 2015
SCAD places in top five of Business of Fashion Global Fashion School Rankings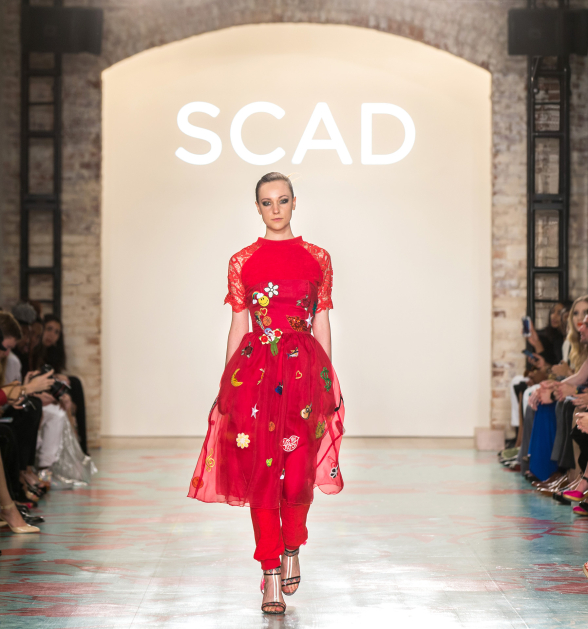 SAVANNAH, Georgia —
The Savannah College of Art and Design (SCAD) is pleased to announce placement within the top five of four categories within the first Business of Fashion (BoF) Global Fashion School Rankings of the top 21 undergraduate and 10 graduate fashion programs.
SCAD's graduate fashion programs—Accessory Design, Fashion, Fibers, Jewelry and Luxury and Fashion Management—ranked first in the world for "Best Learning Experience" and "Best Long-Term Value." The graduate programs are also ranked the top in the U.S. and fifth in the world.
Additionally, the undergraduate programs—Accessory Design, Fashion, Fashion Marketing and Management, Fibers and Jewelry—ranked third in "Best Learning Experience" worldwide.
"It's through the hard work of our students that this kind of recognition is possible," said Michael Fink, dean of the School of Fashion. "The leadership of our faculty provides students with an exceptional learning experience that helps them refine their skills and direct them toward their future. The outstanding success of our alumni speaks to that."
In a survey of Spring 2014 SCAD graduates, 97 percent of respondents reported being employed, pursuing further education, or both, within 10 months of graduation.
The BoF based its rankings on an analysis of 60 data points collected from 24 participating fashion schools in 11 countries, a survey of more than 4,000 fashion students and alumni, and a reputational survey of 88 Human Resources professionals and fashion influencers. Each program was evaluated for its global influence, learning experience and long-term value.
About SCAD: The University for Creative Careers
The Savannah College of Art and Design is a private, nonprofit, accredited university conferring bachelor's and master's degrees at distinctive locations to prepare talented students for professional careers. SCAD offers degrees in more than 40 majors, as well as minors in more than 60 disciplines. With over 30,000 alumni worldwide, SCAD demonstrates an exceptional education and unparalleled career preparation. At locations in Savannah and Atlanta, Georgia; in Hong Kong; in Lacoste, France; and online through SCAD eLearning, the diverse student body consists of nearly 12,000 students, from across the United States and more than 100 countries.
SCAD's innovative curriculum is enhanced by advanced, professional-level technology, equipment and learning resources. The university, students, faculty and alumni have garnered acclaim from respected organizations and publications worldwide including Time, Vogue Magazine and U.S. News & World Report.
For more information, visit the official SCAD blog.
Media contact
Ally Hughes
SCAD
Director of University Communications
912.525.4881
[email protected]