Press Release
/
Dec. 16
SCADgoods offers first capsule collection for students, by students at shopSCAD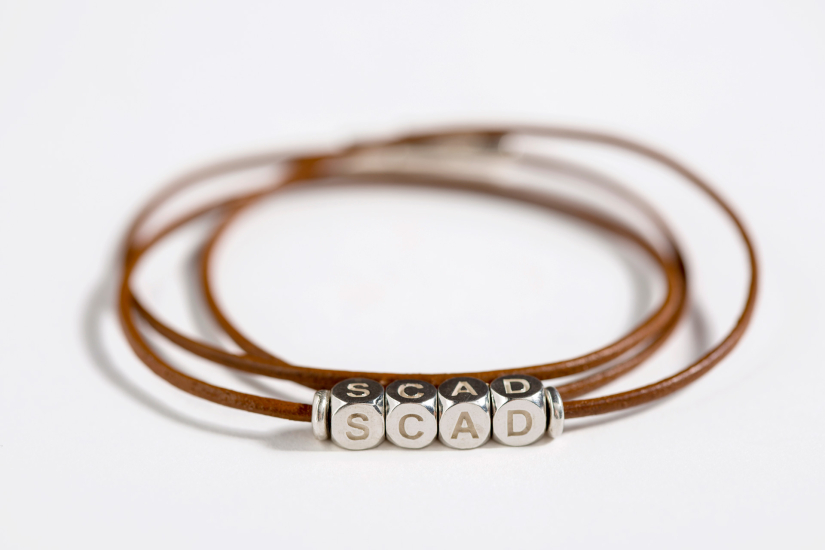 SAVANNAH, Georgia —
Savannah College of Art and Design (SCAD) students, the up-and-coming leaders of the creative economy, have designed a collection of unique accessories and clothing called SCADgoods.
The first SCADgoods collection, originally conceived as a lasting way for SCAD students to share their talents, will feature the designs of two current students ranging from bracelets and carryall pouches, to hoodies and outerwear. The durable goods are produced in limited quantities and may be purchased at shopSCAD, located at 340 Bull St., Savannah, Georgia or online.
About the designers
Pursuing a B.F.A in fashion, Demi Mummaw focuses on the personal aesthetic and style of the consumer. She designs menswear inspired by urban culture and the graphic prints often found in street styles. To Mummaw, menswear details are opportunities for innovation, resulting in subtleties that set her designs apart. For this collection, she designed five outerwear pieces, two jackets (the wool coat available in various colors), two hoodies and one vest.
Seung Jeon Paik is currently pursuing a M.F.A. in jewelry. Before coming to SCAD, he earned an M.F.A. in metalwork from the Kookmin University in South Korea. Paik's past work includes creating public sculptures and operating a jewelry studio, as well as the use of unconventional metalsmithing, alternative materials and computer-aided designs. He is the recipient of the SCAD Artistic Honors Fellowship and has garnered several other prestigious accolades, including the grand prize at the second annual Swarovski Competition, a prize at the International Craft Exhibition in Japan and a special citation at the Chungbuk Art Exhibition in South Korea. For the SCADgoods collection he designed two bracelets, available in various colors.
The current SCADgoods collection will be available for a limited time and only while supplies last. Additional designs will be unveiled soon from M.F.A. accessory design student Krystal Sokolis, M.A. luxury and fashion management student Cameron Madison and recent graduate Jose Sebastian Izurieta Herrera who has a B.F.A. in industrial design.
About shopSCAD
ShopSCAD offers a distinctive gallery-retail space in the heart of historic Savannah, Georgia and Lacoste, France that has attracted collectors, art buyers, window shoppers and tourists for more than a decade. As an outlet and community of SCAD artists, shopSCAD offers a huge resource for those who create work and who seek to purchase compelling designs.
SCAD: The University for Creative Careers
The Savannah College of Art and Design is a private, nonprofit, accredited institution conferring bachelor's and master's degrees at distinctive locations to prepare talented students for professional careers. SCAD offers degrees in more than 40 majors, as well as minors in more than 60 disciplines. With over 29,000 alumni worldwide, SCAD demonstrates an exceptional education and unparalleled career preparation.
At locations in Savannah and Atlanta, Georgia; in Hong Kong; in Lacoste, France; and online through SCAD eLearning, the diverse student body consists of nearly 12,000 students, from across the United States and more than 100 countries. SCAD's innovative curriculum is enhanced by advanced, professional-level technology, equipment and learning resources. The university, students, faculty and alumni have garnered acclaim from respected organizations and publications worldwide including Time, Vogue Magazine and U.S. News & World Report.
For more information, visit the official SCAD blog.
For retailer or product information, contact Erin Rakes. For all media inquires, contact Ally Hughes.