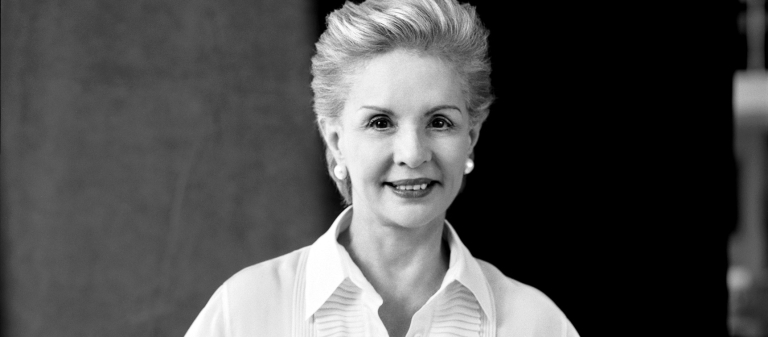 SCAD honors legendary designer Carolina Herrera with 2016 Étoile
Savannah, GA
1810 Bull St.
Join us as SCAD honors Carolina Herrera with the university's prestigious Étoile in recognition of the designer's outstanding contributions to fashion, culture and design. After the presentation, Herrera will share insight into her career.
The presentation and conversation with the designer are free and open to the public.
Carolina Herrera "Refined Irreverence" exhibitions
Explore a breathtaking selection of Herrera's runway, bridal and red-carpet gowns in a dual exhibition, on view May through September at SCAD FASH Museum of Fashion + Film and the SCAD Museum of Art. Curated by Rafael Gomes, SCAD director of fashion exhibitions, "Refined Irreverence" celebrates the 35th anniversary of the House of Herrera with timeless work from the designer's oeuvre.
Carolina Herrera
Carolina Herrera has led her eponymous label for more than three decades. Since launching her first collection in 1981 at the behest of legendary Vogue editor Diana Vreeland, the Venezuelan-born, American designer has become synonymous with effortless elegance and modern refinement. "I have a responsibility to the woman of today — to make her feel confident, modern and above all else beautiful," Carolina Herrera said. Shortly after her inaugural show, she opened her New York-based atelier cultivating a team trained in haute couture craftsmanship. In subsequent decades the label has expanded from women's ready-to-wear to offer bridal, fragrances and gowns for the world's fashion icons. Worn by such stars as Renée Zellweger, Salma Hayek, Marion Cotillard, Tina Fey, Lady Gaga, Taylor Swift and others, the Herrera brand is known for its luxurious craftsmanship and timeless classics.
Today, the Carolina Herrera label produces collections consisting of ready-to-wear and accessories for women, men and children as well as bridal and fragrances available in 105 countries at 15,000 points of distribution including over 125 CH Carolina Herrera and two Carolina Herrera New York retail locations. Herrera's numerous collections reflect a graceful sophistication inherent in the iconic style of its eponymous founder. With both global recognition and praise, Herrera has been hailed as "Fashion's First Lady." She was named the Council of Fashion Designers of America Womenswear "Designer of the Year" in 2004 and honored with the Geoffrey Beene Lifetime Achievement Award in 2008. In 2012, she was awarded the Fashion Group International Superstar Award and presented with the "Nat King Cole Award" in 2013 for her charitable works and contributions to the EIF Women's Cancer Research Fund. Most recently, the designer received the 2015 "Who's On Next Fashion Icon Award," which was presented by past honoree and close friend, Mario Testino, and celebrates Herrera's contribution to young designers and immense influence in the fashion industry.
Visit carolinaherrera.com, read more at facebook.com/CarolinaHerreraNY and follow @houseofherrera on Instagram for the latest news from inside the house.