Press Release
/
Sept. 10, 2015
New SCAD residency program propels careers and work of alumni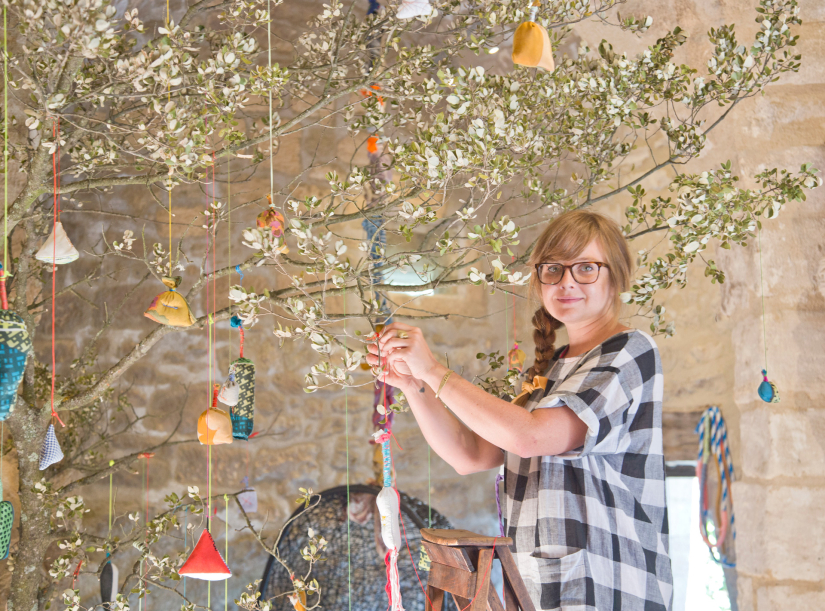 SAVANNAH, Georgia —
Savannah College of Art and Design (SCAD) is pleased to announce the SCAD Alumni Atelier (SAA), an unparalleled career-building opportunity exclusive to SCAD alumni of all disciplines. New graduates, mid-career professionals, and successful creatives seeking their next challenge may all apply for SAA. Selected alumni will immerse themselves in the vibrant community life of one of SCAD's locations—Atlanta, Savannah or Lacoste—for an academic quarter. Beginning in fall 2015, alumni recipients will live, work, study and re-experience the clarion call of creativity at SCAD.
Designed to benefit SCAD alumni at any career stage, this residency grants up to $25,000 for meals, supplies, travel, and an honorarium toward the completion of a significant project. As a part of SAA, the university provides complimentary on-campus accommodations and access to signature events and university resources, including rapid prototype and 3-D printing labs, libraries, computer labs, studio space, and performance venues. Under the mentorship of SCAD President and Founder Paula Wallace, SAA recipients also serve as university ambassadors — sharing the work created during their residency with the community via on-site exhibitions and customized events.
"As our alumni numbers continue to rise, it's become more apparent that something special should be created to advance the university's mission to prepare our students for professional careers — and not just their first job. I created this program to ensure that alumni know they can always look to our students, faculty, and global resources to spark their creative talents and further their contributions to scholarly research, writing, performance, art and design," said Wallace.
For the SCAD Alumni Atelier residency program, Wallace has united SCAD initiatives and services, and has personally galvanized an endowment to found the program and inspire the future success of SCAD alumni in career-advancing spaces.
SCAD alumni are an enduring priority of the university and its initiatives—such as shopSCAD, a boutique retail store dedicated to showcasing the work of SCAD students, alumni and faculty — support and advance career opportunities beyond graduation. Additionally, SCAD intentionally structured its office of Career and Alumni Success (CAS) to support current students and alumni as they reach key milestones in their life's work. Working closely with the Office of the President, CAS is charged with strengthening the bond between the university and positively impacting the trajectory of each graduate's creative career.
Any of SCAD's 32,000 global alumni are invited to submit proposals, and interested applicants should visit scad.edu/success/alumni-atelier for details, or email atelier@scad.edu. The deadline for fall submission is Sept. 24, 2015. Space is limited to a maximum of 10 SAA residents each term: fall, winter, spring and summer.
SCAD: The University for Creative Careers
The Savannah College of Art and Design is a private, nonprofit, accredited institution conferring bachelor's and master's degrees at distinctive locations to prepare talented students for professional careers. SCAD offers degrees in more than 40 majors, as well as minors in more than 60 disciplines. With 32,000 alumni worldwide, SCAD demonstrates an exceptional education and unparalleled career preparation.
At locations in Savannah and Atlanta, Georgia; in Hong Kong; in Lacoste, France; and online through SCAD eLearning, the diverse student body consists of more than 12,000 students, from across the United States and more than 100 countries. SCAD's innovative curriculum is enhanced by advanced, professional-level technology, equipment and learning resources. Curricular collaborations with companies and organizations including Google and the National Council of Architectural Registration Boards (NCARB) affirm the professional currency SCAD champions in its degree programs.
The university, students, faculty and alumni have garnered acclaim from respected organizations and publications worldwide including four consecutive years of No. 1 rankings for the undergraduate interior design program by DesignIntelligence, recognition as one of the 2014 Red Dot Design Rankings' top 10 universities in the Americas and Europe, and the No. 1 graduate fashion program in the U.S. as determined by Business of Fashion — recently cited by Fast Company as one of the world's top 10 most innovative companies of 2015 in media. For more information, visit the official SCAD blog.
Media contact
Ally Hughes
Director of University Communications
912-525-4881
ahughes@scad.edu