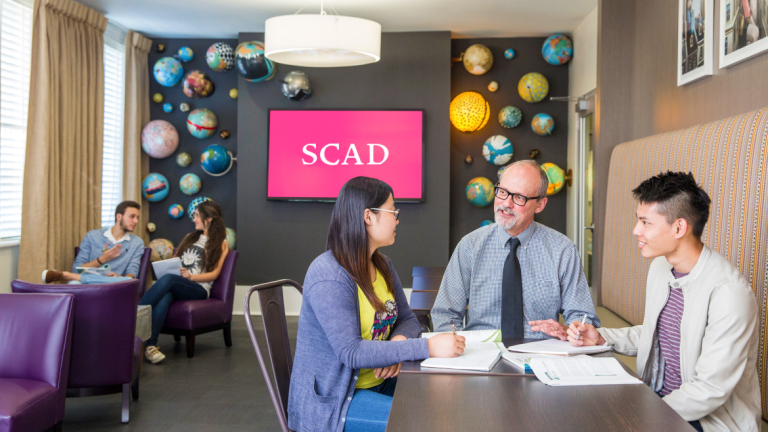 1
Apply and be accepted to SCAD
To get a U.S. student visa, submit a SCAD application and get accepted into a specific degree program.
2
Update passport
Renew your passport at least six months before it is set to expire and make sure it will not expire again for at least six months after your stay in the U.S.
3
Submit documents to SCAD
To receive a SEVIS form, you must submit a certificate of financial support and sponsorship letter to your admission adviser.
Ask a SCAD admission representative
If you have questions about applying for a visa, an admission representative can guide you through the process.
Differences between F-1 and J-1 visas
F-1 visas are issued to international students enrolled in an academic or English language program at a U.S. college or university. J-1 visas are issued to international students participating in work-and-study exchanges and visitor programs in the U.S. You can get F-1 and J-1 visas from a U.S. embassy or consulate outside of the U.S. with the SEVIS form provided by SCAD.
DS-2019
SCAD issues the SEVIS DS-2019 form to students applying for a J-1 visa.
I-20
SCAD issues the SEVIS I-20 form to students applying for an F-1 visa.
I-94
U.S. Customs and Border Protection use Form I-94 to confer immigration status and monitor your arrival and departure dates from the U.S. This record is maintained digitally by the U.S. government. Learn more at cbp.gov/I94.
Arriving in the U.S.
You must notify the International Student Services Office (ISSO) within 48 hours of arriving in the U.S. You are required by U.S. federal law to be registered in SEVIS. To request an airport pickup, notify ISSO at least five business days before arriving.
Download the SCAD welcome brochure for pre-arrival checklist
Other important U.S. documents
Social Security number
This nine-digit identification number found on a government-issued Social Security card is assigned to citizens, some temporary residents and permanent residents to track their income, credit records and benefit entitlements. You may be asked for a Social Security number if you apply for a car loan, set up cellphone service or rent an apartment.
Driver's license and ID cards
U.S. citizens use their driver's licenses or state-issued ID cards as the primary way of proving their identity. You should obtain a driver's license or state-issued ID card to cash checks, rent a car or check into a hotel. Identification may also be requested if you are buying certain items where proof of age is required. Visit the Georgia Department of Driver Services to learn more.
Connect with the International Student Services Office