Meal plans
SCAD offers several dining options to suit students' schedules and lifestyles. Meal plans are purchased and administered on a quarterly basis, and services are accessed through the use of the SCAD Card. Meal plans are not available at Hong Kong Gold Coast Residences or at SCAD Lacoste.
Residential meal plans
Full residential meal plans offer a designated number of meals per week or quarter, as well as a variable amount of flexible spending credit (Dining Dollars) for students to use at any SCAD eatery.
Students residing at The Hive, Montgomery House, Oglethorpe House, Spring House or Turner House must choose from plans A, B or C.
A meal plan is optional for students living in Barnard Village, Boundary Village, Forsyth House, Pulaski House, ACA Residence Hall of SCAD or Spring House suites.
Commuter meal plans
A commuter meal plan offers a designated number of meals per quarter for students residing off campus and those who are not required to select a meal plan.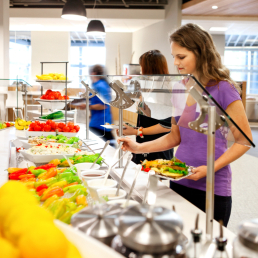 Meal plan fee and payment due dates:
Aug. 1 — Fall quarter 
Dec. 1 — Winter quarter 
March 1 — Spring quarter 
June 1 — Summer quarter 
| Full residential meal plans | Fee/Quarter | Dining Dollars* |
| --- | --- | --- |
| A-MP18: 18 meals/week | $1,780 ** | $75 |
| B-MP14: 14 meals/week | $1,800 ** | $150 |
| C-MP10: 135 meals/quarter | $1,749 ** | $125 |
| Commuter meal plans | Fee/Quarter | Dining Dollars* |
| E-MP02: 85 meals/quarter | $908 ** | $75 |
| H-MP07: 25 meals/quarter | $413 ** | $125 |
| I-MP06: 50 meals/quarter | $607 ** | $100 |
*Applicable at any SCAD eatery. **Includes Dining Dollar deposit
Dining periods
Dining periods are designated times throughout the day that you can swipe for each type of meal: early morning, breakfast, lunch, afternoon, dinner and late night. There are six dining periods each day:
Early morning: midnight to 5:29 a.m.
Breakfast: 5:30–10:29 a.m.
Lunch: 10:30 a.m. to 2:29 p.m.
Afternoon: 2:30–4:29 p.m.
Dinner: 4:30–9:59 p.m.
Late night: 10 p.m. to midnight
Students on meal plans A and B may use one meal swipe per dining period until all meals for the week have been used. A and B meal plan balances reset every Thursday at midnight. Meal plans C, E, H and I provide all meals at the start of the meal plan cycle each quarter, and the plan balance is to last the entire quarter. Students swipe for meals at their discretion, and each swipe deducts from the plan balance.
Dining facilities have varying hours of operation. Review café hours to see which dining facilities are open during each meal period.
Meal plan policies
Students who do not designate a meal plan preference at registration, but are required to participate in a full residential meal plan are assigned to plan B. Students may change meal plans by the second Thursday of each quarter, and if eligible, students may cancel meal plans by the fourth Thursday of each quarter and receive a prorated refund. Remaining meals do not carry over to the next quarter. Quarterly dining dollars will roll to the next successive term and will not expire until the end of the spring term for that academic year.
Please direct questions about the meal plan or payment information to the SCAD Card Center at 912.525.6153 or 912.525.8406, Monday through Friday, 8:30 a.m. to 5:30 p.m., and Saturday, 10 a.m. to 1 p.m. (fall, winter and spring quarters).
Send meal plan fees
and payments to:
SCAD Card Center
Savannah College of Art and Design
P.O. Box 3146
Savannah, GA 31402-3146 USA