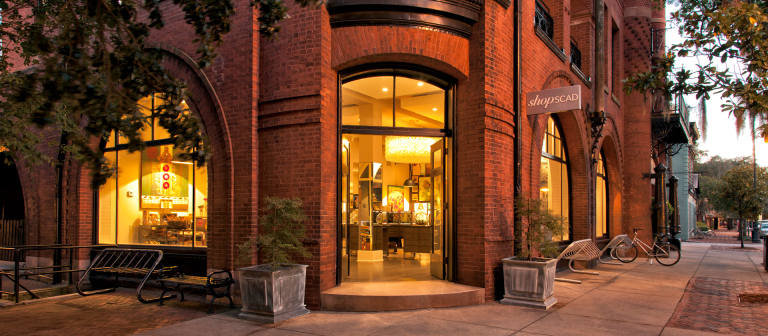 SCAD Alumni Atelier Vitrine reception
Savannah, GA
342 Bull St.
Join us for a reception celebrating the "Atelier Vitrine," a series of installations on view in the windows of shopSCAD and designed by the Spring 2016 SCAD Alumni Atelier ambassadors in Savannah. The ambassadors, Bradley Bowers (M.F.A. furniture design, B.F.A. industrial design), Jordan Graves (B.F.A. motion media design) and Tina Sommers (B.F.A. graphic design), will be working on their art throughout the day and visitors are invited to watch.
During the reception, guests will have the opportunity to meet the artists and discuss their process. Additional works by the ambassadors will be available for purchase in the gallery until Sunday, June 5, 2016. 
This reception is free and open to the public.
About the Savannah Spring 2016 ambassadors:
Bradley Bowers:
Bowers has worked with Procter & Gamble, Ralph Lauren, Gulfstream Aerospace, Jill Stuart and American Design Club to redefine the living space and objects that ornament the home. As a SCAD Alumni Atelier ambassador, Bowers is creating porcelain housewares and tableware that breathe new life into common design archetypes using physics simulations, parametric modeling and rapid prototyping. He will also develop a distinct design vocabulary that fuses modern technological vernacular with language used to describe the artistry of traditional French Limoges porcelain.
Jordan Graves:
Graves draws from her motion media design milieu to create unique, dynamic patterns reflected in surface design, vibrant motion graphics and her geometrical 3-D printed jewelry collection. She generates these bold patterns with her original software program Repeat Offfender, which she will use to construct a modular interactive installation during her residency. To engage viewers, the structure will be illuminated with reactive LED lights that respond to motion.
Tina Sommers:
Sommers is an award-winning art director whose clients include Marriott Moxy Hotels, the American Red Cross and Connecticut's Beardsley Zoo. During her SCAD Alumni Atelier residency, she will employ her design, communications and strategic branding acumen while collaborating with SCAD and the local community to create 20 large-scale color collages. The artwork will meld photography, acrylic mediums, handmade papers and mixed media. By taking a multidisciplinary approach, the finalized work will highlight the most distinctive hospitality, dining, retail and cultural destinations in Savannah, and emphasize the remarkable ways SCAD impacts the historic city.
To view the artists' work online, visit bradleylbowers.com, repeatofffender.com and tinasommers.com.
For more information about SCAD Alumni Atelier, email atelier@scad.edu.
ShopSCAD hours:
Monday–Friday: 9 a.m. to 5:30 p.m.
Saturday: 10 a.m. to 6 p.m.
Sunday: Noon to 5 p.m.