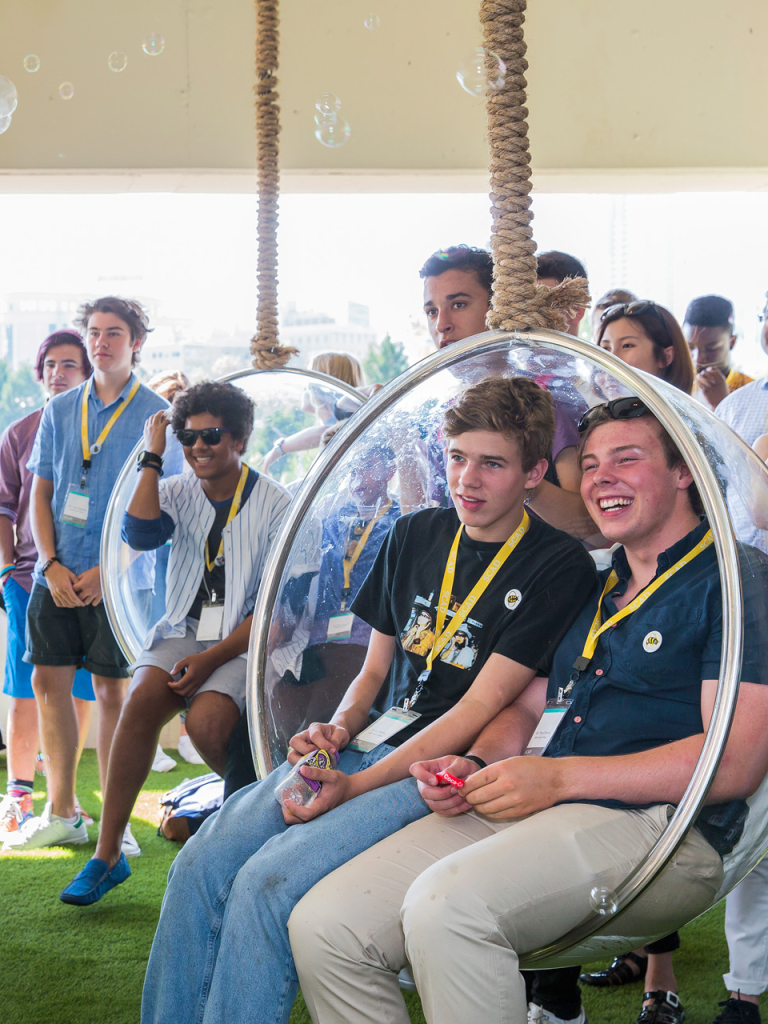 A global university, uniquely united
International students from more than 100 countries learn and create as part of a diverse community of artists and designers at SCAD. To acquire a U.S. visa to study at SCAD, international applicants should first complete the freshman, transfer or graduate application to SCAD based on their current academic status.
1
Apply and be accepted to SCAD
The first step in securing a U.S. student visa is to apply and be accepted into a specific program of study at SCAD.
2
Ensure your passport is valid
You should renew your passport at least six months before it is set to expire, and you should ensure it will not expire again for at least six months after your stay in the U.S.
3
Prepare documents and apply for a student visa
Depending on the type of visa you will use to enter the U.S., SCAD will provide you with the appropriate SEVIS form (Form I-20 for F-1 applicants and Form DS-2019 for J-1 applicants) in order to apply for a U.S. visa. In addition to that form, you must also submit a certificate of financial support.
Ask an admission representative
Do you have questions about applying for a visa, logging in to MyAdmission, submitting your documents or anything about the admission process? An admission representative is here to help.
F-1 student visa
An F-1 visa is issued to international students who are attending an academic program or English Language Program at a U.S. college or university. F-1 students must maintain the minimum course load for full-time student status. They can remain in the U.S. up to 60 days beyond the length of time it takes to complete their academic program, unless they have applied and been approved to stay and work for a period of time under the Optional Practical Training Program.
J-1 student visa
The J-1 visa is for people who wish to take part in work-and-study-based exchange and visitor programs in the U.S. These programs are sponsored by an educational or other nonprofit institution, which must be accredited through the Exchange Visitor Program designated by the U.S. State Department. J-1 exchange visitors come to the U.S. to teach, study, receive training, or demonstrate special skills. The J-1 visa is meant for students who need practical training that is not available to them in their home country, and the training must be directly related to their academic program.
New student orientation
An important first step in adjusting to college life at SCAD is the international student orientation program. Orientation is held each quarter, and all new international students are required to attend the entire program beginning their first quarter at SCAD. 
Please refer to the orientation schedule that corresponds to the location and quarter in which you intend to enroll, and plan your travel accordingly.
During the orientation program, international students will:
Take an English proficiency exam
Receive information on maintaining nonimmigrant visa status
Become familiar with the academic structure of the university
Meet other international and domestic students at SCAD 
Learn about cultural adjustment and campus life
Aprende sobre SCAD en español
SCAD ofrece más carreras y especializaciones que cualquier otra universidad de arte y diseño en los Estados Unidos. La universidad está especialmente calificada y cuenta con los recursos académicos para propiciar la excelencia en la capacitación de los estudiantes en carreras creativas.
When you arrive in the U.S.
You must notify the International Student Services Office (ISSO) within 48 hours of arriving in the U.S. and/or arriving on campus. You are required by U.S. federal law to be registered in SEVIS. If you would like to request an airport pickup, please notify ISSO at least five business days prior to your arrival.
International Student Services Office
The International Student Services Office (ISSO) at SCAD can help international students answer questions concerning academics, university life, cross-cultural issues, employment, health care, housing, safety, immigration, insurance, scholarships, taxes, travel and more.