Press Release
/
Aug. 31
SCAD presents "L'esprit de SCAD" in Lacoste, France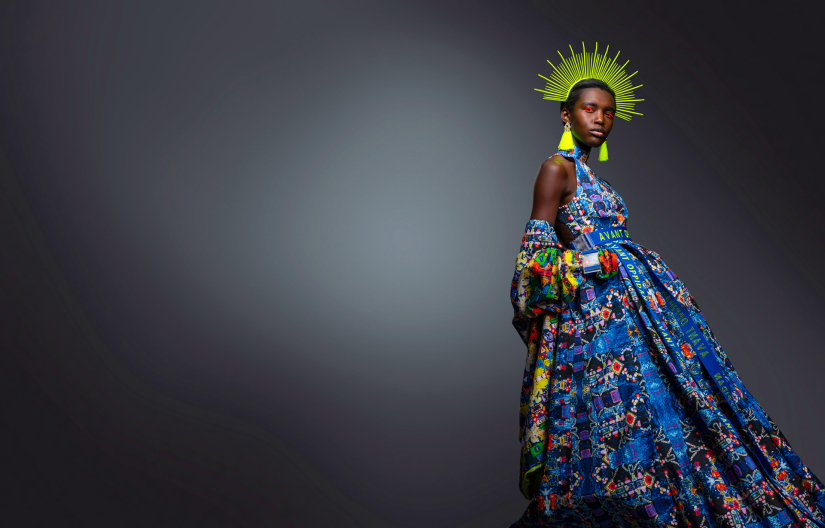 Design by Brandon Zayden Skipper, M.F.A. fashion, Chicago, Illinois
LACOSTE, FRANCE  —
The Savannah College of Art and Design (SCAD) presents L'esprit de SCAD at the university's location in Lacoste, the arts village of the Provence region. The exhibition features captivating designs by recent graduates from SCAD's top-ranked School of Fashion.
L'esprit de SCAD transports the energy of the internationally acclaimed SCAD Runway Show to Lacoste in lively tableaux of select student fashions from the Spring 2019 shows at SCAD's Atlanta, Hong Kong and Savannah locations. The exhibition includes a range of designs from flowing, embroidered gowns to tailored, gender-neutral looks. The garments all demonstrate a thorough understanding of cut, proportion and expert choice of materials. Several of the pieces feature custom prints created by the designer and are executed with the latest high-tech digital printers available at SCAD locations. The couture techniques taught at SCAD are realized in designs from delicately embroidered dresses to structured jackets with appliquéd details.
"SCAD is the international university for creative professions, including fashion!" said SCAD President and Founder Paula Wallace. "Join us for L'esprit de SCAD, a glamorous exhibition of student creations installed in medieval caves of the picturesque hillside village of Lacoste."
In addition to the designs on display, L'esprit de SCAD will showcase two film vignettes within the caves to provide visitors an in-depth look at SCAD's annual fashion shows. The first vignette showcases the glamorous, behind-the-scenes moments leading up to the SCAD FASHION 2019 runway shows in Atlanta and Savannah. The second display offers a visual compilation of SCAD runways and showcases from recent years, giving Lacoste visitors a front-row view. Dynamic designs from the SCAD Atlanta, Hong Kong and Savannah shows complete the exhibition, highlighting the innovative work and brilliance of SCAD student and alumni designers. World-renowned undergraduate and graduate degree programs in the SCAD School of Fashion are offered at the university's global locations in Atlanta and Savannah, Georgia; Hong Kong; and Lacoste, France. In 2019, Fashionista recognized SCAD as a top fashion school in the U.S. London-based The Business of Fashion named SCAD's undergraduate and graduate fashion programs among the finest in the world, and named SCAD's undergraduate fashion marketing and management and graduate luxury and fashion management programs among the top internationally. SCAD broke its own record as the university with the most wins during the 2019 Young Menswear Association (YMA) Fashion Scholarship Fund Awards. A spectacular 36 SCAD students received scholarships, representing the highest number of scholarships for any university in a single year in the program's more than 80-year history.
---
About the curator
Rafael Gomes
Director of SCAD fashion exhibitions
Before joining SCAD, Rafael Gomes was an archivist and exhibition coordinator at Vivienne Westwood, where he oversaw the coordination and styling of global fashion shoots, videos and fashion shows. Gomes also designed, planned and executed large-scale exhibitions at numerous world-renowned museums and galleries, including The Metropolitan Museum of Art, the Palace of Versailles, the SCAD Museum of Art, and the Victoria and Albert Museum. Gomes began as director of SCAD FASH Museum of Fashion + Film in Atlanta, in advance of the museum's inaugural show Oscar de la Renta, and he continues to curate groundbreaking exhibitions including Carolina Herrera: Refined Irreverence, Guo Pei: Couture Beyond and Pierre Cardin: Pursuit of the Future.
About SCAD School of Fashion
The SCAD School of Fashion offers a dynamic curriculum in design and construction, fashion history, and merchandising and marketing. Fashion students hone their creative and intellectual thinking, master inventive design skills and gain the practical expertise necessary to succeed in global fashion careers.
One of the most comprehensive and connected arts schools in the world, SCAD offers undergraduate and graduate programs across four global locations and online in accessory design, business of beauty and fragrance, fashion, fashion marketing and management, fibers, jewelry, and luxury and fashion management. The prestigious SCAD fashion degree programs are ranked among the best internationally by The Business of Fashion.
To complement this innovative curriculum, the School of Fashion welcomes prominent designers and industry professionals who give lectures, lead workshops and provide valuable insight through one-on-one interactions with students. Past visitors have included acclaimed fashion designers Joseph Altuzarra, Carolina Herrera, Mary Katrantzou, Calvin Klein, Derek Lam, Phillip Lim, Zac Posen, Miuccia Prada, Cynthia Rowley, Christian Siriano, Peter Som, Vivienne Westwood and Jason Wu, as well as fashion journalists and entrepreneurs Imran Amed, Bridget Foley, Vanessa Friedman and Linda Wells; retail legends Simon Doonan, Bruce Pask and Linda Fargo; and president and CEO of the Council of Fashion Designers of America Steven Kolb, among many others.
About SCAD Lacoste
SCAD Lacoste is a residential study-abroad location in France, offering immersion in the history and culture of Provence. Course offerings each quarter are varied to apply to all SCAD areas of study and are taught by SCAD professors. Lacoste is a beautifully preserved medieval village, known by artists for its extraordinary light and exquisite pastoral setting. SCAD Lacoste buildings date from the ninth to the 19th centuries, yet they feature a variety of modern amenities. SCAD Lacoste structures include a library, gallery, dining hall and housing, as well as teaching studios dedicated to painting, drawing, sculpture, printmaking, photography and digital imaging. Students interact with visiting artists, take field trips to museums and historic sites in the area, and have an opportunity to exhibit their work at a local vernissage.
Celebrated artists and designers visit with SCAD Lacoste students throughout the year. Notable guests have included actor and designer John Malkovich; designer Bibhu Mohapatra; social media influencer, photographer and inventor of the cinemagraph Jamie Beck of Ann Street Studio; interior designer and television host Genevieve Gorder; installation artist Hugo Dalton; design legend Ilse Crawford; chief creative officer of Shimoda Design Group Joey Shimoda; Vogue contributing editor Lynn Yaeger; and CFDA Fashion Award-winning designers Shane Gabier and Christopher Peters of Creatures of the Wind.
SCAD: The University for Creative Careers
The Savannah College of Art and Design is a private, nonprofit, accredited university conferring bachelor's and master's degrees at distinctive locations and online to prepare talented students for professional careers. SCAD offers degrees in more than 40 majors, as well as minors in more than 75 disciplines across its locations in Atlanta and Savannah, Georgia; Hong Kong; Lacoste, France, and online through SCAD eLearning. With more than 45,000 alumni worldwide, SCAD demonstrates an exceptional education and unparalleled career preparation. The diverse student body, consisting of more than 15,000 students, comes from across the U.S. and more than 100 countries. Each student is nurtured and motivated by a faculty of nearly 700 professors with extraordinary academic credentials and valuable professional experience.
In 2018, the prestigious Red Dot Design Rankings placed SCAD as the top university in the U.S. and in the top two universities in the Americas and Europe. Career preparation is woven into every fiber of the university, resulting in a superior alumni employment rate. In a study of Spring 2018 SCAD graduates, 99 percent were employed, pursuing further education or both within 10 months of graduation.