Press Release
/
Sept. 23
SCAD student receives top $30,000 scholarship from Angelo Donghia Foundation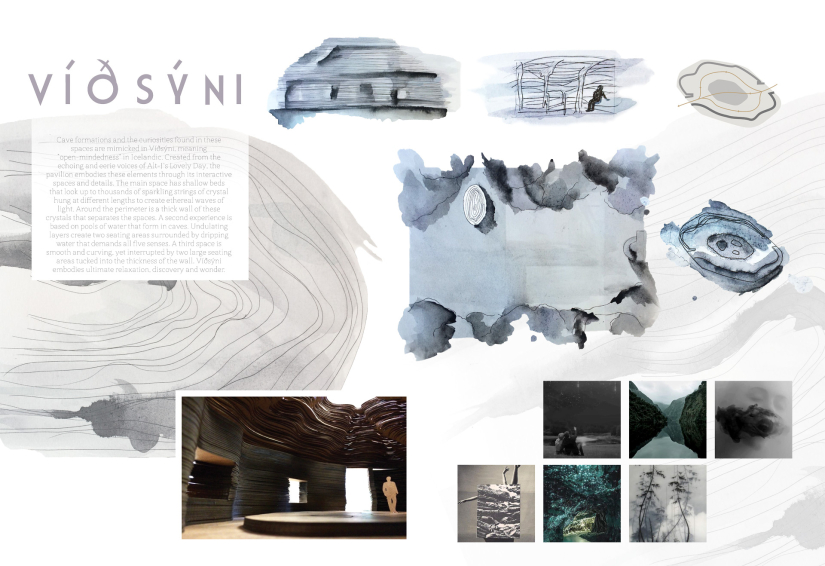 Viosyni | Cydney Ann Clinton
SAVANNAH, Georgia —
Savannah College of Art and Design (SCAD) student Cydney Clinton (B.F.A., interior design) has earned the Angelo Donghia Foundation's highest commendation in the 2015 Student Scholarship Program in Interior Design, receiving the maximum $30,000 award for her design submission. Clinton is one of 14 winners selected for an award through this invite-only scholarship competition. 
Clinton entered the scholarship competition at the recommendation of Khoi Vo, chair of SCAD interior design. "Cydney's selection by the Donghia Foundation to receive such a prestigious scholarship is a wonderful affirmation of the quality of her work and her dedication to her design education," said Vo. "The recognition speaks volumes of the interior design department's continued commitment to provide students with a No. 1-ranked program that prepares them for the profession."
Clinton's original design concept, Víðsýni, derives its inspiration from the Icelandic word meaning "open-mindedness." The concept explores interior spaces in which crystalline surfaces and undulating layers provoke all five senses, encouraging relaxation, discovery and wonder. 
Since 2002, the Foundation has supported the advancement of interior design education in the U.S. through this scholarship initiative. Each year, students earning a bachelor's degree in interior design from an accredited institution may enter for the opportunity to receive up to $30,000 to apply to the cost of tuition and living while pursuing their studies.
SCAD: The University for Creative Careers
The Savannah College of Art and Design is a private, nonprofit, accredited institution conferring bachelor's and master's degrees at distinctive locations to prepare talented students for professional careers. SCAD offers degrees in more than 40 majors, as well as minors in more than 60 disciplines. With 32,000 alumni worldwide, SCAD demonstrates an exceptional education and unparalleled career preparation.
At locations in Savannah and Atlanta, Georgia; in Hong Kong; in Lacoste, France; and online through SCAD eLearning, the diverse student body consists of more than 12,000 students, from across the United States and over 100 countries. SCAD's innovative curriculum is enhanced by advanced, professional-level technology, equipment and learning resources. Curricular collaborations with companies and organizations including Google and the National Council of Architectural Registration Boards (NCARB) affirm the professional currency SCAD champions in its degree programs.
The university, students, faculty and alumni have garnered acclaim from respected organizations and publications worldwide including four consecutive years of No. 1 rankings for the undergraduate interior design program by DesignIntelligence, recognition as one of the 2014 Red Dot Design Rankings' top 10 universities in the Americas and Europe, and the No. 1 graduate fashion program in the U.S. as determined by Business of Fashion — recently cited by Fast Company as one of the world's top 10 most innovative companies of 2015 in media. For more information, visit the official SCAD blog.
Media contacts:
Ally Hughes
Director of University Communications
Savannah College of Art and Design
912.525.4881