Press Release
/
Sept. 10, 2015
SCAD alumna sews up Supima Design Competition with Grand Prize Win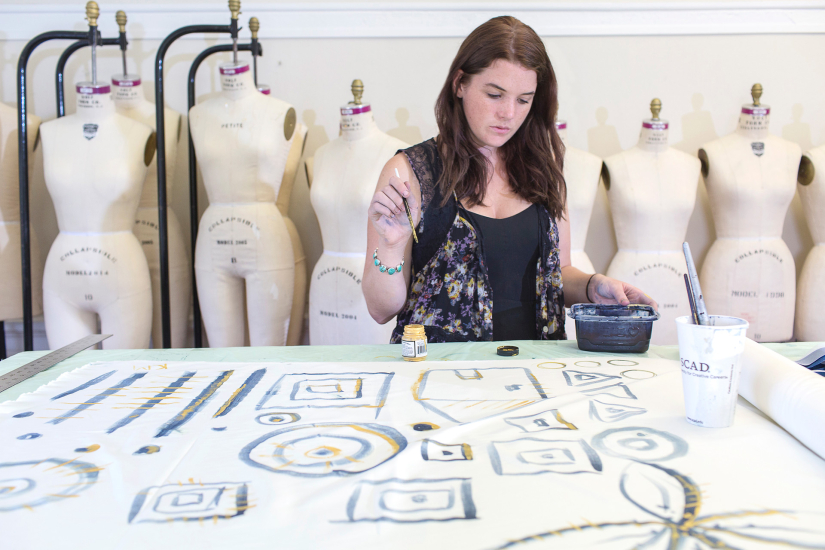 SAVANNAH, Georgia —
Savannah College of Art and Design alumna and women's eveningwear designer Kathleen "Kate" McKenna-Schliep (B.F.A., fashion, 2015) took top honors at the eighth annual Supima Design Competition, winning the grand prize $10,000 cash award. This invite-only competition was limited to seven finalists representing top U.S.-based fashion design programs.
Supima supports emerging talent by challenging young designers to create capsule collections of women's eveningwear from luxury fabrics. This year, Bibhu Mohapatra, who was previously a SCAD Style Lab mentor, served as a guide to the seven finalists, advising each designer's collection from sketch to garment in one-on-one critiques.
"SCAD students and our degree programs continue to garner recognition across the world," said Michael Fink, SCAD dean of the School of Fashion. "With Business of Fashion ranking the SCAD graduate fashion program as No. 1 in the U.S., and Kate's fabulous win at the Supima Competition, SCAD is making its mark in the competitive global fashion industry."
McKenna-Schliep's West African and Haitian voodoo-inspired collections were presented during New York Fashion Week at the Skylight Clarkson Sq gallery space on Sept. 10, and will also be seen during Paris Fashion Week on Oct. 2 at Hôtel de Pontalba—the official residence of the U.S. Ambassador to France, Jane Hartley.
SCAD: The University for Creative Careers
The Savannah College of Art and Design is a private, nonprofit, accredited institution conferring bachelor's and master's degrees at distinctive locations to prepare talented students for professional careers. SCAD offers degrees in more than 40 majors, as well as minors in more than 60 disciplines. With 32,000 alumni worldwide, SCAD demonstrates an exceptional education and unparalleled career preparation.
At locations in Savannah and Atlanta, Georgia; in Hong Kong; in Lacoste, France; and online through SCAD eLearning, the diverse student body consists of more than 12,000 students, from across the United States and over 100 countries. SCAD's innovative curriculum is enhanced by advanced, professional-level technology, equipment and learning resources. Curricular collaborations with companies and organizations including Google and the National Council of Architectural Registration Boards (NCARB) affirm the professional currency SCAD champions in its degree programs.
The university, students, faculty and alumni have garnered acclaim from respected organizations and publications worldwide including four consecutive years of No. 1 rankings for the undergraduate interior design program by DesignIntelligence, recognition as one of the 2014 Red Dot Design Rankings' top 10 universities in the Americas and Europe, and the No. 1 graduate fashion program in the U.S. as determined by Business of Fashion — recently cited by Fast Company as one of the world's top 10 most innovative companies of 2015 in media. For more information, visit the official SCAD blog.
SCAD contact
Ally Hughes
Director of University Communications
Savannah College of Art and Design
912.525.4881