Press Release
/
April 15, 2015
Disney, Pixar's John Lasseter to address SCAD graduates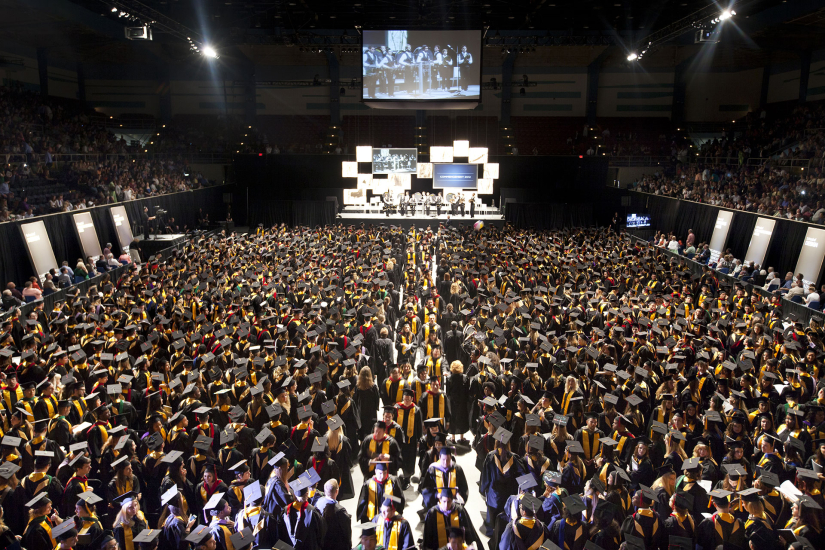 SAVANNAH, Georgia —
John Lasseter, Chief Creative Officer of Walt Disney and Pixar Animation Studios and Principal Creative Advisor for Walt Disney Imagineering, will address the Savannah College of Art and Design (SCAD) graduating class of 2015 on Saturday, May 30. Commencement ceremonies will take place at both the Savannah and Atlanta, Georgia, locations.
SCAD's recognition of Lasseter as the 35th commencement speaker builds upon a meaningful tradition of professional preparation and career opportunities for SCAD students in the disciplines of film, television, animation, motion media and other related disciplines offered at the university. Animation is the largest academic department at SCAD with 1,130 students across its three locations and eLearning. More than 100 animation students – and perhaps most affecting to Lasseter, his son – will be among the anticipated 1,400 degrees conferred.
"The university is honored to welcome legendary animator and SCAD parent John Lasseter as the 2015 commencement speaker," said SCAD President Paula Wallace. "The genius behind brave bugs, feisty cars, lovable toys and a spunky snowman, John is sure to inspire our graduates with his remarks, as he has done with his Academy Award®-, Annie Award-, and Golden Globe®-winning films."
Lasseter will receive an honorary doctorate of fine arts and address graduates at 9 a.m. in Savannah at the Savannah Civic Center, 301 W. Oglethorpe Ave. Then he will speak to graduates in Atlanta at 6 p.m. at the Georgia World Congress Center, 285 Andrew Young International Blvd. N.W.
Lasseter maintains creative oversight of all films and associated projects from Walt Disney Animation Studios, Pixar Animation Studios and Disneytoon Studios, and is involved in a wide range of activities at Walt Disney Imagineering.
He made his directorial debut in 1995 with "Toy Story," the world's first feature-length computer-animated film, for which he received a Special Achievement Academy Award recognizing his inspired leadership of the filmmaking team. The entire "Toy Story" screenwriting team, which included Lasseter, earned an Academy Award nomination for best original screenplay, marking the first time an animated feature had ever been recognized in that category. Lasseter also directed "A Bug's Life" (1998), "Toy Story 2" (1999), "Cars" (2006) and "Cars 2" (2011).  He is currently directing "Toy Story 4."
He has executive produced all Pixar features since "Monsters, Inc." (2001), including the studio's seven Academy Award-winners "Finding Nemo" (2003), "The Incredibles" (2004), "Ratatouille" (2007), "WALL•E" (2008), "Up" (2009), "Toy Story 3" (2010), "Brave" (2012) as well as the 2015 feature films "Inside Out" and "The Good Dinosaur." To date, Pixar's films have earned more than $8.5 billion in gross box-office receipts.
In addition, he was the executive producer of Walt Disney Animation Studios' Academy Award-winning feature "Frozen" (2013), which also won an Academy Award for best original song "Let It Go." The film, which crossed the $1 billion mark in March 2014, is the No. 1 animated feature of all time. Since assuming creative oversight of Walt Disney Animation Studios in 2006, Lasseter has served as executive producer on all of its feature films, including "Bolt" (2008), "The Princess and the Frog" (2009), "Tangled" (2010), "Winnie the Pooh" (2011), "Wreck-It Ralph" (2012), and, its most recent release, "Big Hero 6," which was the highest grossing animated film of 2014. He also serves as executive producer for Disneytoon Studios' films, including the upcoming Disney Fairies release "Legend of the NeverBeast."
Lasseter wrote, directed and animated Pixar's first short films, including "Luxo Jr.," "Red's Dream," "Tin Toy" and "Knick Knack." "Luxo Jr." was the first three-dimensional computer-animated film ever to be nominated for an Academy Award when it was nominated for best animated short film in 1986; "Tin Toy" was the first three-dimensional computer-animated film ever to win an Academy Award when it was named best animated short film in 1988. Lasseter executive produced all of the studio's subsequent shorts, including the Academy Award-winning "Geri's Game" (1997) and "For the Birds" (2000), recent shorts "La Luna" (2011) and "The Blue Umbrella" (2013), and Pixar's new short "Lava," which opens in front of "Inside Out." He also serves as executive producer for Walt Disney Animation Studios shorts, including the Academy Award-winning "Paperman" (2012) and "Feast" (2014), as well as "Get A Horse!" (2013) and "Frozen Fever," which recently debuted in front of "Cinderella."
In his role as principal creative advisor for Walt Disney Imagineering, Lasseter was instrumental in bringing the beloved characters and settings of Radiator Springs to life for Disneyland Resort guests with the successful 2012 launch of Cars Land, a massive 12-acre expansion of Disney California Adventure Park.
In 2009, Lasseter and the directors of Pixar were honored at the 66th Venice International Film Festival with the Golden Lion for Lifetime Achievement. The following year, Lasseter became the first producer of animated films ever to receive the Producers Guild of America's David O. Selznick Achievement Award in Motion Pictures. Lasseter's other recognitions include the 2004 outstanding contribution to cinematic imagery award from the Art Directors Guild, an honorary degree from the American Film Institute and the 2008 Winsor McCay Award from ASIFA-Hollywood for career achievement and contribution to the art of animation.
SCAD: The University for Creative Careers
The Savannah College of Art and Design is a private, nonprofit, accredited institution conferring bachelor's and master's degrees at distinctive locations to prepare talented students for professional careers. SCAD offers degrees in more than 40 majors, as well as minors in more than 60 disciplines. With over 29,000 alumni worldwide, SCAD demonstrates an exceptional education and unparalleled career preparation.
At locations in Savannah and Atlanta, Georgia; in Hong Kong; in Lacoste, France; and online through SCAD eLearning, the diverse student body consists of nearly 12,000 students, from across the United States and more than 100 countries. SCAD's innovative curriculum is enhanced by advanced, professional-level technology, equipment and learning resources. The university, students, faculty and alumni have garnered acclaim from respected organizations and publications worldwide including Time, Vogue Magazine and U.S. News & World Report. For more information, visit the official SCAD blog.
Media contacts
Holly Elliott
Marketing and PR Manager, Savannah
O: 912.525.5236
C: 912.247.2574