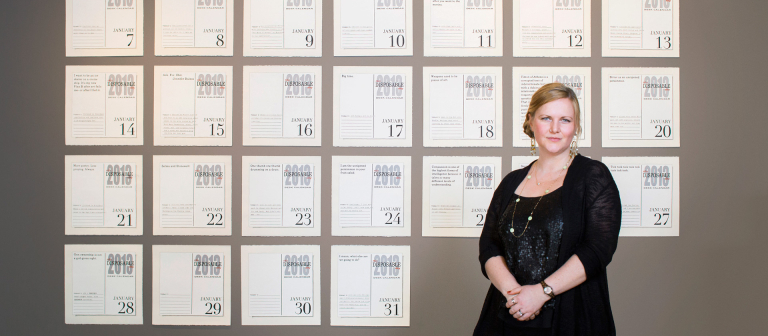 Alex Gingrow exhibition: 'Maginot'
Atlanta, GA
SCAD Atlanta, 1600 Peachtree St.
SCAD presents "Maginot," an exhibition by SCAD alumna Alex Gingrow (M.F.A., painting, 2007). The artist considers language her primary medium, painting both appropriated and generated text across several distinct bodies of work featured in the exhibition. Her meticulous text-based works explore personal history, the passage of time and privacy.
Representing a daily record of one year, the "This Disposable Day Desk Calendar" series started in 2013 with the recording of one thought and one action each day. These entries are transcribed onto a painted reproduction of a kitschy daily calendar, offering viewers a glimpse into personal moments in Gingrow's life, whether they be upsetting, embarrassing, joyous or banal. The paintings are presented linearly from January to April, calling attention to the passage of time and Gingrow's efforts to hold onto fleeting moments. A limited-edition set of 12 books containing facsimiles of the entire "This Disposable Day Desk Calendar" series, including paintings not featured in the exhibition, accompanies the works on display.
For the series "These Are the Days of Our Lives," Gingrow paints text taken from the infamous Access Hollywood video of Donald Trump bragging about sexual assault to Billy Bush. Titled after the soap opera that Trump was slated to appear on just after the tape was recorded, the paintings depict Trump's words in gold on a black background. They are presented on a dark gray wall, an ominous reflection of their disturbing content.
The series "PuffSighBite," is a group of paintings expressing poetic moments, phrases, lamentations, confessions and irreverent thoughts. In contrast to the unsettling content of the Trump works and the candidness of the calendar works, the "PuffSighBite" series offers the viewer a reprieve. The washy, pastel-colored paintings allude to the symphony of the mind, blips and bits of fleeting thoughts. These works draw from the artists' notebooks; text snippets are considered her sketches.
"Maginot" is curated by Ben Tollefson, assistant curator of SCAD Exhibitions.
About the artist
Born in Knoxville, Tennessee, Gingrow currently divides her time between Brooklyn and Kerhonkson, New York. In addition to her artistic practice, Gingrow has participated in numerous panel discussions, fundraisers, speaking engagements, and as a guest artist for performances around the U.S. Her first solo show in New York City was held at Mike Weiss Gallery in September 2012, and was followed by residency appointments at the Hambidge Center, Rabun Gap, Georgia; the Fountainhead Residency, Miami, Florida; Virginia Center for the Creative Arts, Amherst, Virginia; the Wassaic Project, New York, and Art Garda in Sirmione, Italy.
Gingrow has exhibited both nationally and internationally and has been reviewed by publications such as The New York Times, The Wall Street Journal, Modern Painters, and Frieze magazine. Before she earned an M.F.A. from SCAD, Gingrow earned a B.A. in visual art with a minor in English from Guilford College in Greensboro, North Carolina.
Gallery hours: Monday–Friday, 8:30 a.m. to 5:30 p.m.
Reception: May 4, 6:00 – 8:00 p.m.
The reception is free and open to the public.