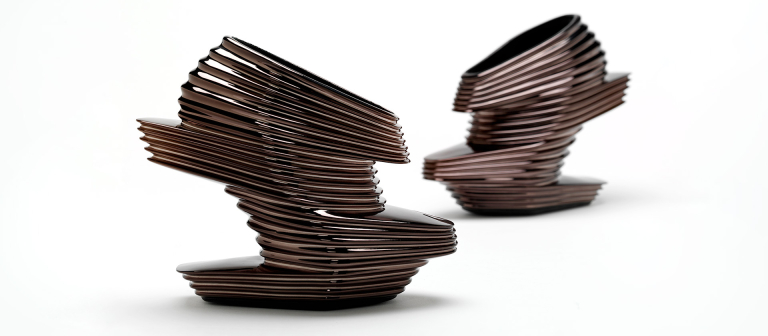 Exhibition: 'Shoes: Pleasure and Pain'
SCAD FASH Museum of Fashion + Film presents "Shoes: Pleasure and Pain," an exhibition organized by the Victoria and Albert Museum, London, that explores the creativity, cultural significance and transformative power of shoes. The exhibition displays more than 200 pairs of shoes, from ancient Egyptian slippers embellished with gold leaf and the seductive signature red soles of Christian Louboutin heels, to cutting-edge designs created by contemporary designers experimenting with new materials and the latest technology. SCAD FASH is honored to be the only venue in the southeastern U.S. for the exhibition.
In addition to the extraordinary range of historic footwear, "Shoes: Pleasure and Pain" features platform boots worn by Elton John, Princess Diana's shoe lasts, and David Beckham's soccer cleats. Styles by numerous celebrated designers and labels such as Manolo Blahnik, Jimmy Choo, Salvatore Ferragamo, Gucci, Yves Saint Laurent, Nike and Vivienne Westwood, as well as two iconic pairs of shoes from film history — the famous red ballet slippers from the film "The Red Shoes" (1948) and the Swarovski crystal slippers featured in Disney's "Cinderella" (2015) — are also included.
"Shoes: Pleasure and Pain" is curated around five themes: "Transformation," "Status," "Seduction," "Creation" and "Obsession." Designers' sketches, shoemaking materials and historic fashion illustrations provide a deeper understanding of the exhibition's themes. Debuting with the exhibition is "Touching the Sole," an interactive tactile display that enables visually impaired visitors to engage with replicas of many of the shoes displayed.
Opening receptions 
Thursday, April 13, 2017
Members-only: 6–7 p.m.
Public: 7–8 p.m.
This exhibition is coordinated by Alexandra Sachs, executive director of SCAD FASH and Atlanta exhibitions and Rafael Gomes, director of fashion exhibitions. To become a member and learn more about this and other SCAD FASH exhibitions, visit scadfash.org.
Museum hours:
Sunday: Noon to 5 p.m.
Monday: Closed
Tuesday: 10 a.m. to 5 p.m.
Wednesday: 10 a.m. to 5 p.m.
Thursday: 10 a.m. to 8 p.m.
Friday: 10 a.m. to 5 p.m.
Saturday: 10 a.m. to 5 p.m.
The exhibition is free for museum members, and all SCAD students, faculty, staff with a valid SCAD Card. Open to the public with the cost of museum admission. 

Exhibition organized by the Victoria and Albert Museum, London