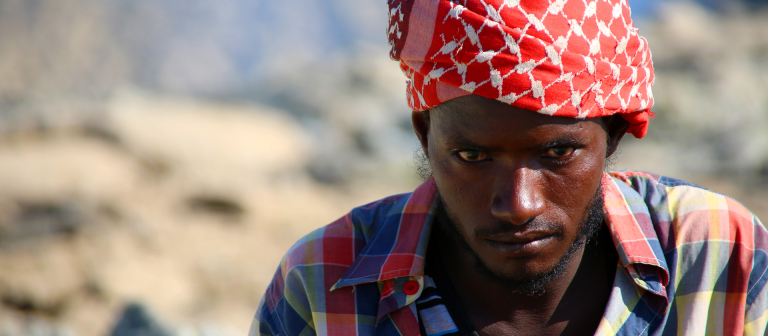 Janet Biggs exhibition: 'Afar'
Savannah, GA
601 Turner Blvd.
The SCAD Museum of Art presents "Afar," the most recent work of acclaimed Brooklyn-based video artist, Janet Biggs. Created with the support of the museum, "Afar" depicts Biggs' travels in the Afar Triangle, a geologically unstable but visually arresting desert region at the intersection of Ethiopia, Eritrea and Djibouti, in Africa. This volatile environment of earthquakes, volcanic eruptions and intense heat serves as a metaphor for the ongoing political instability of a region in which salt traders, nomadic people and militia vie for scarce natural resources.
Known for her multichannel video installations involving remote, extreme environments and the people who dwell there, Biggs often explores the concept of endurance – both mental and physical – in her work. For this project, the artist collaborated with experimental choreographer Elizabeth Streb and musician Will Martina.
"Afar" is curated by Alexandra Sachs, executive director of SCAD FASH and Atlanta Exhibitions.
About the artist
Janet Biggs has been the subject of numerous solo exhibitions and film screenings, including at Art Basel Miami (2015); Blaffer Art Museum, Houston, Texas (2015); Musée d'art contemporain de Montréal (2012); Hirshhorn Museum and Sculpture Garden, Washington, D.C. (2012); Skulpturenmuseum Glaskasten Marl (Ruhr Kunst Museen), Marl, Germany (2012); and the Tampa Museum of Art (2011). Biggs is the recipient of numerous grants, including the La Napoule Art Foundation Award, La Napoule, France (2013); Electronic Media and Film Studies Program at the New York State Council on the Arts Award (2011); the Arctic Circle Fellowship/Residency Expedition Residency (2010); the Art Matters, Inc. Artist's Project Grant (2010); and Hermès of Paris: Production Funding (2009). Reviews of her work have appeared in the New York Times, the New Yorker, Artforum, ARTNews, Art in America, Flash Art, artnet and many others.
Biggs' work is in important private and public collections, such as Fonds Régional d'Art Contemporain (FRAC), Languedoc-Roussillon, France; the Zabludowicz Collection, London; Skulpturenmuseum Glaskasten Marl (Ruhr Kunst Museen), Marl, Germany; the Tampa Museum of Art; the Herbert F. Johnson Museum of Art, Ithaca, New York; and the New Britain Museum of Art, Connecticut.
Biggs is represented by Cristin Tierney Gallery, New York City; CONNERSMITH, Washington, D.C.; and Analix Forever, Geneva, Switzerland.
Panel discussion:
'Intersections: Person and Place'
A Conversation with Janet Biggs, Jeffrey Gibson and Gamaliel Rodríguez
Thursday, June 23, 5:30–6:30 p.m.
Reception: Thursday, June 23, 2016, 6:30–7:30 p.m.
Museum hours:
Sunday: Noon to 5 p.m.
Monday: Closed
Tuesday: 10 a.m. to 5 p.m.
Wednesday: 10 a.m. to 5 p.m.
Thursday: 10 a.m. to 8 p.m.
Friday: 10 a.m. to 5 p.m.
Saturday: 10 a.m. to 5 p.m.
The exhibition, panel discussion and reception are free for all SCAD students, faculty, staff and museum members. Open to the public with the cost of museum admission.