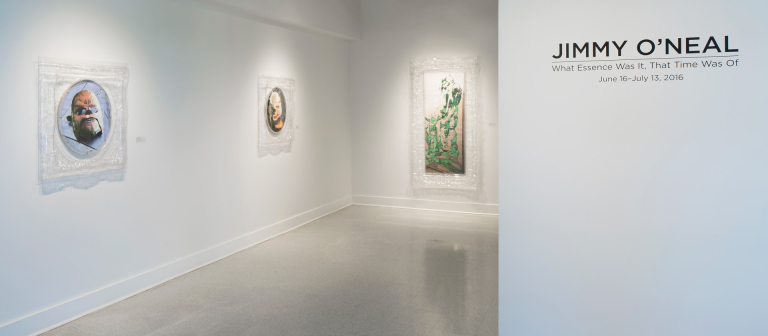 Jimmy O'Neal exhibition: "What Essence Was It, That Time Was Of"
Savannah, GA
668 Indian St.
The Savannah College of Art and Design presents "What Essence Was It, That Time Was Of," a thesis exhibition by Jimmy O'Neal (M.F.A. painting, B.F.A. illustration). O'Neal's paintings place the viewer's reflection within his compositions, often through gestural strokes of the mirrored paint he invented. His works privilege the idea of audience interactivity and compositional transience, while their large size imbues them with immersive qualities. Working across media such as painting, photography and sculpture — along with an app and even a roller coaster simulator — O'Neal explores the relationship between process, participation and popular culture (such as selfies and memes) to engage with the ambiguity between self-representation and narcissism.
As part of the exhibition, O'Neal will debut "DIAPAUSE: Riding the Viscosity," a roller coaster simulator reprogrammed so visitors can ride the brushstrokes of a painting, as they would the tracks of an amusement park ride.
O'Neal has exhibited paintings, videos, installations and performance art in galleries and museums around the world. In 2003, his "brain machine," a device that paints from electroencephalogram connections to the artist, was included in "Painting 4," a large-scale exhibition at The Rose Art Museum of Brandeis University in Massachusetts that included his work alongside paintings by Ingrid Calame, Katharina Grosse and Michael Lin. His mirrored work "The Nine Muses" (2007) is permanently installed at Atlanta's Cobb Energy Performing Arts Centre.
Closing reception: Wednesday, July 13, 6–8 p.m.
Artist talk: Wednesday, July 13, 6:30–7 p.m.
The exhibition, reception and artist talk are free and open to the public.