SCAD Atlanta transportation and parking
The transportation department is committed to providing all members of the Savannah College of Art and Design with the best possible solutions for getting around campus safely and easily.
SCAD maintains various parking facilities as well as numerous bicycle racks at most college facilities. SCAD transportation includes college bus and shuttle services and is continuously updating the college transportation services.
The transportation department encourages students, faculty and staff to ride their bicycles, carpool, and use the Bee Line Bus Service.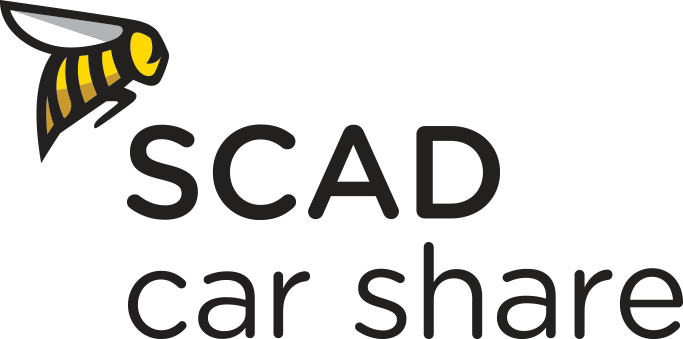 SCAD Car Share
SCAD Car Share, provided by Enterprise, is an easy, automated way to rent a vehicle by the hour or day, or even overnight. Located at The Hive in Savannah and at the SCAD Atlanta building, SCAD Car Share is available 24 hours a day, seven days a week.
Join
Once approved, you'll receive your membership card in the mail. You will need this card to access SCAD Car Share vehicles.
Reserve
Log in and select the vehicle you want and how long you need it. Use our mobile app to reserve vehicles on the go.
Unlock and go
Hold your membership card over the windshield sensor to unlock the vehicle. The keys will be waiting for you inside.
SCAD Atlanta Bee Line
First Transit provides transportation services to students in Atlanta. The shuttle bus route travels between the SCAD Atlanta building at 1600 Peachtree St., Spring House, the ACA Gallery of SCAD, the ACA Residence Hall, Ivy Hall and Sculpture Studio of SCAD offering daily service Monday-Thursday. For more details and to see the bus schedule, please go to the SCAD Atlanta bus schedules page.
After regular bus services have ended, a later shuttle provides transportation to all SCAD students to and from SCAD Atlanta, SCAD Digital Media Center, ACA Residential Hall, Sculpture Studio and Spring House. The shuttle runs 8 p.m. to 6 a.m., Thursdays and Fridays and 9 p.m. to 6 a.m., Saturday through Wednesday. Students can anticipate a 5–7 minute wait during normal traffic patterns.
For questions about Transportation Shuttle Services, call 404.253.3472.
Transportation and Parking Services can be reached at 404.253.3249.
SCAD SafeRide
The SCAD SafeRide program ensures off-campus students have a way to get home safely from an open SCAD building. SafeRides are offered to SCAD Atlanta students from open SCAD buildings to off-campus residences within 3 miles of campus. This service operates 8 p.m. to 6 a.m., Monday–Sunday.
Late-night shuttle
SCAD Atlanta also offers a late-night shuttle for on-campus students that loops to and from open SCAD buildings and residential complexes from midnight to 7 a.m., Monday through Friday and midnight to 10 a.m., Saturdays and Sundays. The schedule can be found on MySCAD.
Parking
All students, staff and faculty who park or use a vehicle on SCAD property must register their vehicles. Student parking permits are free and are validated for the academic year (fall through spring). Information about parking facilities, permits, regulations, parking tickets, vehicle registration and visitor parking passes is available via MySCAD.
In Atlanta, parking is available in the parking deck to students, staff and faculty. Limited parking is available at Spring House. Visitor parking is available at the north and south areas adjacent to the SCAD Atlanta building.
View a SCAD map for Atlanta that includes parking lots.
Those who park or use a vehicle on SCAD property must adhere to safe driving practices. For security reasons, SCAD encourages students, staff, faculty and visitors not to leave items of value visible in their cars. All students, staff and faculty who park or use a vehicle on SCAD property must register their vehicles. Student parking permits are free and are validated for the academic year (fall through spring). To obtain a permit, students, faculty and staff must present a valid SCAD ID.
Atlanta parking for bicycles and motorcycles
Bicycles and motorcycles are to be parked in the parking deck only. Bicycles must be secured to the bicycle racks located near the second floor parking deck entrance to the security station. Motorcycles must park in vehicle parking spaces within the deck. For more information, call security at 404.253.3333.
Public transportation
In Atlanta, MARTA operates a network of bus routes linked to a rapid transit system consisting of 48 miles of rail track with 38 train stations. MARTA operates almost exclusively in Fulton and DeKalb counties, with a single bus stop in Cobb (Cumberland Transfer Center), and a single rail station in Clayton at Hartsfield-Jackson Atlanta International Airport. MARTA also operates a separate paratransit service for disabled customers. For schedules, visit itsmarta.com.