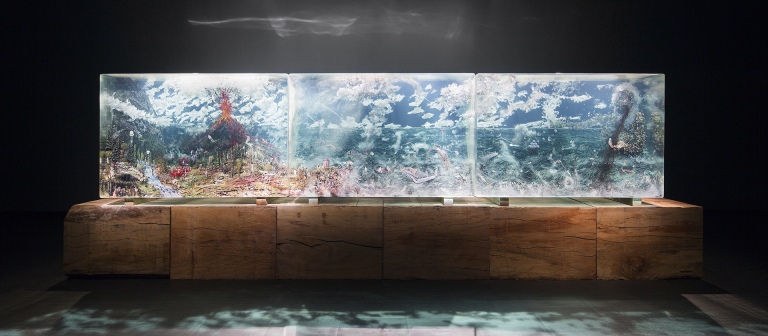 Dustin Yellin exhibition: 'The Triptych'
Savannah, GA
601 Turner Blvd.
"The Triptych," making its museum premiere, is Yellin's largest and most complex work, a massive 12-ton, three-paneled epic, embodying his vision of the world and consciousness. For Yellin, "the universe and the mind are shadowy places seething with dark magic, seas of boundless depth and possibility, overflowing with joy and disaster." In this composition of clippings, acrylic and glass, Yellin presents a surreal spectacle.
Presented as part of the 2014 deFINE ART program, Feb. 18-21
Reception: Tuesday, Feb. 18, 6-7:30 p.m.
Museum hours:
Sunday, noon to 5 p.m.
Monday, closed
Tuesday, 10 a.m. to 5 p.m.
Wednesday, 10 a.m. to 5 p.m.
Thursday, 10 a.m. to 8 p.m.
Friday, 10 a.m. to 5 p.m.
Saturday, noon to 5 p.m.
All deFINE ART lectures, receptions and events are free and open to the public.
The exhibition is free for all SCAD students, faculty, staff and museum members and open to the public with the cost of museum admission.