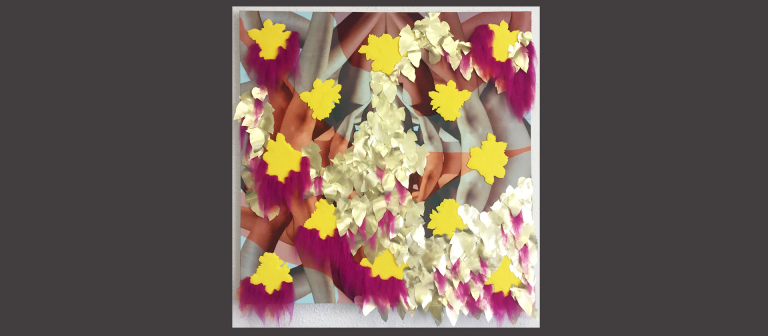 Kenzie Adair exhibition: 'Knee Deep'
The SCAD Museum of Art presents "Knee Deep," an exhibition by Kenzie Adair, (B.F.A., painting, 2014).
Adair's recent mixed-media works focus on the relationship between humankind, nature and fabrication. Creating from the standpoint of ecofeminist theory — the theory that the destruction of the natural world is directly linked to the suppression of women and marginalized communities — Adair's work is an amalgamation of representations of the human body and symbols for nature, like flowers or raw fiber. In these layered paintings, the artist highlights the attempts to replace or control the natural through synthetic substitutes, and the resulting disconnection between humans and the environment.
Works presented in "Knee Deep" use digitally constructed patterns printed on chiffon as their substrate. These patterns are formed through collaging snippets of female bodies in kaleidoscopic formations. On this delicate printed fabric, the artist layers paint, epoxy resin, pressed flowers, plastic objects, fibers, and synthetic and natural fabrics. Through their overlapping, Adair explores the indiscernibility between natural and fabricated, and the increasing amount of artificiality in imagery, material and experiences in popular culture.
Born in Oklahoma, Adair has exhibited her work in group exhibitions in Savannah, Georgia; Tulsa, Oklahoma; and Lacoste, France. She currently lives and works in Tulsa.
"Knee Deep" is curated by Ben Tollefson, assistant curator of SCAD exhibitions.
Museum hours:
Sunday: Noon to 5 p.m.
Monday: Closed
Tuesday: 10 a.m. to 5 p.m.
Wednesday: 10 a.m. to 5 p.m.
Thursday: 10 a.m. to 8 p.m.
Friday: 10 a.m. to 5 p.m.
Saturday: 10 a.m. to 5 p.m.
The exhibition is free and open to the public.