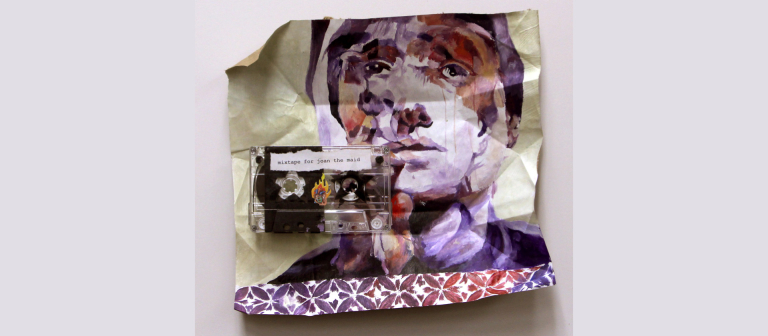 Michael Hubbard exhibition: 'Waves'
Atlanta, GA
SCAD Atlanta, 1600 Peachtree St.
SCAD presents "Waves," a solo exhibition by SCAD alumnus Michael Hubbard (B.F.A., painting, 2009). Hubbard's artistic practice addresses intersections between popular culture, music and feminism. Through mediums including painting, drawing, installations, artist books and mixtapes, Hubbard composes a vibrant constellation of artwork that works together as a whole.
Addressing the legacy of thinkers, activists, rock bands, contemporary artists and cult figures in pop culture, Hubbard reveals connections between what is perceived to be as more academic or inaccessible, and that which is more popular or widely disseminated. Representing cultural figures as diverse as Valerie Solanas, Ana Mendieta, Yves Klein and Courtney Love, Hubbard creates object networks as an attempt to understand their influence through a more complex set of relations.
He commonly incorporates items associated with the subject's life and work, or otherwise creates mixtapes in a tribute to them, including vinyl records and listening stations within the exhibition space. Thus, he positions himself not only as an artist, but also becomes the organizer of mediating content that adds a broader perspective and understanding of the characters he cites and of the work on display. In his painting practice, Hubbard portrays human figures not as still bodies but as shapes in constant movement described formally with shadows, blurring, or overlapped images, and, as such, bodies appear ungraspable and unstable. 
The title, "Waves," alludes to these cultural relations, as well as to the organization, study and production of feminist theory and activism — and how it has been grouped in recent history as first, second and third feminist waves. The exhibition offers a new, large-scale commission, a curtain made of hexagons that mixes Hubbard's portraits of cultural icons, along with color blocks, forming a hive shape.
"Waves" features a new video piece and a new watercolor series in honor of Cuban-American artist Ana Mendieta, as well as "Mixtape Shadowboxes," a series of nine watercolor, assemblages done in tribute to figures such as Christine de Pizan, Joan the Maid, Harriet Tubman, Valerie Solanas, Mary Richardson, Boudica, Sampat Pal, Artemisia Gentileschi and Maya Angelou.
Hubbard's solo exhibitions include shows in Texas, Maryland, Washington and South Dakota. Group exhibitions include several U.S. cities, as well as South Korea. Hubbard has been part of open studios and Alexander Ink, at the university's Savannah campus.
"Waves" is curated by Humberto Moro, curator of SCAD exhibitions.
Gallery hours: Monday–Friday, 8:30 a.m. to 5:30 p.m.
This exhibition is free and open to the public.