Event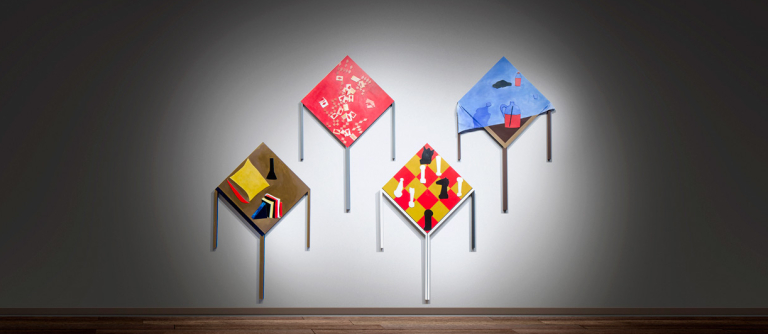 'Jacob Lawrence: Lines of Influence' symposium
Savannah, GA
601 Turner Blvd.
The SCAD Museum of Art presents a symposium in honor of "Jacob Lawrence: Lines of Influence," a group exhibition celebrating the centennial of the birth of the acclaimed painter, storyteller, educator and chronicler of the mid-20th-century African American experience. The two-day symposium consists of lectures, performances, screenings and panel discussions and brings together leading scholars, artists, SCAD alumni and students to commemorate Lawrence's life and legacy.
"Jacob Lawrence: Lines of Influence" is on view through Sunday, Feb. 4, 2018. For more information about the exhibition and featured artists, visit scadmoa.org. The exhibition and symposium are made possible by the generous support of the Jacob and Gwendolyn Knight Lawrence Foundation and the Ford Foundation.
The symposium is free and open to the public.
Thursday, Oct. 19, 2017
2 p.m.
Introduction and welcome
Storm Janse van Rensburg, head curator of SCAD exhibitions
2:10 p.m.
Remarks
Dr. Walter O. Evans, president of the Jacob and Gwendolyn Knight Lawrence Foundation
2:20 p.m.
Jacob Lawrence tribute
Video screening
2:30 p.m.
"Blocked at Five Points"
Performance by SCAD alumnus Masud Olufani (M.F.A., sculpture, 2013)
3 p.m.
"The Moral Compass of Jacob Lawrence/Why Black Artists Matter"
Keynote lecture by Patricia Hills, Ph.D., professor emerita, American and African American Art, Boston University
Introduction by Storm Janse van Rensburg
4 p.m.
"History and Iconography: The Power of Image"
Panel discussion with artists Hank Willis Thomas and Meleko Mokgosi
Moderated by Kimberly Drew, art curator and social media manager for The Metropolitan Museum of Art, New York
5:30 p.m.
Exhibition reception
SCAD Museum of Art Lobby
7 p.m.
"The Builders, 1947"
Performance by exhibiting artist Derrick Adams in collaboration with SCAD students, commissioned by SCAD Museum of Art
Friday, Oct. 20, 2017
9 a.m.
Exhibition tour
With artists Barbara Earl Thomas, Aaron Fowler, Derrick Adams, Meleko Mokgosi and Dr. Walter O. Evans
10 a.m.
Introduction and welcome
10:05 a.m.
"Moon Rising" by Moon Medicine
Video screening
10:15 a.m.
"Jacob Lawrence at Black Mountain College, Summer 1946"
Lecture by Julie Levin-Caro, Ph.D., Warren Wilson College
Introduction by Masud Olufani
11:15 a.m.
"Anecdotal Evidence: Remembering Jacob Lawrence"
Panel discussion with exhibiting artists Aaron Fowler, Derrick Adams and Barbara Earl Thomas
Moderated by Storm Janse Van Rensburg
'Legacy'
"Legacy" explores Jacob Lawrence's influence on contemporary artists living and working today who share similar formal and conceptual strategies and themes. Artists in this section of the exhibition include:
'Relations'
"Relations" details how Lawrence's inner circle, mentors, contemporaries and historically important artists impacted his practice. Artists in this section of the exhibition include:
Josef Albers
Charles Alston
Romare Bearden
Aaron Douglas
Francisco José de Goya
George Grosz
Marsden Hartley
Gwendolyn Knight Lawrence
Jacob Lawrence
José Clemente Orozco
Horace Pippin
Moses Soyer
Augusta Savage
Edward Weston