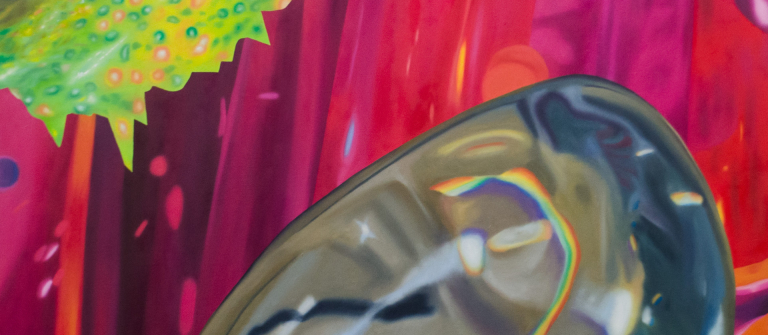 Hannah Shepard thesis exhibition: 'Dizzy Gates'
Atlanta, GA
1600 Peachtree St.
SCAD presents "Dizzy Gates," a thesis exhibition by Hannah Shepard (M.F.A. painting), exploring the awe and excitement felt during moments of celebration through painting and photography. Her brightly colored abstractions are culled from personal experiences at events, most often at concerts and music festivals. Shepard focuses on light and color as the subjects of her work, as they are ephemeral and intangible, like the fleeting memories of past spectacles and events. 
The artist begins with vivid, reflective materials that are made into vignettes, then photographed, edited, cropped and collaged. These collages become the references for her paintings, which she transforms through scale and texture. The resulting works are ambiguous depictions of fleeting moments in time.
Hannah Shepard studied studio art, arts administration and art history at the College of Charleston, South Carolina, where she graduated magna cum laude. She has exhibited her work throughout Charleston and Atlanta, while also working as an assistant gallery director and interning for museums and non-profit institutions.
Opening reception: Thursday, April 20, 5–7 p.m.
Gallery hours: Monday–Friday, 8:30 a.m. to 5:30 p.m.
The exhibition and reception are free and open to the public.