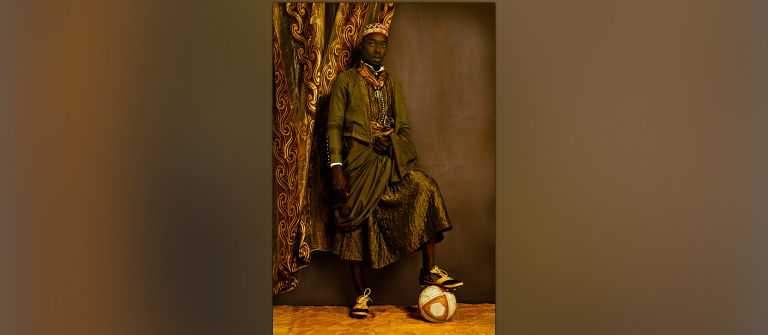 Omar Victor Diop exhibition: 'Project Diaspora'
SCAD FASH Museum of Fashion + Film presents the first solo museum exhibition by celebrated photographer Omar Victor Diop. "Project Diaspora" is a rich, meticulously crafted essay of 18 works of art that explore the often neglected, but deeply entangled historical relationships between Africa and the rest of the world, including trade, early diplomatic encounters and the legacy of slavery. Diop's photographs focus on the representation of Africans in Western and Asian art history from the 15th to the 19th centuries, as he recreates portraits of individuals who became prominent figures in their unique contexts.
Diop's dynamic recreation of historic images addresses various concerns and influences. He pays close attention to the costumes of his references and adds whimsical details, such as colorful patterned backgrounds and adornment. Having left the corporate world to pursue a career in photography, Diop has worked extensively as a fashion photographer, and this experience is evident in the styling and construction of his conceptual bodies of work. The inclusion of sports memorabilia and objects — such as gloves, soccer balls and whistles — seem idiosyncratic, but allude to the stereotypical representation of the black male in popular culture. The combination of fashion and sport in the images also unravels and comments on perceptions of masculinity.
In "Project Diaspora," the artist uses himself as subject in a manner that resists a reading of mere self-portraiture, and instead serves as a conscious act to transport these iconic images and their significance into the present. Furthermore, the artist exercises agency and control over representation that the original subjects of such historic portraiture might have been denied.
The tradition of West African studio photography - and its well-known proponents such as Malian photographers Seydou Keïta and Malick Sidibé – is also an important influence in "Project Diaspora" and other work by Diop. It is within these studio environments, with their fashionable and proud sitters, that the visual languages and the embodiment of an African modernity and emancipation emerged since the 1950s, amid a period of independence and liberation from colonial oppression.
The exhibition is curated by Storm Janse van Rensburg, SCAD head curator of exhibitions.
About the artist
Omar Victor Diop was born in Dakar, Senegal, in 1980, where he continues to live and work. His photographic portraits are founded in a longstanding interest in photography and design, which he engages as a means to capture the diversity of modern African societies and lifestyles, link past and present, and empower marginalized groups. Within his practice, Diop is simultaneously photographer, model, editor, costume designer and stylist.
His recent series portray the breadth and dispersion of African culture through the inclusion of diverse people and symbolic objects and patterns. Diop left corporate communications work to embark on a photography career following his inclusion in the Pan African Exhibition of the 2011 African Biennale of Photography in Bamako, Mali. Since then, he has exhibited frequently throughout Africa, Europe and the U.S., and is represented in the collection of the Brooklyn Museum, New York, and Frac Aquitaine, Bordeaux, France.
Reception: Feb. 22, 2017, 6 p.m.
Museum hours:
Sunday: Noon to 5 p.m.
Monday: Closed
Tuesday: 10 a.m. to 5 p.m.
Wednesday: 10 a.m. to 5 p.m.
Thursday: 10 a.m. to 8 p.m.
Friday: 10 a.m. to 5 p.m.
Saturday: 10 a.m. to 5 p.m.
The exhibition and reception are free for all museum members, and SCAD students, faculty staff with a valid SCAD Card. Open to the public with the cost of museum admission.
This exhibition is part of deFINE ART 2017, held Feb. 21–24 at SCAD locations in Savannah and Atlanta, Georgia, and Hong Kong. DeFINE ART is an annual program of exhibitions, lectures, performances and public events that highlights emerging and established artists and visionaries.