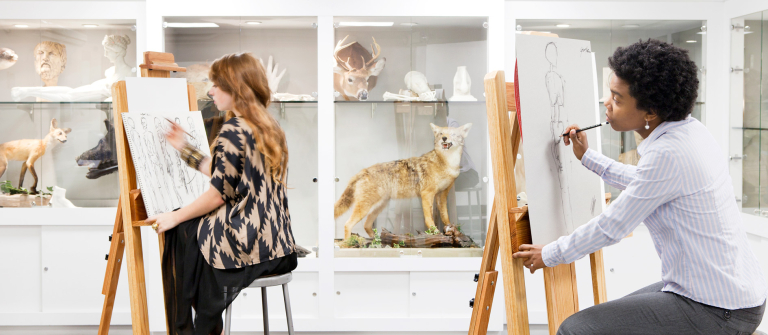 Make your mark at SCAD Drawing Works 2017
Celebrate the creative process at this annual juried exhibition that highlights drawing as a fundamental language in all artistic fields.
Undergraduate students from SCAD Savannah, Atlanta or Hong Kong may submit one to three images of any size, style, format or media, including but not limited to sketchbook, illustrations, storyboards, installations, sculptural works and more. Works must have been created while at SCAD.
Awards include $500 prizes for Best in Show, Ideation; Best in Show, Exploration; and Best in Show, Expression.
Email images of your works in a PowerPoint presentation to drawingworks@scad.edu with "Drawing Works" in the subject line. In the email body, provide your name, contact information, major and minor.
Each PowerPoint slide should include the following:
• Artist
• Contact information
• Major and minor
• Title of work
• Medium
• Dimensions
• Price
Make sure to note whether your work is digital and needs to be exhibited on an LCD screen.
Important dates
Sunday, Feb. 5 | All submissions due
Monday, Feb. 13 | Applicants are notified of inclusion
March 2–3 | All work is due to exhibition storage at 102 E. Lathrop Ave., Attn: Michael Runnels, exhibitions registrar, 912.525.8013
March 13–April 2 | Exhibition, Alexander Hall Gallery
Friday, March 31, 5 p.m. | Exhibition juror lecture, Alexander Hall, theater
Friday, March 31, 6–7 p.m. | Reception and award announcements, Alexander Hall Gallery
The exhibition is sponsored by the School of Foundation Studies, the drawing minor and the SCAD exhibitions department.