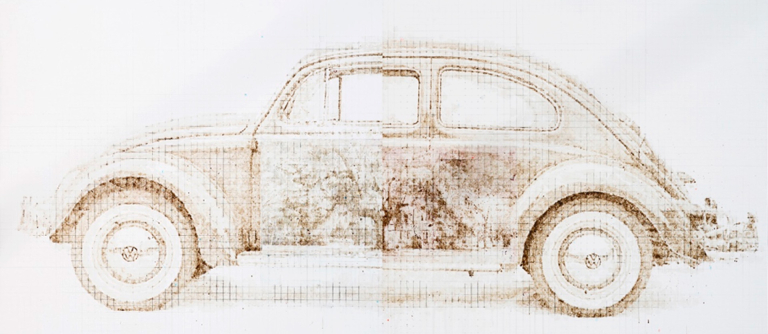 Jong-kwang Hyun exhibition: 'A Dream of Icons and Grids'
Savannah, GA
668 Indian St.
SCAD presents "A Dream of Icons and Grids," an M.F.A. thesis exhibition by Jong-kwang Hyun (M.F.A. painting). In this exhibition, Hyun uses iconic images such as Coca-Cola bottles, the Volkswagen Beetle or army figurines, and positions them within the context of his daily life. His paintings are made with materials related to his immediate surroundings, such as mud found near his house or dust in his studio. Hyun's images adhere to grids, offering the artist a meditative painting process, while also referencing modernist techniques.
Hyun, born in Seoul, South Korea, has exhibited his work internationally in Seoul; Shanghai, Beijing and Ningbo, China; Tokyo and Fukuoka, Japan; Sarajevo, Bosnia-Herzegovina; Sydney, Australia; and New York, San Francisco and Los Angeles in the U.S. He is a recipient of the SCAD Honors graduate scholarship, and his work is included in the SCAD Permanent Collection. After studying at SCAD, Hyun intends to finish a doctoral dissertation at Hongik University, South Korea, where he studied from 2003 to 2006. 
Opening reception: Friday, Nov. 11, 2016, 6–8 p.m.
Gallery hours: Monday–Friday, 9 a.m. to 5 p.m.
The exhibition and reception are free and open to the public. For more information and sales inquiries, contact sales manager Christopher Constas at cconstas@scad.edu or at 912.525.4743.