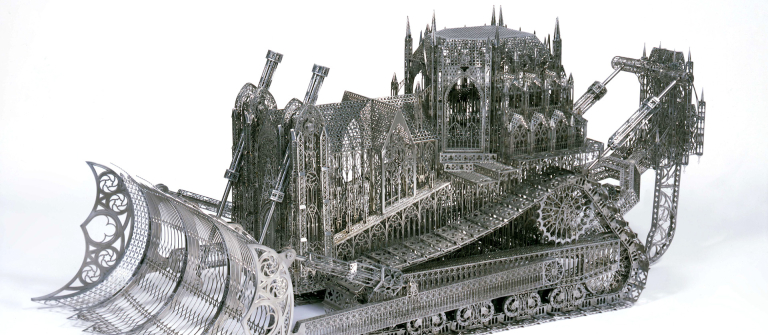 Reception for group exhibition: 'Built, World'
Savannah, GA
601 Turner Blvd.
Join us for a reception celebrating "Built, World," a group exhibition featuring works by leading international artists who investigate architecture and constructed realities with a variety of media across a range of scale. Through photography, printmaking, sculpture and installation from the miniature to the monumental, this exhibition engages the social landscape, explores the real and mimetic and deconstructs architectural forms, histories and legacies.
Furthermore, "Built, World," on view Tuesday, June 7, through Sunday, Sept. 11, 2016, explores the relationship between contemporary visual art practices and architecture as form and discipline. The exhibition also considers the power and ideology embedded within our built environment. Special attention is given to the underlying issues of the social and political mores of our time. Environmentalism, industrialization, social activism and historical recounts are touchstones traced throughout the works on view.
The exhibition includes works by:
Bernd and Hilla Becher, Germany
Ramón Miranda Beltrán, Puerto Rico
James Casebere, United States
Louise Bourgeois, France/United States
Bobby Davidson, United States
Wim Delvoye, Belgium
Olafur Eliasson, Denmark/Iceland
Ângela Ferreira, Mozambique/Portugal
Carlos Garaicoa, Cuba
Susan Hefuna, Germany/Egypt
Kiluanji Kia Henda, Angola 
Takahiro Iwasaki, Japan
David LaChapelle, United States
Los Carpinteros, Cuba
Adam McEwen, England
Roxy Paine, United States
Talwst Santiago, Canada/Trinidad
Yutaka Sone, United States
Hrair Sarkissian, Syria
Zarina, India
"Built, World" is co-curated by Aaron Levi Garvey, SCAD guest curator, and Storm Janse van Rensburg, SCAD head curator of exhibitions, with assistance from Amanda York, SCAD assistant curator of exhibitions.
Museum hours:
Sunday: Noon to 5 p.m.
Monday: Closed
Tuesday: 10 a.m. to 5 p.m.
Wednesday: 10 a.m. to 5 p.m.
Thursday: 10 a.m. to 8 p.m.
Friday: 10 a.m. to 5 p.m.
Saturday: 10 a.m. to 5 p.m.
The reception is free and open to the public.
Daily admission to the museum is free for all museum members, as well as SCAD students, faculty and staff with a SCAD Card. The exhibition is open to the public with the cost of museum admission.
Become a museum member at scadmoa.org/membership.