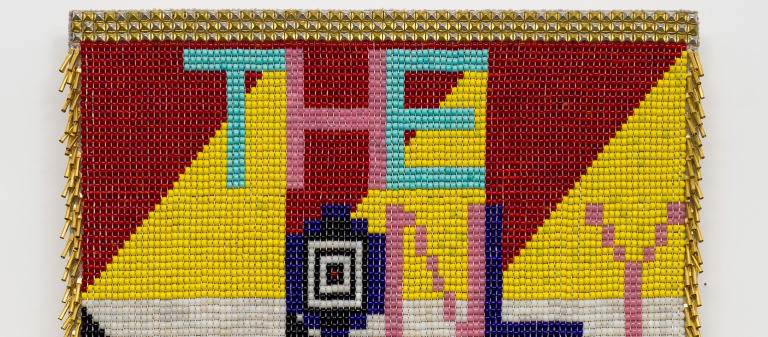 Jeffrey Gibson reception: 'A Kind of Confession'
Savannah, GA
601 Turner Blvd.
Join us for a reception celebrating, "A Kind of Confession," the first Southeast solo exhibition by artist Jeffrey Gibson on view Thursday, June 23, through Sunday, Oct. 23, 2016.
A selection of recent work will be featured, including three, new large-scale acrylic paintings, intricately beaded punching-bag sculptures and wall hangings that incorporate textual statements, inspired by Gibson's Native American heritage. He is a member of the Mississippi Band of Choctaw Indians and half Cherokee, and has lived in the U.S., Germany, South Korea and England.
The title of the exhibition is derived from a quote by African-American novelist James Baldwin: "All art is a kind of confession, more or less oblique. All artists … are forced, at last, to tell the whole story."
"A Kind of Confession" is curated by Alexandra Sachs, executive director of SCAD FASH Museum of Fashion + Film and Atlanta exhibitions.
Panel discussion:
'Intersections: Person and Place'
A Conversation with Janet Biggs, Jeffrey Gibson and Gamaliel Rodríguez
Thursday, June 23, 5:30–6:30 p.m.
Museum hours:
Sunday: Noon to 5 p.m.
Monday: Closed
Tuesday: 10 a.m. to 5 p.m.
Wednesday: 10 a.m. to 5 p.m.
Thursday: 10 a.m. to 8 p.m.
Friday: 10 a.m. to 5 p.m.
Saturday: 10 a.m. to 5 p.m.
The reception and panel discussion are free and open to the public.
Daily admission to the museum is free for all museum members, as well as SCAD students, faculty and staff with a SCAD Card. The exhibition is open to the public with the cost of museum admission.