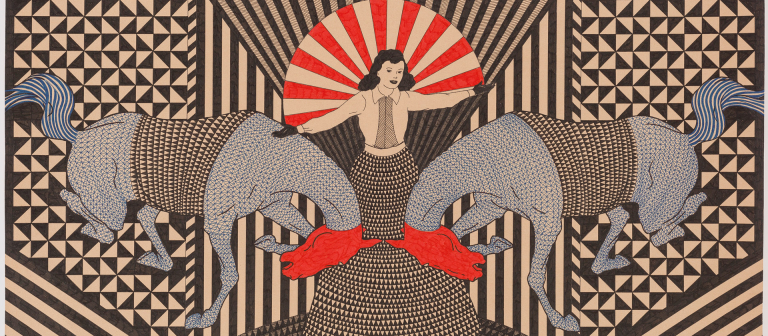 Stephanie Howard exhibition: 'Time and Place and Eternity'
The SCAD Museum of Art presents "Time and Place and Eternity," an exhibition by SCAD alumna Stephanie Howard (B.F.A. painting) depicting an invented mythology of the South in intricate pen and ink renderings of human and animal characters and the dreamlike world they occupy. Howard synthesizes modern and imagined folklore heavily influenced by literary artists such as William Faulkner and Flannery O'Connor, as well as her artistic family, including Rev. Oliver Howard.
A South Carolina native, Howard's work explores eternal themes of childhood and imagination within the particular culture and geography of the American South. Figures in Howard's work occupy the liminal space between reality and legend, illuminated by intricate detail and overlapping patterns. Borrowing from techniques most commonly found in quilting traditions, Howard's pen and ink drawings pay homage to the tatting and needlepoint of anonymous makers past. At once both fanciful and unsettling, Howard's work emerges as a new perspective in a long tradition of visual storytelling and literary art. 
This exhibition is curated by guest curator Susan A. Laney.
Members reception: Thursday, April, 28, 2016, 5:00-5:30 p.m.
Artist talk: Thursday, April 28, 2016, 5:30–6:30 p.m.
Museum hours:
Sunday: Noon to 5 p.m.
Monday: Closed
Tuesday: 10 a.m. to 5 p.m.
Wednesday: 10 a.m. to 5 p.m.
Thursday: 10 a.m. to 8 p.m.
Friday: 10 a.m. to 5 p.m.
Saturday: 10 a.m. to 5 p.m.
The exhibition and artist talk are free and open to the public. Visit scadmoa.org for more information.