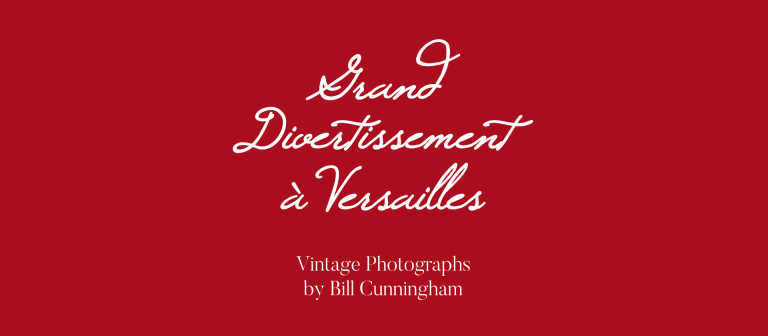 'Grand Divertissement à Versailles, Vintage Photographs by Bill Cunningham'
Atlanta, GA
1600 Peachtree St.
SCAD FASH Museum of Fashion + Film is honored to share the artwork of iconic fashion photographer Bill Cunningham with its current exhibition "Grand Divertissement à Versailles, Vintage Photographs by Bill Cunningham." Featuring exclusive images from the 1973 fashion show "The Battle of Versailles," the exhibition showcases Cunningham's unique perspective on this epochal event in fashion history. Having made indelible contributions to fashion journalism for more than a half-century, Cunningham is remembered reverentially as staff writer and photographer for The New York Times. The exhibition is on display through Sunday, Sept. 4, 2016.
"The Battle of Versailles" saw the five best French designers (Marc Bohan of Christian Dior, Pierre Cardin, Hubert de Givenchy, Yves Saint Laurent and Emanuel Ungaro) present collections alongside the five best American designers of the time (Bill Blass, Stephen Burrows, Halston, Anne Klein and Oscar de la Renta) to raise funds for the restoration of King Louis XIV's palace in Versailles, France. Before a 700-person audience of the world's social and artistic elite—including attendees Princess Grace, Liza Minnelli, Josephine Baker and Andy Warhol—"The Battle of Versailles" established American fashion houses as an innovative, important counterpoint to the traditionalism of French design.
This inaugural showing of Cunningham's 66 historic photographs and an original program, on loan to SCAD FASH from the private collection of Nancy North, a model who walked in the famed fashion show, illustrates the moment that American design houses became the international arbiters of style and celebrates the glamour and excitement of the day.
"Grand Divertissement à Versailles, Vintage Photographs by Bill Cunningham" is curated by Alexandra Sachs, executive director of SCAD FASH and Atlanta exhibitions.
Museum hours:
Sunday: Noon to 5 p.m.
Monday: Closed
Tuesday: 10 a.m. to 5 p.m.
Wednesday: 10 a.m. to 5 p.m.
Thursday: 10 a.m. to 8 p.m.
Friday: 10 a.m. to 5 p.m.
Saturday: 10 a.m. to 5 p.m.
The exhibition is included in the price of admission.