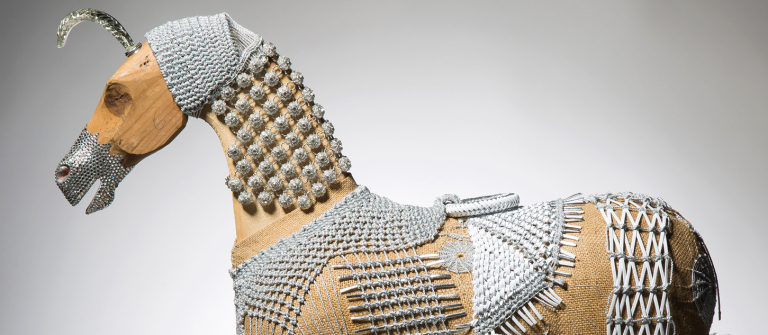 Marv Graff reception for exhibition: 'Remains of the Day'
Savannah, GA
322 Martin Luther King Jr. Blvd.
SCAD presents "Remains of the Day," a Master of Fine Arts thesis exhibition by SCAD graduate student Marv Graff (M.F.A. fibers), on view Friday, April 15, through Saturday, April 30, 2016.
Graff's work expertly merges the fields of avant-garde fashion, textile design, sculpture and historic preservation in a way that reinvigorates the purpose and aesthetic of old-world objects, transforming them into contemporary sculptures. The works illustrate the power of artistic reappropriation through unexpected materials. Graff skillfully employs a variety of texture, embellishment, pattern and decorative details in order to fabricate what he calls "the second skin" of an object, bringing new energy and interpretation to antiques, with a particular interest in French antiquity. By the juxtaposition of traditional and contemporary aesthetics, "Remains of the Day" explores the tension of the recognizable and the imaginary through the eyes of the artist. Each work conjures multiple meanings and speaks to Graff's rich interest in cultural nuance and what he calls "the forgotten, swept-aside objects" of the past.
Graff's work has been featured in Women's Wear Daily, Vogue, Harper's Bazaar, Elle and New York Magazine. In 1979, he won the Pré de Cache award for Young Designer of the Year. He also created a knotted tunic commissioned by Mary McFadden that is part of The Costume Institute's permanent collection at the Metropolitan Museum of Art in New York. Graff lives and works in Savannah, Georgia.
Gallery hours:
Monday–Friday, 10 a.m. to 6 p.m.
Saturday, noon to 5 p.m.
The reception and exhibition are free and open to the public.