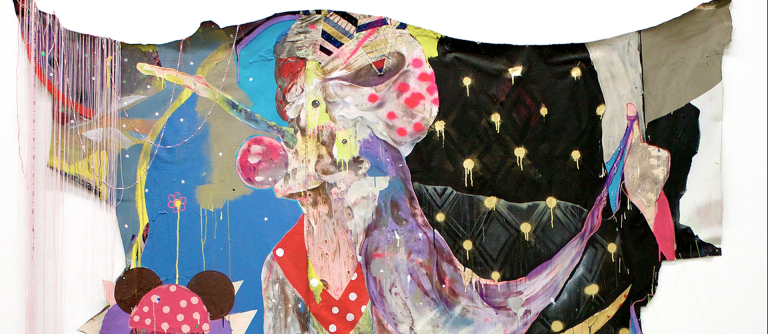 Reception for Lavar Munroe exhibition: 'Journey Elsewhere: Musings from a Boundless Zoo'
Savannah, GA
201 E. Broughton St.
Join us for a reception celebrating "Journey Elsewhere: Musings from a Boundless Zoo," a multi-venue exhibition by SCAD alumnus Lavar Munroe (B.F.A. illustration) with recent works that explore his ongoing interest in the phenomena of the "human zoo" in place during colonial times, and its impact on the politics of representation in the present. A series of new large-scale works and drawings will be on view in the Gutstein Gallery—from Friday, Feb. 5 through Sunday, April 17, 2016—including an installation that engages personal biography and references his childhood in the Bahamas. Three significant works recently included in the 56th Venice Biennale will also be on display in the SCAD Museum of Art.
Munroe's painting practice incorporates elements of assemblage and collage, with composite pieces stitched and glued into a larger whole. Anthropomorphic figures that vacillate between the playful and macabre are the central motifs of his large-scale canvases. Often incorporating found and discarded materials, Munroe creates rich, painterly works that foreground his interest in history, anthropology and sociology.
The exhibitions are curated by Storm Janse van Rensburg, SCAD head curator of exhibitions.
Gallery hours:
Monday–Friday, 10 a.m. to 6 p.m.
Saturday, noon to 5 p.m.
Closed on Sunday
The reception and exhibition are free and open to the public.
Presented as part of deFINE ART 2016, which takes place Tuesday, Feb. 16 through Friday, Feb. 19, 2016.
All deFINE ART lectures, receptions and events are free and open to the public.