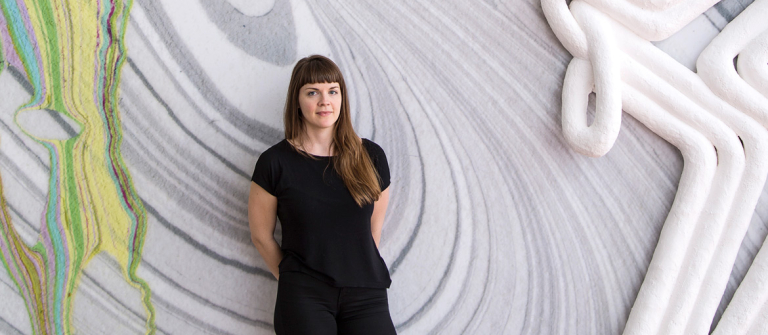 Lauren Clay gallery talk: 'Squash and Stretch'
Atlanta, GA
1600 Peachtree St.
Join us for a gallery talk with SCAD alumna Lauren Clay (B.F.A. painting) as she speaks about her current exhibition, "Squash and Stretch." Clay will discuss her custom handmade wallpaper created especially for the exhibition — on view Tuesday, Feb. 16 through Wednesday, April 20, 2016 — along with the variety of paper art and decorative painting techniques, including papier-mâché, faux wood grain and marbleized paper, that she employs in her work.
Clay will also speak about her references to iconic male abstract artists as a means of investigating the role of women within the larger context of art history. Several of the paper pulp works in the exhibition are based on Frank Stella paintings and David Smith's "Cubi" sculpture series. Her manipulation of scale, color and materials suffuses humor into, and gently subverts the power and authority of, the originals. In doing so, Clay visually prompts questions about gender, re-appropriation and authenticity in contemporary art.
The gallery talk will be led by exhibition curator Alexandra Sachs, executive director of SCAD FASH and Atlanta exhibitions.
Reception: Tuesday, Feb. 16, 6 p.m.
Gallery hours: Monday–Friday, 8:30 a.m. to 5:30 p.m.
The lecture and reception are free and open to the public.
Presented as part of SCAD deFINE ART 2016, which takes place Tuesday, Feb. 16 through Friday, Feb. 19, 2016.
All SCAD deFINE ART lectures, receptions and events are free and open to the public.