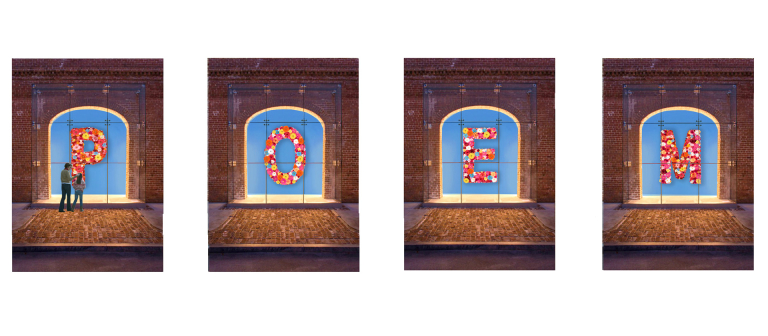 Roberto Behar and Rosario Marquardt exhibition: 'A Poem in the Form of Flowers'
Savannah, GA
601 Turner Blvd.
The SCAD Museum of Art presents "A Poem in the Form of Flowers," an exhibition by Roberto Behar and Rosario Marquardt, a collaborative architectural and multidisciplinary practice, R&R Studios, weaving together visual arts, exhibitions, design, architecture and urban design. 
Responding to the architecture of the SCAD Museum of Art, Behar and Marquardt present a site-specific installation that transforms and engages the façade of the museum. Each of the four Jewel Boxes contains a letter manufactured from colorful artificial flowers, collectively spelling out the word "poem." Referencing commemorative practices, the installation, "A Poem in the Form of Flowers," can be read as both an offering and a celebration. 
Celebrated as "architects of hope," Behar and Marquardt's work proposes encounters with stories and spaces that alternate between the private and public, the intimate and the monumental, the quotidian and the fantastic.
The exhibition is curated by Storm Janse van Rensburg, SCAD head curator of exhibitions. 
Reception: Tuesday, Feb. 16, 2016, 7 p.m.
Museum hours:
Sunday: Noon to 5 p.m.
Monday: Closed
Tuesday: 10 a.m. to 5 p.m.
Wednesday: 10 a.m. to 5 p.m.
Thursday: 10 a.m. to 8 p.m.
Friday: 10 a.m. to 5 p.m.
Saturday: 10 a.m. to 5 p.m.
Daily admission to the museum is free for all SCAD students, faculty, staff and museum members.
Presented as part of deFINE ART 2016, which takes place Tuesday, Feb. 16 through Friday, Feb. 19, 2016.
All deFINE ART lectures, receptions and events are free and open to the public.