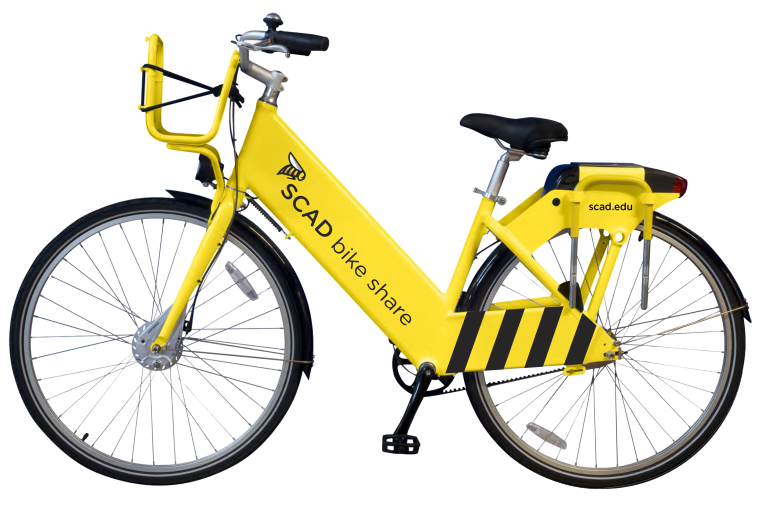 Reserve
BOOK A BIKE
Find and reserve a bike using our mobile app at app.socialbicycles.com in your browser, or on the bicycle itself.
Release
UNLOCK A BIKE
Once you've reserved a ride, enter your four-digit PIN code on the keypad to unlock the bike. Remember to ride safely and follow safety rules.
Ride
ENJOY YOUR TIME
Want to stop for coffee? Press the "HOLD" button and lock the bike to any bike rack. Enter your four­-digit PIN to unlock and continue riding.
Return
QUICK & EASY
To end your trip, lock your bike at one of our convenient hub locations or any SCAD building marked on the map below.
How much does it cost? PRICING
$0 sign-up fee
4 hours daily free time
$4/hourly overage fee
Available for SCAD students, faculty and staff. Credit/debit card required.
$2 riding credit for returning a bike to hubs at The Hive, Oglethorpe House/ClubSCAD or Montgomery House in Savannah, or SCAD Atlanta or Spring House in Atlanta.
$4 fee for returning a bike outside an official SCAD Bike Share hub or dedicated rack, but within the system area.
$50 fee for returning a bike outside of the system area.
Maximum charge for riding time is $20 per day per bike.
Only one bike may be reserved and/or checked out at one time.
Trips are prorated to the minute.
Put a bike on hold before locking it to a rack to keep it in your name. The clock will still keep ticking. The maximum hold time is two hours.
Clock starts when you reserve a bike via mobile/web.
Prices don't include sales tax.
Stay safe and follow the rules SAFETY RULES
Obey all traffic laws, signs and signals.
Ride with the flow of traffic.
Stay off all sidewalks, including pedestrian walkways in the squares.
Be predictable and signal when turning.
Need to know more? Frequently asked questions
Registration and pricing
Who can participate in the SCAD Bike Share program?
SCAD Bike Share is open to all students, staff and faculty. You must sign up using your @scad.edu email address.
How do I register?
First, you need to register for an account using your SCAD email address. Riders can sign up for membership online or via the SoBi mobile app on a smartphone. Once registered, the map of hubs will indicate how many bikes are available at each one. When users sign up, they will be given an account number and 4-digit pin code. Simply enter the code and PIN on the back of the bike, unlock, and begin riding. When you arrive at your final destination, return and lock the bike at a designated hub. The bike is now available for others to use. Bikes can also be reserved 15 minutes in advance. Please note riders should always end their trip within the system area and the bike must always be securely locked to a bike rack when locking a bike or putting it on hold.
How much does it cost?
Your SCAD Bike Share membership includes four hours of free riding time daily, and after that the fee is $4 per hour. In addition to daily rates:
Users will be charged a $4 "Locked Out of Hub" fee when they lock the bike and end their ride at a non-SCAD Bike Share hub inside the system area. Please see system map for hub locations.
The designated SCAD Atlanta system area is visible on our map on the website as well as on the mobile app. If you ride a bike out of the system area, lock the bike, and end your ride there, you will be charged a $50 "Out of System" fee. Feel free to ride the bikes anywhere but make sure to return them to the designated SCAD Bike Share hub when finished to avoid this fee.
What do I do if I have questions about charges on my account?
General account questions, including fees, can be addressed by Gotcha's Rider Experience team by calling or texting 909-351-3656 or emailing [email protected]. We'd love to hear from you!
How is riding time calculated?
Riding time is cumulative, meaning the timer does not stop until you have locked the bike and have selected to "return" it. Placing a bike in "hold" mode does not stop the timer; it only keeps the bike from being checked out by another user.
How do I get my personal identification number to unlock the bike?
At the time of registration you are provided the option to either receive a system-generated four-digit PIN or create your own.
How do I find my PIN if I forgot it, or can I change my PIN?
Log in to your account and select "Manage Your Account." Your PIN will be displayed under your profile. You can also select "Edit Profile" and create a new PIN.
Using the bike
Where can I ride a SCAD bike?
They can be ridden anywhere in Savannah or Atlanta, but must be returned to a SCAD Bike Share hub. If you need to make a quick stop, use the "hold" feature to pause your reservation.
What is a hub?
The designated hubs (bike racks) are marked by green pins on the map on the mobile app and denoted as part of the SCAD ATL network. To avoid incurring a $4 out of hub fee, end your ride at a designated SCAD Atlanta hub.
Where are the hubs located?
Please see our system map on the website or within the app for designated SCAD hubs.
How do I reserve a bike?
It is not necessary to reserve a bike in advance. However, you can reserve a bike from the mobile app or https://app.socialbicycles.com up to 15 minutes before you pick up a bike, so it will be waiting for you when you arrive. Select a bike on the map, click the blue button 'Reserve this bike' or 'Reserve a bike at this hub'. Click the green "Confirm" button. To cancel the reservation, tap on the red 'Cancel' button at the bottom of the screen. If you cancel before 1 minute, you won't be penalized against your allotted free time. Beyond 1 minute, you will begin to use your allotted free time. After 15 minutes, the reservation expires and the bike becomes available for other users to rent.
How do I lock and unlock a bike?
To lock and unlock a SCAD Bike Share bike, enter your four-digit PIN into the bike's keypad and hit the green check mark. If unlocking, once the bike is unlocked, remove the U-lock and place it in the holder on the side of the bike. If locking, confirm by tugging the U-lock in both directions to make sure it is latched. Look for the "Thank you" screen on the LCD display above the keypad.
How do I end a ride?
To end your ride, lock a bike to a hub. Insert the U-lock into the two designated slots on the back side of the bike, pushing the lock in until it latches. Wait until you feel the click and see the "thank you" screen on the LCD display. You can end a ride by returning your bike to any hub with an open rack – you don't have to bring it back to where you picked it up, making it ideal for one-way trips. Find available hubs on the mobile app.
What do I do if the hub is full and I want to end my ride?
If possible, use the app to check rack availability at hubs before your ride. However, we understand this is not always ideal so in the case that the rack is full, lock the bike to itself and send us a quick email letting us know at [email protected].
What does it mean to put a bike on hold?
Placing a bike on hold means you are not ready to return your bike yet, but you needed to hop off to run an errand. To place a bike on hold, simply push the "Hold" button on the bike's keypad, and then lock the bike securely to a bike rack by inserting the U-lock through the bicycle frame. Once the bike is in "hold" mode, the hold time can be adjusted in 15-, 30- or 60-minute increments, up to a maximum of two hours. Once the time limit has expired, the bike will become available for others to use. Note that hold time counts toward your daily ride time.
Do I have to return the bike to the same hub I checked it out from?
No. You may return bikes to any SCAD Bike Share hub.
What happens if the bike breaks or is damaged?
If you encounter a problem while on the bike, for example, a flat tire or a mechanical issue, press the "Repair" button on the keypad and make sure the bike is securely locked with the U-lock. Then, complete the return process to avoid being charged for further use.
Do I need a smart phone?
No. You are able to register for a membership on a computer via our website, and once you are registered, you can simply approach the bike, enter your account and PIN, and then ride.
What should I do if I am involved in an accident or other emergency?
Dial 911 if you need immediate medical assistance. Contact the SCAD Department of University Safety at 912.525.4500 to report an incident in Savannah and 404.254.3333 to report an incident in Atlanta.