At the SCAD Educator Forum, or SEF, educators have the opportunity to revitalize their creative energy while learning new skills through a variety of educational and recreational activities in the midst of a bustling art scene.
The 2015 forum is scheduled to take place June 21 through June 26. Two intensive two-day workshops will meet on Monday/Tuesday and Wednesday/Thursday from 9 a.m. to 1 p.m.
Events and activities
Your experience at the SEF will include a variety of opportunities to meet and network with your peers as you explore your own artistic perspective: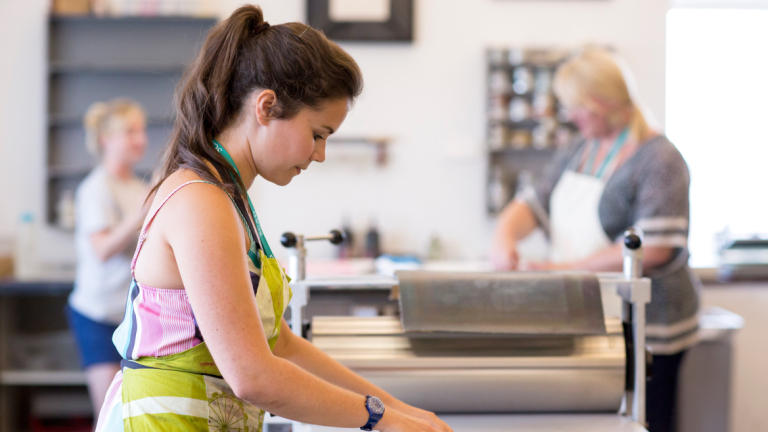 Workshops
Workshops are taught by SCAD faculty, graduate students and alumni, and may include demonstrations, lectures, studio work and local field trips. Participants receive individualized instruction, interact with peers, and explore a variety of hands-on methods and processes. Workshops are held in SCAD Savannah facilities, and participants have access to all of the university's facilities, resources and libraries.
SEF Talks
Enjoy exciting opportunities to hear SCAD faculty and staff speak on a variety of engaging topics relating to the science of design and the implementation of creative practices in the classroom.
Lunch and learns
Join us for lunch and engage in inspiring talks and faculty-led discussions on a variety of creative topics.
Registration information
Participation in the SCAD Educator Forum is open to educators at all grade levels who complete registration. Participants may select workshops upon receipt of the registration fee. Workshops fill quickly, and early registration is encouraged for the best chance of securing first-choice selections.
Registration requirements
Completed online registration form
Housing fee (if applicable): $100 (Includes accommodations in SCAD housing with free parking. Meals are not provided.)
Program fee: $275 (includes all workshops, workshop supplies, registration fee, optional activities and evening events, space permitting)
Cancellation policy
If a participant cancels after confirmation of registration has been sent, a $50 cancellation fee is retained from the amount refunded. If cancellation occurs within two weeks prior to the start of the program, 80 percent of funds are reimbursed.