Press Release
/
Feb. 4
SCAD Presents "Alaïa-Adrian: Masters of Cut" at SCAD FASH Museum of Fashion + Film in Atlanta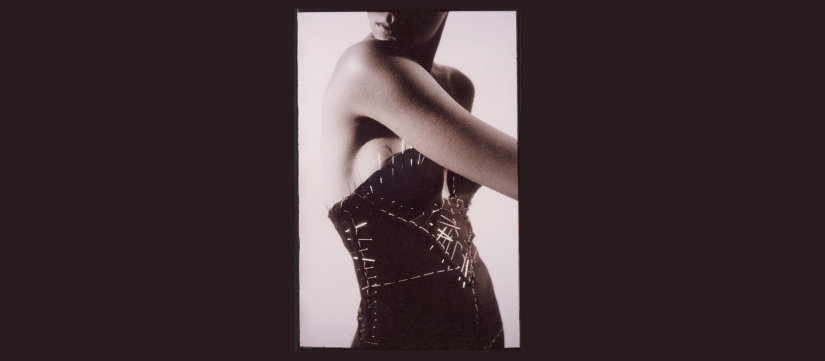 Azzedine Alaïa, bustier dress with pins, spring/summer 1988. Photo by Jean-Baptiste Mondino.
The momentous exhibition features timeless designs by legends of style Azzedine Alaïa and Gilbert Adrian.
ATLANTA, GEORGIA—The Savannah College of Art and Design unveils the highly anticipated exhibition Alaïa-Adrian: Masters of Cut, Feb. 11–Sept. 13, 2020, at the globally renowned SCAD FASH Museum of Fashion + Film in Atlanta.
Masters of Cut brings together sleek designs and impeccably tailored looks by beloved designers Azzedine Alaïa (1935–2017) and Gilbert Adrian (1903–1959). Garments on view display the intricate detailing of Adrian's suits—the mitered stripes, clever seaming, and unexpected appliqués—in dialogue with Alaïa's body-celebrating designs. Pairing their work, the exhibition reveals the designers' intertwined and enduring legacies.
Alaïa was a consummate collector of Adrian's work, reveling in the designer's fit, form, and proportion. The Adrian garments on view are held by the Association Azzedine Alaïa, Paris, and presented in partnership with SCAD FASH. In addition to tailored looks from both designers, Masters of Cut features a selection of Alaïa's career-defining gowns worn by fashion icons like Grace Jones. SCAD FASH is honored to host the designer's first posthumous U.S. museum exhibition, nearly 20 years after his last stateside show.
"Our SCAD FASH exhibition of Alaïa and Adrian conveys the unique energy of a couturier collected by a couturier," said SCAD President and Founder Paula Wallace. "The young Azzedine Alaïa so admired Gilbert Adrian—famous for Dorothy's luminous ruby-red slippers and much more—that he ultimately collected more than 150 of Adrian's original pieces. Genius knows genius! Using the precision of laser cutting to achieve designs perfectly fitted to the body, Alaïa himself, like Adrian before him, became an exacting master of intricate and elegant couture."
Widely known for his fanciful designs for The Wizard of Oz, Adrian was the head of costume design for MGM during the Golden Age of Hollywood (1928–41). His garments for stars like Greta Garbo, Joan Crawford, and Norma Shearer were praised by the fashion press and emulated by stylish moviegoers worldwide. In 1942, Adrian established his own atelier in Beverly Hills, and for the next decade his chic, strong-shouldered, narrow-waisted suits and gowns changed the fashion industry and the lives of women everywhere.
Alaïa, who trained as a sculptor, left Tunisia for Paris in the mid-1950s to pursue fashion design. His gift of construction and his obsession with cut and fit shaped garments that are unrivaled in accentuating the female form. Recognized internationally in the 1980s and early '90s for designs draping iconic supermodels Naomi Campbell, Stephanie Seymour, and Linda Evangelista, Alaïa continued to dominate the world of fashion throughout his celebrated career.
Alaïa-Adrian: Masters of Cut is curated by fashion historian and curator Olivier Saillard and organized for SCAD FASH by Rafael Gomes, director of fashion exhibitions.
SCAD FASH will host an exclusive reception on Feb. 10, celebrating honored guests Carla Sozzani, president of Association Azzedine Alaïa, and curator Olivier Saillard.
---
SCAD FASH Museum of Fashion + Film
SCAD FASH Museum of Fashion + Film celebrates fashion as a universal language, garments as important conduits of identity, and film as an immersive and memorable medium. Situated within the SCAD Atlanta location, SCAD FASH focuses on the future of fashion design, connecting conceptual and historical principles of dress. The museum welcomes visitors of all ages to engage with dynamic exhibitions, captivating films, and enriching events.
Supported by the university's strong global presence and connections to renowned contemporary fashion designers, filmmakers, and creative professionals around the world, SCAD FASH is an integral part of the SCAD educational experience.
Like the award-winning SCAD Museum of Art, SCAD FASH serves as a creative resource for students of all ages and a wellspring of inspiration for visitors. Through programming that engages the university's broad array of academic disciplines, SCAD FASH offers diverse exhibitions, films, installations, performances, and events to enliven and inspire the greater community year-round. Each program is designed to engage and appeal to visitors with varied backgrounds and interests, from textiles and jewelry to photography and film. Past exhibitions have featured the work of designers Pierre Cardin, Carolina Herrera, Mary Katrantzou, Guo Pei, and Oscar de la Renta. Photographic exhibitions have featured the work of Jonathan Becker, Bill Cunningham, and Omar Victor Diop. Exhibitions are accompanied by curated film series that complement programming. Past films include The First Monday in May, Funny Face, The Leopard, and Ovation for Oscar, among others.

SCAD: The University for Creative Careers
The Savannah College of Art and Design is a private, nonprofit, accredited university, offering more than 100 academic degree programs in more than 40 majors across its locations in Atlanta and Savannah, Georgia; Hong Kong; Lacoste, France; and online via SCAD eLearning.
SCAD enrolls more than 15,000 undergraduate and graduate students from more than 100 countries. The innovative SCAD curriculum is enhanced by advanced professional-level technology, equipment, and learning resources, as well as opportunities for internships, professional certifications, and collaborative projects with corporate partners. In 2019, the prestigious Red Dot Design Rankings placed SCAD as the No. 1 university in the U.S. and in the top two universities in the Americas and Europe for the third consecutive year. Career preparation is woven into every fiber of the university, resulting in a superior alumni employment rate. In a study of Spring 2018 SCAD graduates, 99% were employed, pursuing further education, or both within 10 months of graduation.