Press Release
/
Jan. 23, 2015
Exhibition of fashion designer Oscar de la Renta presented at SCAD by André Leon Talley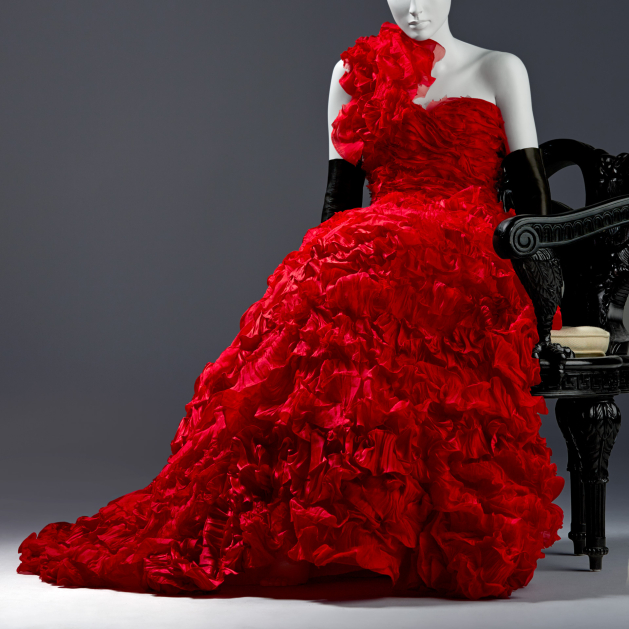 Oscar de la Renta, Silk evening gown, Resort 2013 ready-to-wear. Worn by Beyoncé, Vogue cover, March 2013. Loan: Oscar de la Renta Archive, New York. Photograph by Adam Kuehl.
SAVANNAH, Georgia —
The Savannah College of Art and Design (SCAD) and Oscar de la Renta (ODLR) are pleased to announce an exhibition curated by SCAD Trustee André Leon Talley—Oscar de la Renta: His Legendary World of Style, which highlights more than seventy original Oscar de la Renta ensembles, including dresses worn by Taylor Swift, Beyoncé, Oprah Winfrey, Sarah Jessica Parker, and Nicole Kidman. The exhibition also features garments from the wardrobes of two former First Ladies, Laura Bush and Hillary Rodham Clinton, who dressed almost exclusively in ODLR.
In this show, Talley honors de la Renta's deep bond and relationship with his clients, his closest friends and family. The exhibition is the first to celebrate the master of elegance and his work since his passing in October 2014. The non-retrospective exhibition will be on view Thursday, February 5 through May 3 at the SCAD Museum of Art (SCAD MOA). The museum is located at 601 Turner Blvd., Savannah, Ga., in the North Historic District.
"Oscar de la Renta designed clothes for women who wanted to look and feel beautiful, at their most elegant best," says Talley. Each ensemble selected in this exhibit comes from the closets of some of Oscar's most iconic clients: Mrs. Mercedes T. Bass, Diana Taylor, as well as Oscar's wife, Annette de la Renta and his stepdaughter, Eliza Bolen.
Talley says, "With Oscar de la Renta, you always felt life was lived in the sun. He loved his family and filled life with beauty from his gardens, his collections, paintings and music. He loved to sing."
Oscar de la Renta's friendship with SCAD encompassed more than a decade. Designer, artist and cultural icon, de la Renta was recognized as the first recipient of the André Leon Talley Lifetime Achievement Award at the 2001 SCAD Fashion Show. The SCAD MOA permanent collection features a number of de la Renta's gowns, and SCAD students have interned at ODLR. Over the years, de la Renta generously donated fabrics from his collections to the fashion program for student use. SCAD President Paula Wallace says, "Oscar took a personal interest in our students. They have learned from him, and SCAD is humbled to commemorate his love for our students with this resplendent exhibit. The 2012 SCAD MOA exhibit, Little Black Dress, which traveled to Paris, also featured Oscar's work."
As noted in the forthcoming book, published by Rizzoli, "Born in the Dominican Republic in 1932, de la Renta left for Madrid at nineteen to study art, where he rose to prominence as a sketch artist for newspapers and fashion houses. From his apprenticeship under Cristóbal Balenciaga to his eponymous collections, the designer's simple lines elevated with a flamenco dancer's flourish reflected his deep connection to his roots and his commitment to transcendence through beautiful garments."
About André Leon Talley
André Leon Talley has served as a mentor for SCAD fashion students for over two decades.  Talley began his career assisting Diana Vreeland at the Metropolitan Museum of Art Costume Institute and later wrote for Interview Magazine and Women's Wear Daily, before joining Vogue, where he served as creative director, editor-at-large and contributing editor for many years. 
Oscar de la Renta: His Legendary World of Style, marks the fifth exhibition curated by Talley at the SCAD Museum of Art. Stephen Burrows: An American Master of Inventive Design (2014), Antonio Lopez and the World of Fashion Art (2013), followed the internationally acclaimed Little Black Dress (2012) and High Style (2011). Talley also curated Joaquin Sorolla and the Glory of Spanish Dress (2011), an exhibition of fine art and fashion at the Queen Sofia Spanish Institute in New York.
SCAD Museum of Art
The SCAD Museum of Art is a premier contemporary art museum established to enrich the education of SCAD students and to attract and delight visitors from around the world. The 82,000-square-foot repurposed antebellum railroad depot, a National Historic Landmark originally built in 1853, houses the museum's permanent collection of 4,500 works including the Walter O. Evans Collection of African American Art, the Earle W. Newton Collection of British and American Art, the 19th- and 20th-century Photography Collection, and the SCAD Costume Collection, and showcases more than twenty exhibitions each year, engaging with SCAD students, faculty, artists, alumni, and the wider public.
SCAD: The University for Creative Careers
The Savannah College of Art and Design is a private, nonprofit, accredited institution conferring bachelor's and master's degrees at distinctive locations to prepare talented students for professional careers. SCAD offers degrees in more than 40 majors, as well as minors in more than 60 disciplines. With over 30,000 alumni worldwide, SCAD demonstrates an exceptional education and unparalleled career preparation.
At locations in Savannah and Atlanta, Georgia; in Hong Kong; in Lacoste, France; and online through SCAD eLearning, the diverse student body consists of nearly 12,000 students, from across the United States and more than 100 countries. SCAD's innovative curriculum is enhanced by advanced, professional-level technology, equipment and learning resources. The university, students, faculty and alumni have garnered acclaim from respected organizations and publications worldwide including Time, Vogue Magazine and U.S. News & World Report.
For more information, visit the official scad.edu/blog.
Contact
Ally Hughes
Director of University Communications
Savannah College of Art and Design
912.525.4881