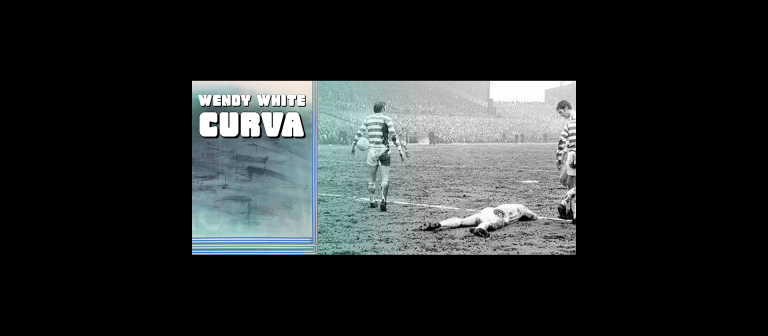 Wendy White exhibition: "CURVA"
The M Building
194 NW 30th St.
The Savannah College of Art and Design presents "CURVA," a solo exhibition of recent works by Wendy White (B.F.A., fibers, 1993) at The M Building in Wynwood Art District. White has garnered international acclaim for large-scale paintings and installations that merge painting, sculpture and architecture.
The title, "CURVA," is an Italian term for the section of a soccer stadium where the most fervent fans, or Ultras, sit. The exhibition will comprise works from White's "3-stripes," "Multiple-canvas," and "PVC" series, highlighting her ability to distill text-based symbology into both complex palimpsests and hybrid constructs. White will also conduct an artist walk-through on Dec. 5 at 12:30 p.m. at the gallery to discuss her featured work.
This exhibition during Art Basel Miami Beach is one of many international events organized by SCAD to celebrate 35 years of preparing talented students for creative careers.
Wendy White (b. 1971, Deep River, Connecticut) earned a B.F.A. from the Savannah College of Art and Design in 1993 and an M.F.A. from Mason Gross School of the Arts, Rutgers, the State University of New Jersey, in 2003.
White's recent solo exhibitions include "Pick Up a Knock," Andrew Rafacz Gallery, Chicago, Illinois; "Sports Moment," Peter Makebish Gallery, New York; "Wendy White," Maruani & Noirhomme, Brussels; "En Asfalto," Galeria Moriarty Madrid; "Pix Vää," Leo Koenig Gallery, New York; "Radio Lampor" Van Horn, Düsseldorf, Germany; and "6 Years / 6 Works," University of Tennessee at Chattanooga, among others.
She has participated in group exhibitions at venues including the Indianapolis Museum of Contemporary Art, Indianapolis, Indiana; the Bemis Center for Contemporary Arts, Omaha, Nebraska; Atlanta Contemporary Art Center, Atlanta, Georgia; as well as galleries in New York; Los Angeles and San Francisco, California; Chicago, Illinois; and internationally in Spain, Germany, Switzerland, Japan, China and the Netherlands.
White's work has been reviewed in Artforum, The New York Times, The Huffington Post, Art in America, BOMB Magazine, ART PAPERS and New York magazine. It is included in the private collections of Saks Fifth Avenue, New York; The UBS Art Collection, Zurich, Switzerland; the Progressive Art Collection, Cleveland, Ohio; and the ARCO Foundation Collection, Madrid. White was featured in "Vitamin P2: New Perspectives in Painting," published by Phaidon Press in 2011 and was a 2012 recipient of a New York Foundation for the Arts painting grant. She lives and works in New York.
About the artist's technique
Wendy White is known for work that expands the parameters of painting through the use of multiple canvases, sculptural additions and site-specific installation. Typically hung just above the floor line, her large-scale works echo the position of buildings on city streets. With a combination of natural and synthetic materials, digital and analog marks, and fragments of text, these works comment on the glut of advertising, graffiti and signage that somehow coalesce to become iconic New York City vistas.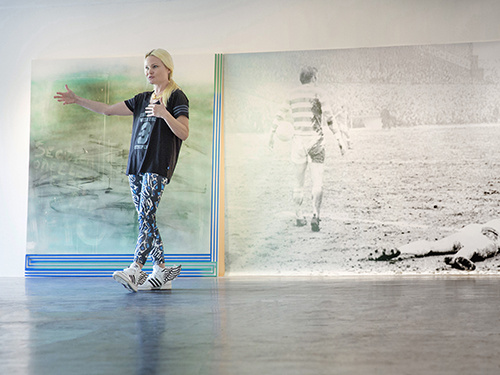 Donning her signature shoes, whose iconic stripes are prominently referenced along the borders of her work, Wendy White (B.F.A., Fibers) took visitors through the logic of CURVA.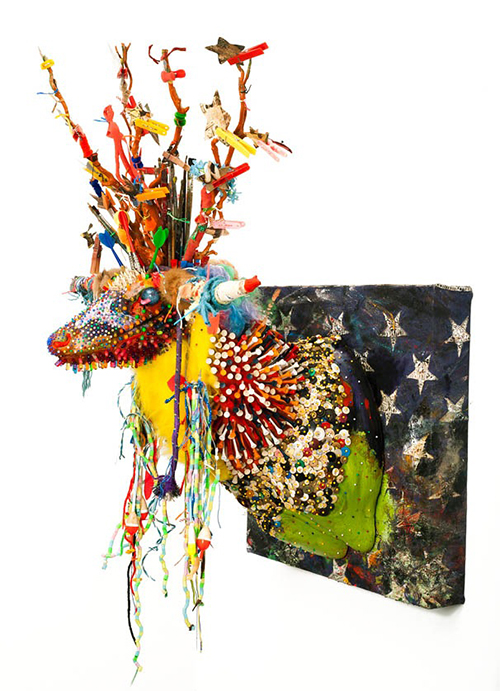 Art fairs are unchartered territory for me.
So as I prepared for my first trip to Art Basel Miami Beach (Dec.5-8), I caught up with Marcus Kenney (M.F.A., Photography) to see what ABMB looks like through an artist's eyes.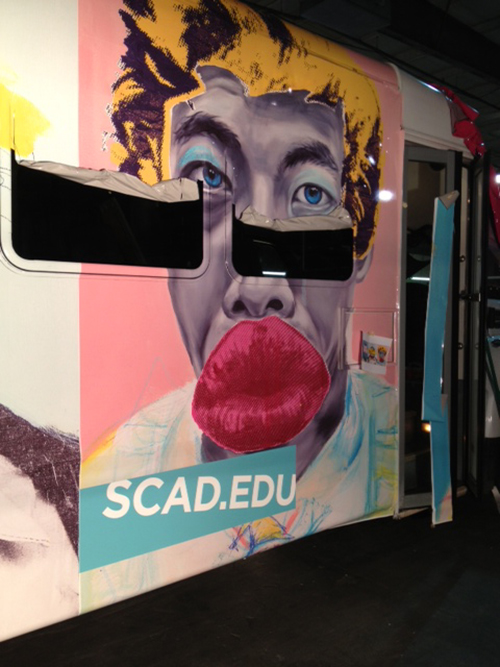 Here's a peek from concept through production of the bus Savannah College of Art and Design is exporting to Art Basel Miami Beach.
The complimentary shuttle will run Dec. 4-8 from 10 a.m. to 7 p.m. and transport riders from UNTITLED.
Miami Beach (bus stop located at 10th Street and Ocean Drive) and The M Building (194 NW 30th Street), home to Wendy White: CURVA, in the Wynwood Art District.
Wandering through UNTITLED's airy pop-up tent on Miami Beach, I bumped into Savannah College of Art and Design curator Alex Sachs in the booth of Andrew Rafacz Gallery, which represents Wendy White (B.F.A., Fibers) in Chicago.
Always curious about the works that catch a curator's eye, I asked Alex to tell me what has her attention at the fair.