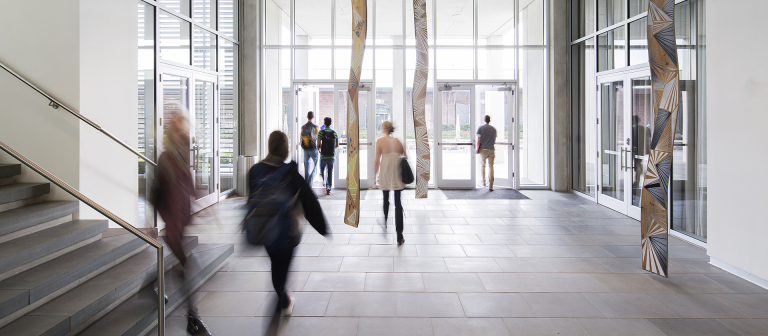 Jason Middlebrook exhibition: 'Submerged'
Savannah, GA
601 Turner Blvd.
For his site-responsive sculptural installation, "Submerged," artist Jason Middlebrook worked with reclaimed wood that has a deep connection to the local area and the history of the region. Middlebrook transformed logs that were submerged in the Savannah River and provided infrastructure for more than 200 years. In Submerged, these planed and painted planks hang from various heights and angles throughout the museum's lobby.
A sculpture taking the form of a classic chandelier and created from the pointed tips of the river logs welcomes viewers in the museum's entrance. Rich in layered meaning, these hanging sculptures speak to the significance of the logs and their impact on the economy of Savannah, as they were as necessary to the growth and development of the region as were the people who carved them.  The artist describes the installation as "an homage to the work and the workers that built the South and the history of the building in which they are presented."
Presented as part of the 2014 deFINE ART program, Feb. 18-21
Reception: Tuesday, Feb. 18, 6-7:30 p.m.
Museum hours:
Sunday, noon to 5 p.m.
Monday, closed
Tuesday, 10 a.m. to 5 p.m.
Wednesday, 10 a.m. to 5 p.m.
Thursday, 10 a.m. to 8 p.m.
Friday, 10 a.m. to 5 p.m.
Saturday, noon to 5 p.m.
All deFINE ART lectures, receptions and events are free and open to the public.
The exhibition is free for all SCAD students, faculty, staff and museum members and open to the public with the cost of museum admission.
This exhibition has been curated by SCAD Museum Program Manager Melissa Messina.