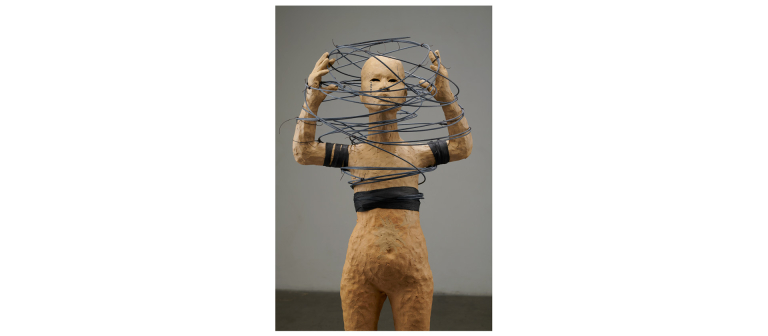 Rose B. Simpson exhibition: 'Countdown'
Savannah, GA
601 Turner Blvd.
In Countdown, a major commission of new works by Rose B. Simpson, the artist surpasses the signature human scale typical of her figurative sculptures, bringing bodily forms to an unprecedented totemic stature. Simultaneously, Simpson further probes the capabilities of sculpture with forays into two-dimensional laser-cut metal formations. These works act as flattened sundials that serve as points of contact to matching vinyl designs placed on the window of each SCAD Museum of Art Jewel Box. Throughout the day, these dual motifs seek each other, forging brief moments of alignment as the light that reveals these forms shifts with the rise and fall of the sun. The title Countdown connects the notion of seriality, which is integral to the artist's practice, with our present time, when anxiety around numeric accumulation looms large and we remain trapped in a moment of purgatorial uncertainty with tentative hopes of a new beginning.  
Simpson was born on the Santa Clara Pueblo reservation in New Mexico, a site where the Pueblo tribe, of which Simpson is a member, has dwelled for thousands of years. This Native earth continues to be a touchstone for the artist's creative force, leading her to remain on the storied ground as her work garners recognition around the world. As a member of the Pueblo tribe, Simpson's work is informed by the Indigenous nation's historic production of clay pottery and its distinct methods of firing and formation. In addition to her earthenware creations, Simpson's practice transgresses into explorations of automobile design, of which the artist is an expert following her studies in automotive science. Her work with cars, which idiosyncratically dovetails with her artistic training, is indicative of how Simpson elides prescriptive notions of medium specificity and identity. While she celebrates and remains true to her Native spiritual origins, the artist is unflinching as she challenges the restricted notions of what art must be and its ability to impact humanity.
About the artist
Rose B. Simpson (b. 1983, Santa Clara Pueblo, New Mexico) holds a B.F.A. from the University of New Mexico, an M.F.A. from the Rhode Island School of Design, and an M.A. in creative writing from the Institute of American Indian Arts. She has presented solo exhibitions at Wheelwright Museum of the American Indian, Santa Fe; Pomona College Museum of Art, Claremont, California; and Colorado State University, Fort Collins. Her work is held in the permanent collections of the Denver Art Museum; Museum of Fine Arts Boston; Portland Art Museum; Princeton University Art Museum; and San Francisco Museum of Modern Art. In 2021, Simpson will present solo exhibitions at the University of New Mexico Art Museum, Albuquerque; and the Nevada Museum of Art, Reno. Simpson lives and works at the Santa Clara Pueblo. She is represented by Jessica Silverman, San Francisco. 
Rose B. Simpson: Countdown is curated by Ariella Wolens, assistant curator. It is presented as part of SCAD deFINE ART 2021, the university's annual program of exhibitions, lectures, and performances, held virtually Feb. 23–25 with select events in Atlanta and Savannah, Georgia.
Museum admission
The exhibition is free for museum members and SCAD students, faculty, and staff with a valid SCAD Card. Open to the public with the cost of museum admission.